Thanks to these applications, the smallest of the house will be able to contact Santa Claus before his arrival with the gifts.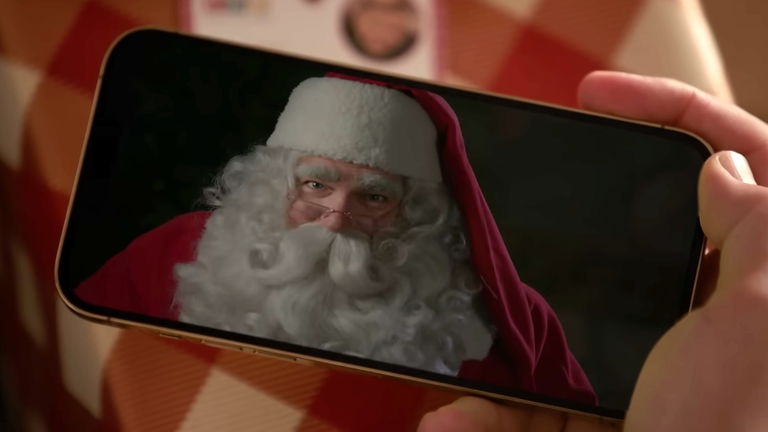 Christmas is the most magical and exciting time of the year, especially for the little ones in the house. Santa Claus and the Three Wise Men are about to arrive, so the most normal thing is that they already have their letters prepared with all the requests. While they wait for the arrival of the most special Christmas characters, they can calm their nerves talking to Santa Claus himself via video call.
This is possible thanks to a series of android apps that simulate a video call with Santa Claus. You can download them totally free through the Play Storealways keeping in mind that need a previous configuration in which all magic is lost. Therefore, try to prepare the video call alone so that the little ones enjoy it to the fullest.
Apps to receive a video call from Santa Claus
In the Google app store for Android we find dozens of tools you star as santa claus. For example, kids can create their own animated Santa, play games like puzzles with him, and even chat with him on video calls.
Before the arrival of Santa Claus this Christmas, the little ones at home can communicate with him through video calls that you will configure yourself. There are several apps dedicated to this task in the Google Play Store, but we have selected the best 3.
PNP: Portable North Pole
The first application that we recommend is called PNP: Portable North Pole, which you can download now for free. It stands out for its extensive functionalities, as it allows us to choose from a wide variety of videos, record reactions of the children and customize video adding the name of the little one and even his date of birth.
This app currently offers 4 free videos that will allow you to test the operation of the application, all without advertising. If it convinces you and you want to enjoy more advanced functions, you can subscribe to payment option.
Google Play Store | PNP: Portable North Pole
Video call Santa Claus Christmas
Video call Santa Claus Christmas is another of the apps that you can use to contact Santa Claus. Like the previous one, it is an application that you can free download through the Play Store. By setting it up, you can choose between 3 preconfigured video call modelsalso choosing parameters such as the tone of the call or the time you will receive it.
Once programmed, you only have to have the phone ready to surprise the little ones. By accepting the call, they will see Santa Claus on the screen and will be able to tell them if they have been good this year or not. In addition, this application can also record their reactions and save them to a video you'll love to revisit in the future. If you want to access all of the app's features, you'll need to pay for the subscription.
Google Play Store | Video call with Santa Claus
Fake Call from Santa Claus
Another application that you can use to make video calls with Santa Claus is Fake Calls from Santa Claus, completely free to download. You have several options to configure the call, you can even choose funny Santa to prank a friend. When you receive the call on your phone, all you have to do is accept it for Santa Claus to appear on the screen with his characteristic laugh.
Google Play Store | Fake Call from Santa Claus
This app also takes care of record the screen so that the reactions are saved. Of course, you should bear in mind that, at the moment, it is only available an english version. Still, it can be a good method for children to enjoy Christmas even more by talking to Santa Claus.


Source link

andro4all.com