These are the 6 least popular launchers on the Play Store that we recommend you try.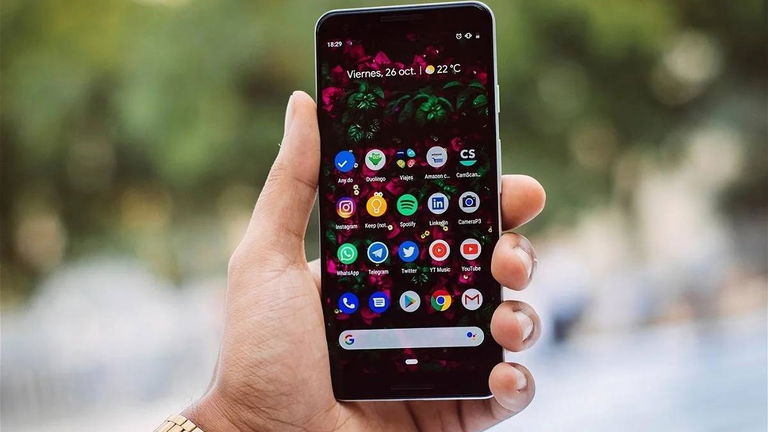 No one doubts that Nova Launcher is one of best launchers for androidespecially for its large number of functionalities and its constant updatesbut over the last few years they have been appearing in the Google Play Store really valid alternatives to the TeslaCoil app.
Many of these alternative launchers are very popular on play store as lawn chair either Action Launcherbut there are others less well known than will change your user experience.
For that reason, today we come to talk about the 6 Lesser Known Android Launchers You Should Try.
Olauncher. Minimal AF Launcher
If you like minimalist launchers you have to try launchera launcher that, despite not being one of the best known, is highly valued by users, as evidenced by the fact that it has an average score of 4.7 out of 5 on Google Play.
Unlike Nova Launcher and other similar alternatives, Olauncher only shows you on the home screen the six applications that you choose in text format, without icons or folders and does not have additional screens or widgets except one with the date and time located at the top of the home screen.
From the single Olauncher screen you can access both your app drawer and to the notification panel by swiping from top to bottom, same in any other launcher. Furthermore, this free launcher also gives you the option to turn off the smartphone screen with two touches from your settings.
Olauncher free download. Minimal AF Launcher
Creative Launcher-Quick,Smart
Creative Launcher is a complete application launcher that allows you to personalize your Android mobile with over 1,000 original themes and wallpaperss, with any icon pack from the Play Store and with all kinds of widgets.
But without a doubt, one of the star functions of this launcher is its application drawer, since it has an alphabetical keyboard at the bottom that allows you to find any app much faster and easier.
In addition, Creative Launcher allows you to configure a series of very useful gestures and it has a dark mode and a battery saving mode for those moments in which you are just a bit of autonomy.
Free Download Creative Launcher -Quick,Smart
Minimalist Productivity Launch
The second minimalist launcher on this list is Minimalist Productivity Launcha practical and elegant application launcher that will allow you to improve your productivity.
Thus, this launcher is committed to a very simple home screen with the battery percentage on the top rightthe date and time on the left side and just below them two counters that tell you the part of the day and of the year that have already elapsed.
This is completed by two buttons at the bottom: one with the icon of a phone open the call app and another with an icon of three vertical points that gives you access to launcher settings.
Also, if you swipe to the left you will enter an app drawer with apps arranged alphabetically which has a convenient search engine at the top.
Download Minimalist Productivity Launch for free
Super N Launcher
Another of the lesser-known application launchers in the Play Store that you should give a chance to is Super N Launcher, a modern and functional launcher with which you can customize all the elements of your mobile's home screen such as the wallpaper, icons or foldersconfigure different gestures to be more productive, hide apps you don't use and place all kinds of widgets on the different desktop pages.
Super N Launcher is a totally free application with adsbut you can get rid of them and unlock all the features of this launcher with a one-time payment of €10.99an amount that you can defray using the balance you have accumulated in Google Rewards before it expires.
Free download Super N Launcher -Super design
mini desktop
Mini Desktop is one of the fastest and lightest launchers on the Play Store, as it uses 50% less memory than other alternatives and weighs only 250 KBbut it is not devoid of functions because with this launcher you can organize your apps into groupsquickly find any app, protect your most private apps with a password, and even block the most addictive apps to prevent you from using them before going to sleep.
Mini Desktop is completely free, as it It does not have ads or in-app purchasesand you can download it directly from the link that we leave you below.
Free Download Mini Desktop (launcher)
Lynx Launcher
The last app on this list is Lynx Launcher, an original application launcher inspired by Gnome, the most popular GNU/Linux desktop, which has a practical dock where you can host the applications you use the most to access them faster.
In addition to this dock, Lynx Launcher also has a series of really useful gestures, since if you swipe up a search engine opens with which you can find apps, contacts, shortcuts and settingsif you swipe to the left the application drawer opens and if you swipe to the right they appear both your apps and your favorite contacts.
Lynx Launcher is a completely free application without adsbut if you want to enjoy extra features like screen transitions, more desktop pages, new icon shapes and much more you can unlock the Pro version by a single payment of 3.99 euros.


Source link

andro4all.com