Here is a list of the best free AI-based meme generator tools to automatically create memes using AI technology.
Is there an AI meme generator?
Yes, there are several AI-based meme generator tools available on the internet. To name some, MemeDaddy, Supermeme.ai, and Makememe.ai are some good ones. You can enter your meme description and these AI tools will generate some good memes automatically.
Best free AI-based Meme Generator tools
Here are the best free Meme generator tools that are powered by AI, using which you can automatically generate memes:
MemeDaddy
Simplified AI Meme Generator
Supermeme.ai
Predis.ai
1] MemeDaddy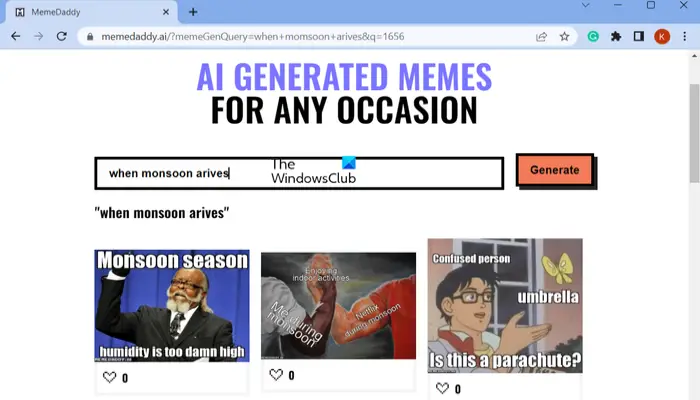 MemeDaddy is a free online AI meme generator tool. Using it, you can quickly generate a meme by entering the description of your meme.
To use it, open its website in a web browser and then enter the text description of the meme you want to create, like "Struggling to work while being sleepy" or "When you cook for the first time." After that, press the Generate button to generate the meme. It will take a few seconds or a minute to create your meme. Once done, it will show you multiple versions of the generated memes.
If you want to use a meme, you can select it and then copy and share the link of the meme with others. Besides that, you can also right-click on the meme image and choose the Save image as option to save the meme locally in JPEG format.
You can try this nice free AI-based meme generator here. It also shows some trending memes to explore and share.
2] Simplified AI Meme Generator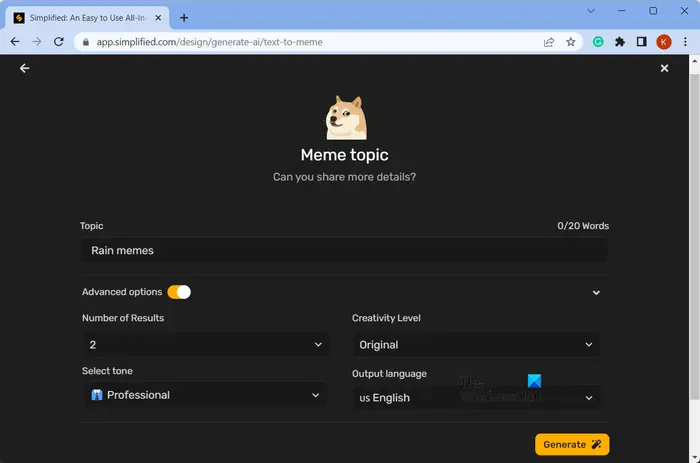 Simplified AI Meme Generator is another tool on this list that lets you generate AI memes within seconds. Not just automatically generating a meme, it even lets you edit a created meme as per your requirement. Here's how you can use this tool:
First, open this tool in a web browser and enter a topic on which you want to create a meme. After that, enable the Advanced options toggle and you will see different options to customize. You can customize the number of results you want to generate, the creativity level (original, repetitive, deterministic, etc.), the tone of the meme (formal, informal, joyful, etc.), and the output language. Once done, you can hit the Generate button and it will create multiple memes using AI.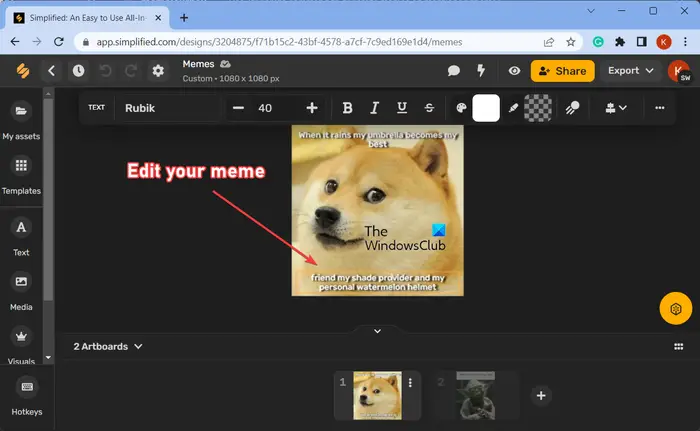 It will generate several memes and open them in its editor. From here, you can customize the text, add icons to the meme, insert images, etc. Finally, you can download JPG, PNG, GIF, PDF, and more formats. Or, you can share the meme on social media platforms.
3] Supermeme.ai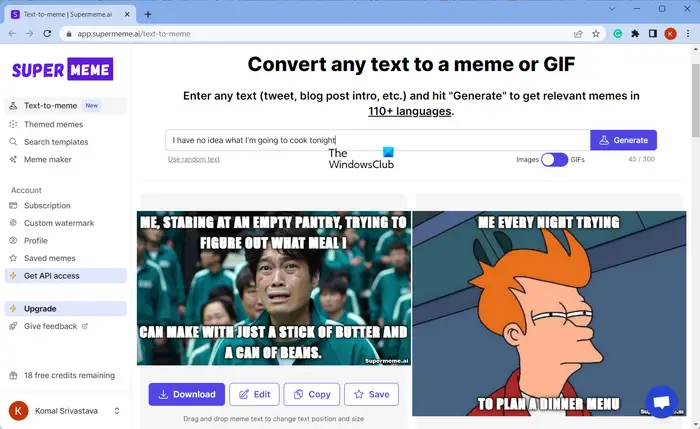 Supermeme.ai is another great AI-based meme generator tool. It is a free online tool that you can use to automatically generate memes with a mere description. It allows you to create images as well as animated GIF memes
You can open its website in your browser and create a free account. After that, enter a text describing your meme. If you are confused about the meme description, type a few keywords and click on the Use random text button to generate a description. Now, choose whether you want to generate images or GIF memes. After that, click on the Generate button and you will see several memes generated. You can download a meme to your computer. It even lets you edit the header caption of the meme and then download it.
It is one of my favorites on this list. However, it can be used for free with some credits only. Once your credits are over, you need to buy credits to generate AI memes.
4] Predis.ai
Predis.ai is a simple meme generator powered by AI. Just like other tools on this list, it also takes a description of the output meme and creates several memes on the entered topic.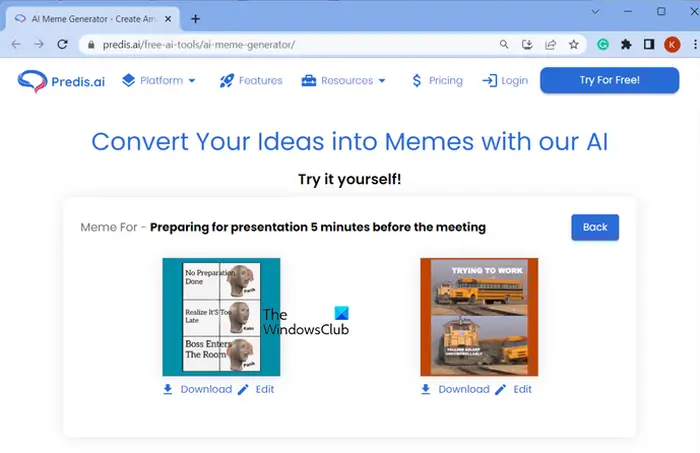 Enter the topic and press the Generate button. That's it. You will get tons of memes that you can download or edit. To use it, go to predis.ai.
Use these tools and quickly create memes using AI, also let us know which one you liked the best.
Now read: Best Free Artificial Intelligence software for Windows.
Is there a free meme maker?
Memes can be created using a graphics designer or image editor tool. Although, there are dedicated Meme maker software that are entirely dedicated to creating memes. Meme Generator (Microsoft Store app), makeameme.org, Kapwing Meme Maker & Generator tool, and Filmora Free Meme Generator are some good meme generator software and online tools that you can try.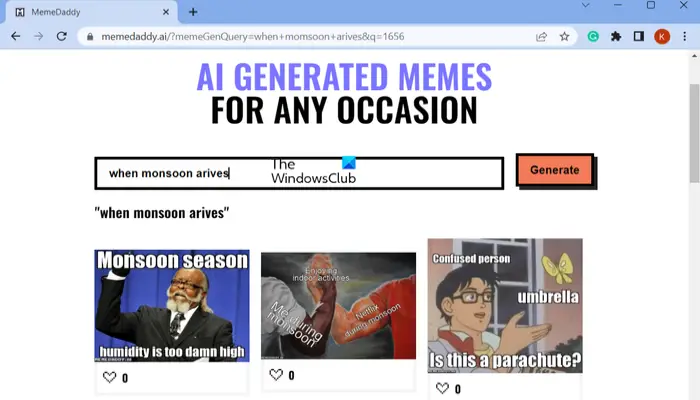 Source link

www.thewindowsclub.com