If you see error code 0x8007041D on your Windows 11/10 PC, read this post to learn how to fix it. Error code 0x8007041D is a Windows error you may encounter under various circumstances, such as while installing a Windows update or activating Windows. Different applications, such as the Windows Defender antivirus, VirtualBox, or Xbox can also throw the same error code.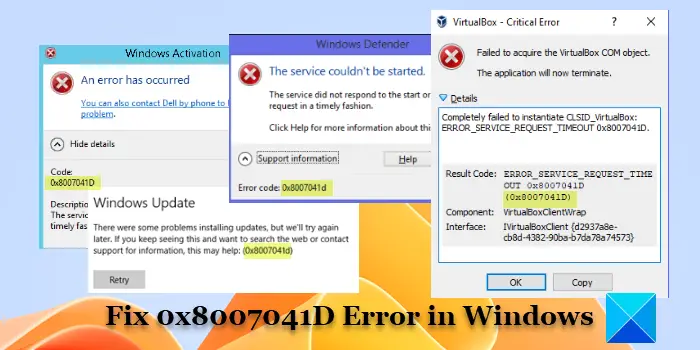 To be precise, error 0x8007041D has many variants. In this post, we will have a detailed look at some of the frequently encountered variants of error 0x8007041D and suggest solutions that will help you fix the error. The variants we are going to cover are as follows:
0x8007041D Windows Update error
0x8007041D Windows Defender error
0x8007041D Windows Activation error
0x8007041D VirtualBox error
0x8007041D Xbox error
So let us see how to fix 0x8007041D error in Windows 11/10.
Fix Windows Update Error 0x8007041D

The first variant we are going to talk about is the error message that a user gets while updating Windows. The message appears either while installing an update on Windows 10, or while upgrading to Windows 10 from Windows 7. The complete error message reads:
Windows Update

There were some problems installing updates, but we will try again later. If you keep seeing this and want to search the web or contact support for information, this may help: (0x8007041d)
A few instances of the error also appeared on Windows XP. If you're not able to install a Windows update due to the above error message, use these fixes:
Read: Windows Update fails to install or will not download in Windows.
Fix Windows Defender Error 0x8007041D

The second variant is linked to Microsoft Defender (formerly Windows Defender). Users generally encounter this error message while updating the Defender antivirus. It means there's a problem with the Windows Update service due to which virus definitions were not installed on a Windows 11/10 PC. The complete error message reads:
Window Defender

The service couldn't be started.

The service did not respond to the start or control request in a timely fashion.

Click Help for more information about this problem.

Error Code: 0x8007041d
If you see the above error message, use the following fixes:
Uninstall any other security software, except Defender. Then restart the PC and try installing updates (Settings > Privacy & security > Windows Security > Virus & threat protection > Protection updates > Check for updates).
Manually update Microsoft Defender/install the virus definitions. Visit this link to download the latest definition updates for your version of Windows OS. Then install the update and see if it helps.
Open Windows Services Manager and restart the following services: Background Intelligent Transfer Service, Cryptographic, and Windows Update. Right-click on a service and select Stop. Then reboot your PC. Again right-click on the service, and select Start. Again reboot the PC and check the update status.
Run the System File Checker tool to repair missing or corrupt system files. Then try installing the update.
Try updating Defender antivirus in a Clean Boot State.
Modify timeout settings via Windows Registry and set the Value data to 6000.
Read: List of Microsoft Defender error codes and solutions.
Fix Windows Activation Error 0x8007041D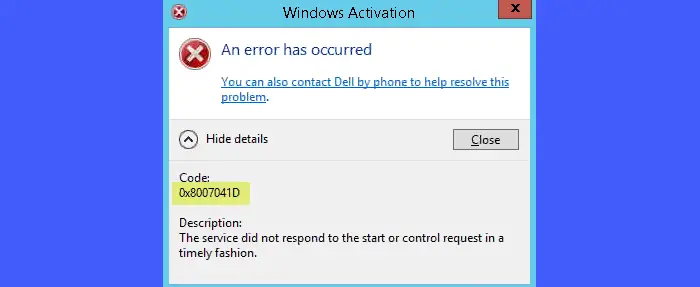 This error variant appears when users try to activate Windows post-installation. Though the error is rare, it may appear if a security software package is blocking Windows from activating. The complete error message reads:
Windows Activation

An error has occured

You can also contact Dell by phone to help resolve this problem.

Code:
0x8007041D

Description:
The service did not respond to the start or control request in a timely fashion.
To fix the above error message, use the following fixes:
Run the Get Help Activation troubleshooter. Go to Settings > System > Activation. Click on the Get help link to open the troubleshooter. Follow the instructions and see if you're able to fix the issue.
Go to the Control Panel and remove all security software packages that you may have installed when the problem started. Then reboot your PC and try activating Windows.
Use the Software Licensing Management Tool (slmgr) to activate Windows.
Contact Microsoft Support.
Read: Fix Windows Activation Errors in Windows: List of error codes and fixes.
Fix VirtualBox Error 0x8007041D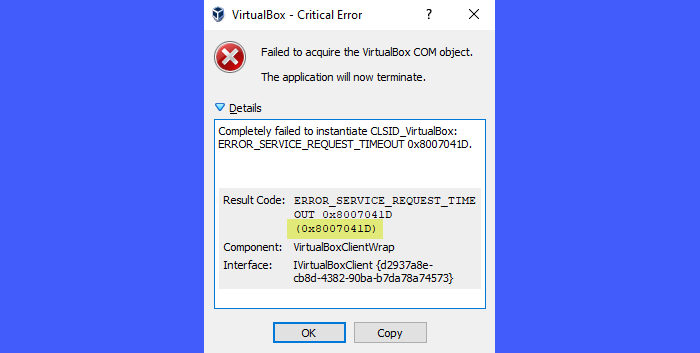 Error code 0x8007041D also prevents VirtualBox from starting in Windows (specifically, Windows 10). Apparently, the issue is caused by a VirtualBox configuration error. The complete error message reads:
VirtualBox – Critical Error

Failed to aquire the VirtualBox COM object.

The application will now terminate.

Details
Completely failed to instantiate CLSID_VirtualBox:
ERROR_SERVICE_REQUEST_TIMEOUT 0x8007041D.

Result Code: ERROR_SERVICE_REQUEST_TIMEOUT 0x8007041D.
(0x8007041D)

Component: VirtualBoxClientWrap
Interface: IVirtualBoxClient d2937a8e-cb8d-4382-90ba-b7da78a74573
If you can no longer run VirtualBox on your Windows 11/10 PC due to the above error, use the following fixes:
Enable Virtual Machine Platform in Windows Features.
Go to Windows Services Manager and make sure the COM+ services and VirtualBox system service are running.
End the background process VBoxSDS in the Windows Task Manager app.
Backup the contents of %USERPROFILE%\.VirtualBox into another directory.
Delete %USERPROFILE%\.VirtualBox\VirtualBox.xml and the .VirtualBox directory.
Reboot your PC and uninstall VirtualBox. Again reboot your PC.
Install the latest version of VirtualBox on your machine. Again reboot. VirtualBox should run without error.
Note: After the removal of the .xml file and the VirtualBox directory, import your previous virtual machines as existing machines to turn them on.
Read: VirtualBox Aborted: The VM session was aborted on Windows PC.
Fix Xbox Error 0x8007041D

The same error code can also appear on Xbox. Again, a rare occurrence, that can cause your console to hang or freeze. The complete error message reads:
A problem occurred

Try again, if the problem occurs again, visit xbox.com/errorhelp and type the following
code: 0x8007041D
To fix the error, use the following solutions:
Power Cycle your Xbox console. Press the Xbox button on your controller and hold it for at least 10 seconds (or until it shuts off completely). Unplug the power cord and wait for another 10 seconds. Plug the power cord back in. Press the Xbox button to switch on the console.
Reset your Xbox console to factory defaults while preserving your games and apps. This will remove any file corruptions that may be causing the issue.
Read: Fix Xbox One is stuck on Green Loading Screen.

I hope the above solutions will help you fix error 0x8007041D on your Windows 11/10 PC.
How to fix any Windows Update error on Windows 10 Windows 11?
Run the Windows Update troubleshooter to automatically diagnose and fix update-related issues. Remove third-party security software and then try installing the update. Run SFC/DISM tools to restore and repair system files. Check Device Manager for errors and uninstall or update driver software to fix the error. Try installing the update in a Clean Boot State.
What is error code 0x8007041d on Windows Update?
Error code 0x8007041d indicates that your system is not able to download and install the required Windows update. Several factors can contribute to the error, including corrupt system files, connectivity issues, firewall settings, or a conflicting antivirus. Running an SFC scan or resetting Windows Update components can help resolve the issue.
Read Next: A Service does not start error with Event ID 7000, 7011, 7009 in Windows.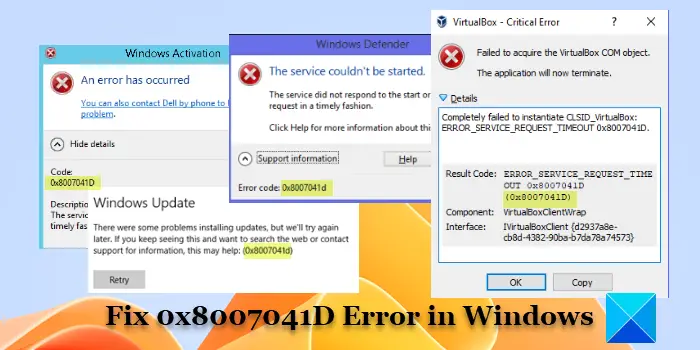 Source link

www.thewindowsclub.com