How irritating does it seem when you are about to enjoy your favorite game or use an app but encounter the NotificationController.dll missing error? Though Windows is a comprehensive OS yet, due to functionality, the chances of errors are always there. DLL errors are also difficult to solve. Therefore, the first step is to know what causes the error and next about how you can resolve it.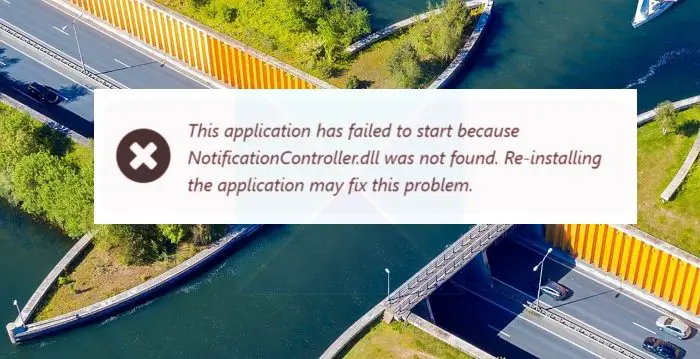 What is NotificationController.dll?
NotificationController.dll is a Windows OS file that is located in the System32 folder. When it is loaded files like msvcp110_win.dll, msvcrt.dll, VEEventDispatcher.dll, api-ms-win-core-util-l1-1-0.dll or several other system files may get loaded. If one of these files is corrupted or missing, NotificationController.dll won't be loaded and it could throw up an error.
There are several reasons responsible for the error. These include
Temporary Glitch: Too much cache memory or programs running simultaneously interfere with your PC's optimum functioning. This leads to errors like the missing DLL.
Corrupted program or OS files: Due to multiple reasons, sometimes app installation or OS files can get corrupt.
Fix NotificationController.dll missing error in Windows 11/10
Depending upon the causes of the problem, let's check the solutions one by one.
Restart Windows
Reinstall the Particular App
Run an SFC and DISM Scans
Re-Register the notificationcontroller.dll file
System Restore
You will need admin permission to execute these suggestions.
1] Restart Windows
Restarting Windows clears the cache memory and resolves temporary glitches, thus fixing the missing DLL error.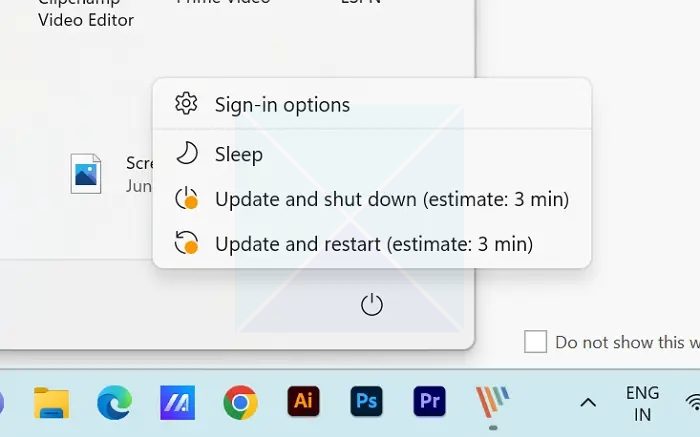 Press the Win key, tap the Power icon, and select Restart from the drop-down menu. Wait until your PC restarts and check if you again face the error.
Related: Fix PC Restarts after shutdown
2] Reinstall the Particular App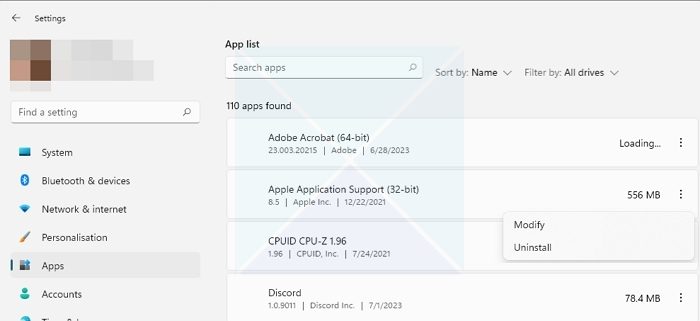 If the NotificationController.dll missing error persists for a particular app only, then reinstalling or repairing the app might help.
Go to Windows Settings > Apps > Apps & Features.
Search for the app causing the problem, then click on the three-dot menu.
Select Modify or Advanced Settings
Next, either the wizard will show up, giving you the option to repair, or you will get buttons that will help to Repair or fix.
If that doesn't work, you can click on the threee-dot menu again and then choose to uninstall it.
If the error no longer persists, then the app/game installation was corrupt.
3] Run an SFC and DISM Scans
Since the error occurs due to missing or damaged files, SFC and DISM scans help resolve the issue. However, you would need administrative privileges, and UAC would prompt you to do so.
While SFC /scannow command can fix protected system files, the modified file, DISM, is used to fix Windows component store corruption. You can run DISM if SFC doesn't help.
Read DISM vs. SFC. Which one to use first?
4] Re-Register the notificationcontroller.dll file
Re-Register the notificationcontroller.dll file as follows and see if it helps.
Open an elevated command prompt and execute the following command:
regsvr32 notificationcontroller.dll
The fill will get registered.
5] System Restore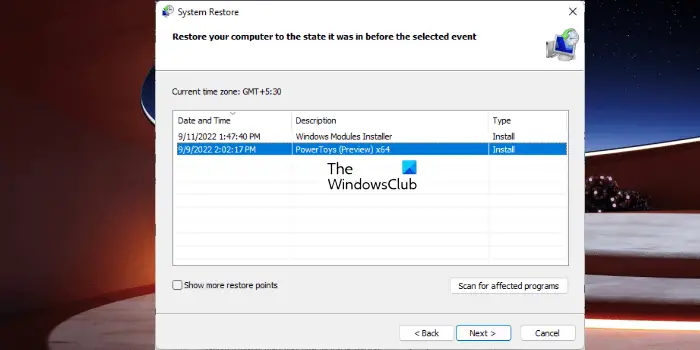 When none of the above solutions help, the only way is to restore your PC to a point where the error doesn't persist. Therefore, roll back your Windows OS to the point the NotificationController.dll is not causing a problem using the built-in Recovery program. However, this process works if you have enabled recovery points correctly.
Read: Where are System Restore Points stored?
All the best.
How do I fix DLL errors in Windows?
To fix Missing DLL files errors – If it's a system DLL, you can use the DISM and SFC commands; if it's an application, you need to reinstall it. However, you can also use the REGSVR32 command to register the DLL in Windows. If the DLL is designed such that it will be able to register, then yes, it will work.
What causes DLL corruption?
DLL files can become compromised for several reasons, such as inadequate software setup or removal, cyber-attacks via malware or viruses, hard disk degradation, registry complications, software glitches, hardware malfunctions, system anomalies or breakdowns, and abrupt power failures. To tackle corrupted DLL files, feasible remedies could involve reinstallation of the linked software, execution of a system recovery, or utilizing a system repair instrument.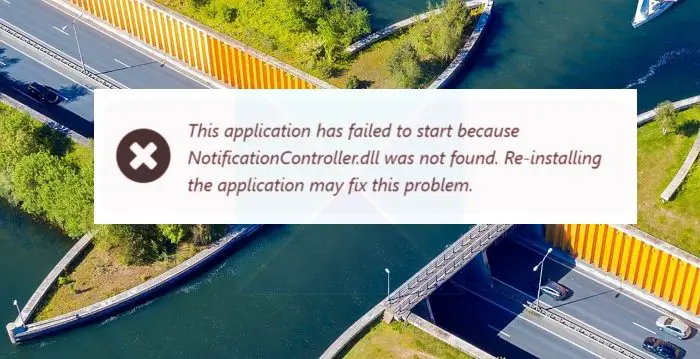 Source link

www.thewindowsclub.com