In this post, we are going to show you how you can create multiple Etsy shops that won't close down.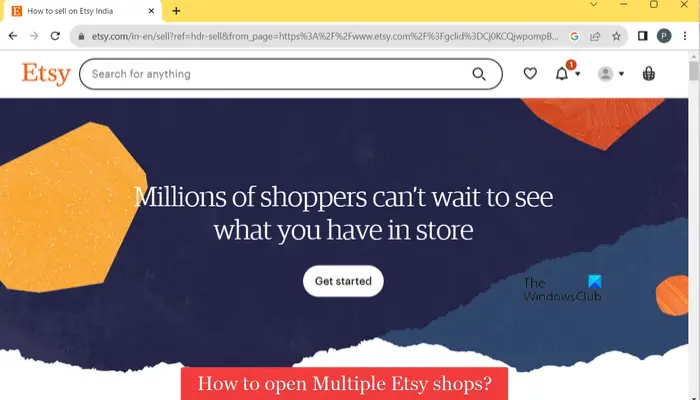 Etsy is an e-commerce website especially designed for independent sellers across the globe to help them sell their unique products. It is a great platform that connects millions of sellers and buyers for the exchange of beautiful handmade, vintage, and craft supply goods. Sellers can create an Etsy store of their own, list out their products, and then open their shop to let buyers contact and purchase their items. But can you open more than one Etsy store at a time? Let us find out in this post.
Can I have 2 Etsy shops under one account?
No, you can't have two Etsy shops under the same account. Etsy doesn't allow the creation of multiple shops under the same Etsy account. You must create a different Etsy account to start another shop. It will also likely close your shops if you don't follow its policies and rules. There are some points that you need to take care of before opening multiple shops on Etsy, which are as follows.
First, you must register a new account with a different email address than the previous one to create another Etsy shop. If you want to create three shops, you will require three different email addresses. So, create a new email account if you don't have one.
Next, you need a different web browser to sign into your other account and create and manage multiple shops on Etsy. Suppose you have opened your primary Etsy shop in Edge; you need another web browser like Chrome, etc. to open and manage your second shop. You can't manage multiple Etsy shops in one web browser.
You can't create duplicate shops on Etsy. If Etsy finds out you are running duplicate shops, it can shut it down.
Same product listings in different shops are not allowed on Etsy. So, avoid doing that to prevent your shop from being closed down.
Keep all your shops' titles under your Etsy public profile.
Following the above points and Etsy's Seller Policy, you can now create multiple Esty shops without getting them closed. We have shared the steps to do that in the below section.
How to create Multiple Etsy Shops which will not get shut down?
Here are the main steps to create multiple shops on Etsy that will not close down:
Open a web browser.
Go to Etsy.com
Sign out of your existing account, if logged in.
Register a new user account and sign in.
Click on your profile icon.
Select the Sell on Etsy option.
Tap on the Open your Etsy shop button.
Complete the survey questions or skip them.
Click on the Start your shop button.
Set up shop details including language, country, and currency.
Enter your shop's name.
Add product listings.
Choose who you will get paid.
Enter your billing details.
Click on the Open Your Shop button.
Let us elaborate on the above steps.
First, launch your web browser and open the etsy.com website.
Now, if you are already logged into your account, click on your profile avatar and select the Sign out option.
Once you are signed out of your primary Etsy account, press the Sign in button and then tap on the Register button.
Next, fill out the registration form including email address, first name, and password, and press the Register button. You can also directly use your Gmail account, Facebook ID, or Apple ID to register an Etsy account quickly. For that, click on Continue with Google, Continue with Facebook, or Continue with Apple and follow the prompted instructions to complete the signup process.
When you have registered another account and are signed into Etsy, you can open a new shop by following the below steps.
After that, click on your profile icon, and from the drop-down menu options, select the Sell on Etsy option.
On the next page, scroll down and press the Open your Etsy shop button.
Next, click on the Let's do this button and you will prompted with a survey question. Answer the question accordingly and press the Next button. Else, you can also skip the question.
Read: Best Amazon Price Tracker Services and Extensions.
If you need assistance on a topic, you can click on the topic and press the Next button to get the required help. Skip it if not required.
Now, press the Start your shop button.
You will be asked to set your shop preferences. These include Shop language, Shop country, and Shop currency. While setting up these preferences, make sure you choose the correct options accordingly:
You won't be able to change your shop's language later, so set it up correctly. However, you can add language translations later.
Choose the correct country for your shop.
Select the currency to tag the price of your product listings. In case your bank's currency is different than the one you have chosen for your shop, the currency conversion fees may be applicable.
Once you have selected the shop preferences, press the Save and continue button.
Next, enter the name of your shop, click on Check availability, and if the name is available, press the Save and continue button.
Read: How to spot Fake Shopping Websites?
The shop name should consist of 4-10 characters and can't have special characters, spaces, or accented letters. Also, keep in mind that the shop name should be distinct and must not be used by another Etsy member. You can change your shop name later if needed, so don't worry about the name. In case you need some tips on how to choose the best shop name, click on the More naming tips option and check out Etsy suggestions to name your shop.
TIP: Avoid Online Shopping Fraud & Holiday Season Scams.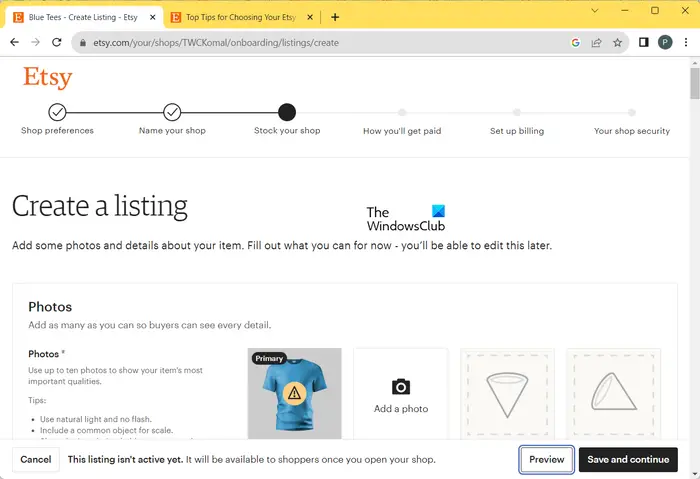 After that, you need to create a listing with the items you want to sell. Add the photos of the products, enter their descriptions, choose the specifications correctly, enter the price of the item, and more. Follow the suggestions mentioned by Etsy to attract buyers.
You can preview your listings once you have set up the product specifications. Then, click on the Save and continue button to move on to the next step.
Now, the main part i.e., how will you get paid for the products you sell? For that, you can select your country, the type of seller you are (individual or business/sole proprietor), country of residence, PAN, date of birth, bank information, payment methods, and more. Be careful while entering these details. Once you have set up these details, click the Save and continue button.
After that, set up your billing details such as credit card, debit card, etc., and verify your card. You can also link a prepaid card to your account.
When finished, you can press the Open your shop button and start selling your products and earning money.
I hope this guide helps you open multiple Etsy shops without getting any of them closed.
See: Best Chrome extensions for shopping.
How many Etsy stores can I have?
Well, you can create as many Etsy shops as you want provided that you are using different accounts and email addresses for each shop. If you have five different email addresses, you can register an account on Etsy with each one of them and then create five different Etsy shops. You need to follow some other Etsy policy as mentioned earlier in this post to avoid the closure of your multiple shops.
Now read: Top five Shopping apps from the Microsoft Store for Windows.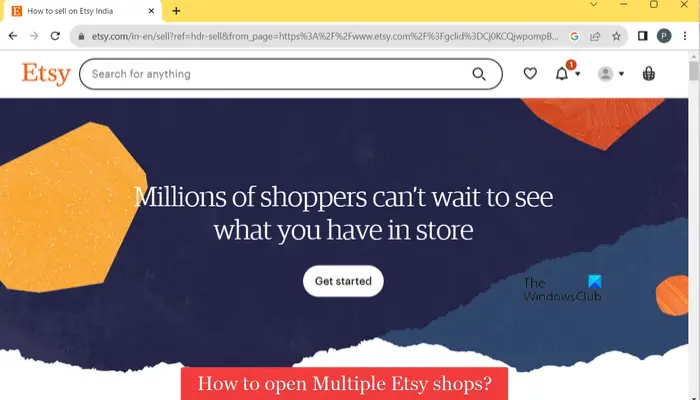 Source link

www.thewindowsclub.com