Discord is like a meeting hall for gamers and creators. To improve upon already great software, developers at Discord add new features, but for some reason, they have not included an option to change the voice of the user. We are going to do that for you in this post. We will see how to install and setup Voicemod on Discord.
How to Install and Setup Voicemod on Discord
Voicemod or Voice Modulation allows Discord users to modulate their voice. You can alter the vocal tone and pitch, and add new effects to your voice. Voicemods are extremely fun. You can change your voice or adapt one of certain characters while gaming. If you are a content creator and want to add something extra to your content, modulate your voice to attract more traffic on YouTube or Twitch. Lastly, changing your voice can also in maintaining privacy and not revealing your actual voice.
Setup Voicemod on Discord on your Windows computer
If you want to install Discord on your computer, be it Windows or macOS, the process will be the same. Follow the steps given below and you will be good to go.
First of all, open any browser and visit voicemod.net.
You need to click on the GET VOICEMOD FREE.
Now, you will be redirected to a page where you need to enter your Discord credentials. You can also log in with a QR code if you do not remember your credentials by scanning it using Discord mobile.
Once you have logged in, authorize Voicemod to use it on Discord.
Then Voicemod will download and initiate the installation process.
Follow the on-screen instructions to install Voicemod.
Now, we need to make some changes to Discord's Settings. For that, open Discord, click on the cog icon, and open its settings.
Navigate to Voice and Video and change the Input Device to Voicemod Virtual Audio Device, make sure to not change your Output Device to Voicemod.
Finally, you can save the changes and modulate your voice.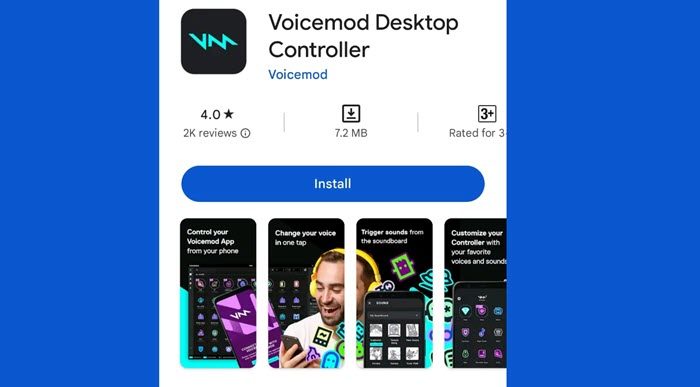 You can also download a free mobile application called Voicemod Desktop Controller from PlayStore or App Store and pair it with your computer. Then, use it to control the voice on your desktop.
That's it!
Read: How to adjust Audio Quality or change Bitrate on Discord?
How do I set up Voicemod on Discord?
It is pretty easy to set up Voicemod on Discord. Once you have installed the application and entered the credentials to log in, you just need to make some adjustments to Discord settings to make everything work. To know more, check the aforementioned steps to install Voicemod on Discord.
Why can't I use Voicemod on Discord?
There are various reasons why Discord won't work on your computer. That includes temporary glitches, misconfiguration, corrupted files, and more. We recommend you check our guide to know what to do when Voicemod fails to work on Discord or doesn't modulate the voice.
Read: Best Soundboards for Discord on Windows PC.


Source link

www.thewindowsclub.com