A lot of users reported Outlook Polls are behaving peculiarly. On some occasions, the Polls by Microsoft Forms Addon gets inserted in Outlook for Web but fails to do the same in the Outlook Desktop app, whereas, in some scenarios, the addon fails to work even in the web version of Outlook. In this post, we will discuss this issue and see what you must do when Polls are not working in Outlook.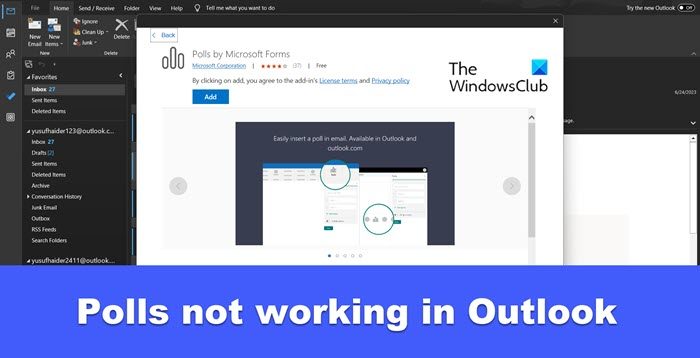 Fix Polls not working in Outlook
If Polls are not working in Outlook, follow the solutions mentioned below to do the same.
Update Outlook
Check your Internet Connection
Switch to a different network
Repair Outlook data files
Clear Outlook Cache
Repair Outlook
Before you begin, remove and then add the Polls by Microsoft Forms Addon and see if that helps.
1] Update Outlook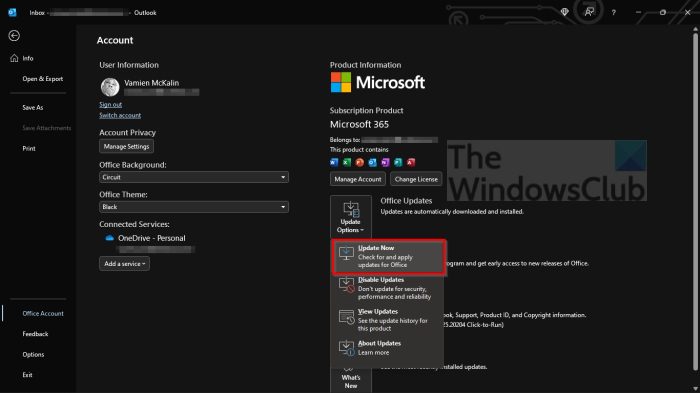 One of the reasons why a quick poll won't work on your system is the presence of bugs. We recommend updating the Outlook application. To update Outlook, follow the steps given below.
Open the Outlook app on your computer.
 Go to File > Account.
Navigate to Office Updates and then select Update Now from the drop-down list.
Outlook's update will be downloaded and installed. Finally, check if the issue is resolved.
2] Check your Internet Connection
If the Polls are not loading on your computer, be it on Outlook web or Outlook app, do check your Internet Connection. There are various tools to check our bandwidth.
3] Switch to a different network
Sometimes, Outlook fails to respond to a particular network; restarting the router that's connected to the network does the trick in most cases, but if it doesn't, switch to a different network. For now, enable your mobile hotspot and then connect to it. This uncanny issue automatically gets resolved in a few hours. Then you can connect to the high bandwidth WiFi and enjoy using Outlook.
4] Repair Outlook data files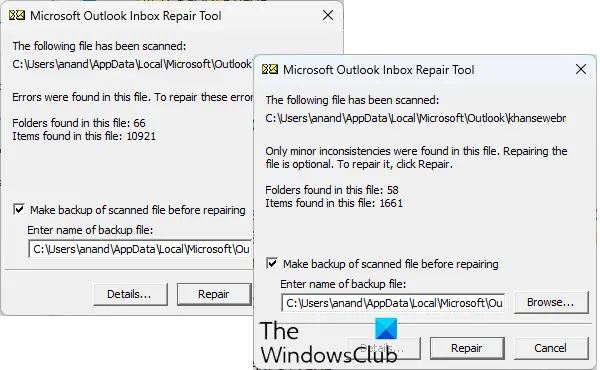 Microsoft Outlook will fail to respond to the Poll if its files are corrupted. We recommend you repair Outlook PST & OST data files and then check if the issue is resolved.
5] Clear Outlook Cache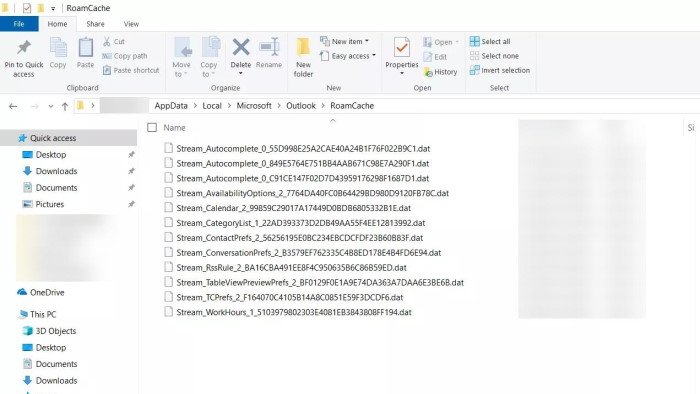 Caches are stored on your computer to load frequently used items quickly. In your case, when Outlook looks for the cache to run the Poll extension, it fails to do the same because of corrupted caches. That is why we must clear Outlook Cache and see if the issue is resolved. There is nothing to worry about in this process, as Outlook backup your files, attachments, and messages onto its server. So there will be no data loss. Now with that worry out of the way, follow the steps mentioned below to clear your Outlook cache.
Open the Run prompt by Win + R.
Paste the following environmental variable below and hit Enter.

%localappdata%\Microsoft\Outlook

Launch the Roam Cache folder, and select and delete all of its files.
Finally, check if the issue is resolved.
6] Repair Outlook
If nothing worked, your Outlook app itself is corrupted. There are various things that could have caused this issue including improper updates. However, Microsoft is well aware of this vulnerability of Outlook, hence, has provided a built-in tool for troubleshooting. Follow the steps given below to repair Outlook.
Open Settings.
Navigate to Apps > Installed apps or Apps & Features.
Search for "Office" or "Microsoft 365".

Windows 11: Click on the three dots and then select Modify or Change.
Windows 10: Select the app and then click on Modify or Change.

Select Quick Repair > Repair.
Follow the on-screen instructions to complete the process. In case Quick Repair didn't resolve the issue, run Online Repair.
We hope that you can resolve the issue using the solutions mentioned in this post.
Read: Attachments not showing in Outlook
How do I enable polls in Outlook?
To create Outlook Polls we need to insert its addon in Outlook. To do the same, in Outlook, click on Get Add-in. Once the marketplace appears, type "Polls" and click on Polls by Microsoft Forms. Finally, click on the Add button and your issue will be resolved.
Read: Fix Outlook Library Not Registered error
Why can't I insert a poll in Outlook email?
If you want to insert a poll, your administrator needs to visit Microsoft 365 Admin Center and check the box of Send a link to the form and collect responses option from External sharing. This will do the job for you.
Also Read: Zoom plugin is not working in Outlook.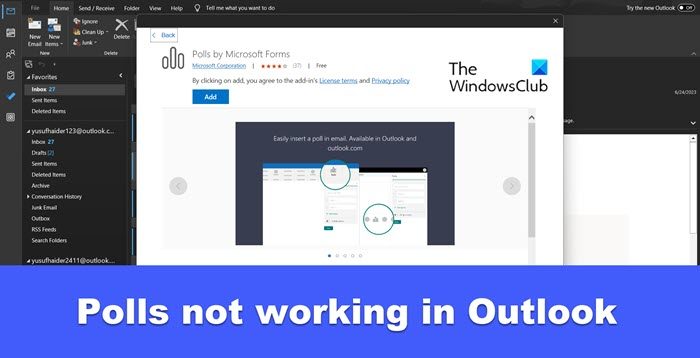 Source link

www.thewindowsclub.com