Sunday, December 18, 2022 at 12:00 PM 43 seconds, Indochina time.

Ragnarok fans have a hey! Recently, a huge collaboration between the MMORPG mobile game Ragnarok X: Next Generation (ROX) has officially announced a collaboration with the anime Demon Slayer: Kimetsu no Yaiba. The activity will begin on December 18, 2022. What interesting activities will this collaboration have? Let's see!!!
In "Ragnarok X: Next Generation", adventurers enter a mysterious scene after completing daily quests. Tanjiro Kamado, Zenitsu Agatsuma, Inosuke Hashibira will join the battle with adventurers! After clearing the level, you will receive Gachapon Coin and start your journey by winning Gachapon Collabs Gold Card. This gold card will feature a new 3D action card of the Demon Slayer: Kimetsu no Yaiba character for combat and unleashing skills together.
not only this This time, you can also purchase a value pass with Diamonds. Complete the quest to receive a Demon Slayer: Kimetsu no Yaiba costume and various Demon Slayer: Kimetsu no Yaiba rewards! In addition, there are many new "Demon Slayer: Kimetsu no Yaiba Collaboration Game Modes" waiting for adventurers to join and explore in "Ragnarok X: Next Generation" by themselves. Characters in Demon Slayer: Kimetsu no Yaiba together!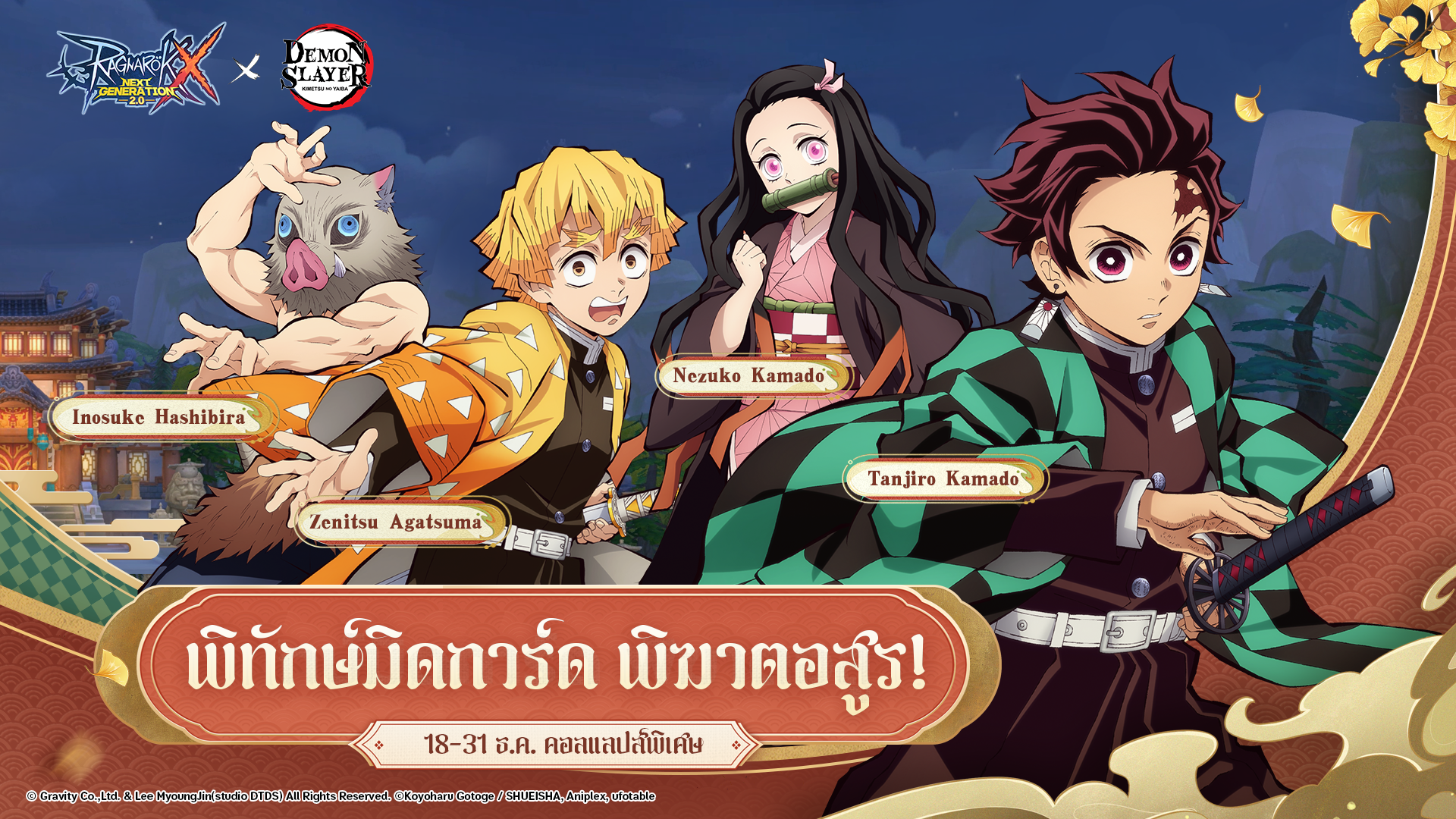 Ragnarok X: Next Generation celebrates the holidays with ROXmas! You are on a special mission….
It's that time of year again, and this time Ragnarok X: Next Generation is ready to kick off the festivities by celebrating the holidays with all our Adventurers! If friends are looking for a fun holiday. Look no further! On December 23, Ragnarok X: Next Generation comes with a brand new update in which you will find new epic maps Lutie and Toy Factory. Both maps are full of quests and monsters. The router will have to fight many more.
And of course, this special holiday season also comes with new costumes. which is a cracker-themed costume The specialty is that this costume will only be available during this festival. Don't hesitate anymore! Friends should have it for all adventurers to wear to celebrate this holiday together and most importantly, don't forget to take lots of pictures to keep it as a wonderful memory!!!
Christmas Event 1: Protect the Presents
It's time to answer!!! The upcoming holiday season is "Christmas" and that means "Santa" will surely make sure everyone gets their presents on time. This year, something is going to be different. WORST!!! Santa is now in danger! Since Baby Garm sent monsters into chaos Santa's toy factory, the Toy Factory is in chaos. Adventurers must help each other to deal with monsters. And get the factory production belt back to work again!!! If the adventurers can restore the factory Santa will also give you rewards in return!
invite your friends Wear exclusive costumes with the best equipment. And prepare to go together!!! We must save our special Christmas season!!! Christmas Event 2 : MVP Garm Invasion
The boss of this Christmas event is Garm, who has raided Santa's toy factory countless times. and make the toys overwhelmed by the devil's smoke! Adventurers must hurry to stop this boss' evil acts. And need help from these adventurers as soon as possible!!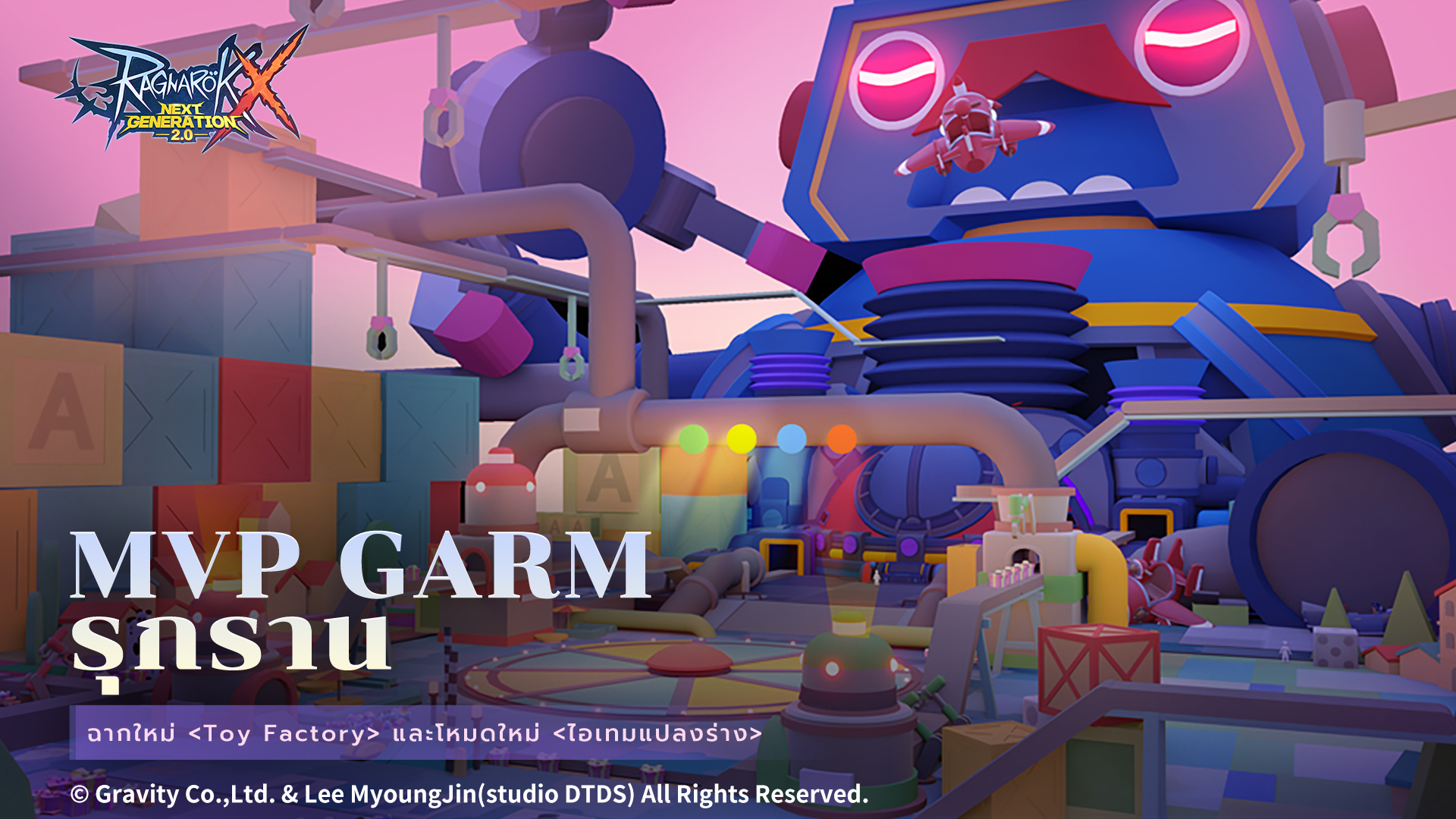 During the event period, Garm will appear on the Toy Factory map every hour, and this event features never-before-seen gameplay. The adventurers need to find a way to obtain a transformation item that will allow them to avoid Garm's attacks and defeat them. which if the adventurer can complete the challenge successfully They will have the chance to win amazing items such as Garm Cards and special holiday mounts. If you don't want to miss these luxury prizes Well prepare yourself to fight!
In addition, cross-server GVG tournaments are also launching this month. In which the strongest guilds of all servers will compete for supremacy, which the Official Community will also broadcast live. I can tell that you don't miss it! And finally, Merry ROXmas everyone!
And these are just a few of the updates coming in December! But that's enough for spoilers for this update. Follow more news in the game. In case there are more surprises that haven't been mentioned here!
https://rosea.onelink.me/fuHN?pid=Email&c=HermesMKTPR&af_click_lookback=7d&af_dp=snssdk3402%3A%2F%2F&af_web_dp=https%3A%2F%2Fwww.ragnarokx.com&af_adset=M12pr_th


Source link

www.4gamers.co.th