When it comes to hosting, first of all, they mean the place where your site files will be stored. Good hosting is of great importance for the performance of your resource and its stability, therefore, directly affect the development of your business. Today we will get acquainted with a rather young, but growing hoster – PQ.Hosting.
By what criteria is hosting evaluated?
Hosting rating depends on many factors such as performance, reliability, security, support and price.
Here are a few key aspects to consider when evaluating hosting:
Performance. Must have a high site loading speed and minimal downtime (availability). This is influenced by factors such as server capacity, use of CDN (Content Delivery Network) and database optimization.

Reliability. It is important that hosting provides guaranteed site availability (uptime) and protection against DDoS attacks and other malicious attacks.

Safety. Equally important is protection from hacker attacks, viruses and other malware. Also important is the ability to regularly create backup copies of the site.

Support. Quality hosting should provide professional technical support 24/7, which responds quickly to customer requests and is ready to help in solving problems.

Price. The cost of the services provided should correspond to its capabilities and quality. It is important to choose the optimal tariff plan that meets the needs of the site and does not burden the budget.
The rating may be based on personal experience or on reviews and feedback from other users.
Services available
The company offers rental of virtual servers in 30 locations. Mostly European countries here, but there are also Canada, the USA and Hong Kong. The plans include a significant expansion of geography, and in all directions – Asia, Africa, South America.
Today in PQ.Hosting you can rent:
VPS/VDS (30 locations);

dedicated servers in the Netherlands;

HI-CPU VPS/VDS are high-performance virtual servers hosted on the latest Intel E2288G server processors. They provide the maximum frequency of the processor on each core;

VPN WireGuard.
The policy of the company is high-quality and inexpensive VPS/VDS servers. An important principle – PQ.Hosting never rents someone else's equipment.
The hosting model is based on using only its own technical equipment up to switches.
We use only certified solutions from leading manufacturers – Intel, AMD.
Performance
The performance of VPS/VDS servers and dedicated servers depends on many factors, including hardware characteristics, server load levels, the number and type of applications running on the server, and the quality of support provided by the hosting provider. PQ.Hosting has maximum performance. Virtual HI-CPU VPS/VDS servers are located on the latest Intel E2288G server processors. They provide the maximum processor frequency per core. The package includes DDR4 ECC RAM and NVMe drives from Intel.
Each VPS has its own operating system and resources such as CPU time, RAM and disk space allocated to it. UPUs offer benefits such as customization flexibility, lower maintenance costs, and scalability.
Dedicated servers provide higher performance than VPS due to the fact that they are completely controlled by one client. This means that the client can customize it however they want. But IPUs are a more cost-effective solution and can be a good choice for many applications, especially for small to medium projects.
Reliability
The reliability of a hosting provider is determined by its ability to provide a high level of site availability, as well as protection from security threats. To do this, hosters usually use various technologies and infrastructure, such as powerful servers, backup systems, DDoS protection tools, etc.
Uptime – the time during which the site is available to visitors. The higher the uptime level, the better for the business, as it means that the site will be available to customers for the majority of the time. PQ.Hosting provides a high level of uptime (99.9%). Protection tools are also provided, such as traffic filters, SSL certificates, monitoring systems.
Safety
One of the key stakes of PQ.Hosting is to provide servers with modern solutions for protecting user data. The company has an IT department that ensures a high level of security for personal accounts, user data and other confidential information. A good plus can be considered the fact that all PQ.Hosting equipment is located in leading and secure data centers, which only adds reliability and an additional guarantee of security.
Customer Support
PQ.Hosting technical support works around the clock 24/7. None of the client's requests are left unattended. Specialists respond quickly and informatively. The request can be made online on the website or by contact phone number. Telegram also has a personal assistant. There are a lot of options for contacting technical support specialists. This is also a significant plus. When ordering a dedicated server, a personal manager is assigned to clients, round-the-clock VIP support is guaranteed.
Price
In terms of prices for virtual and dedicated servers, PQ.Hosting is noticeably different from other hosting providers. The rates are among the lowest on the Internet, while the quality of services is high. The client, at will, can choose an inexpensive virtual server for minimal needs or the most powerful solution for large projects.
The price is below market values ​​and this cannot but attract. The most inexpensive VPS / VDS tariff is 3.77 euros for one month, you can order the service immediately for 3-12 months, saving 5-15%. Dedicated servers are available at a price of 150 euros per month, but there is a system of discounts, that is, the longer the lease term, the greater the benefit for the client. Dedicated server activation within half an hour after payment. Installation is completely free.
The VPN price starts from 2 euros. There is a large list of countries for the VPN WireGuard service to choose from. This is a modern and resource-friendly VPN tunnel protocol that uses strong encryption algorithms.
How to order hosting?
After registering on the site PQ Hosting you will get access to the control panel, where all interaction with the hosting will take place.
In the column on the left we see all the tools that are available to the hosting user. To order a server rental service, you need to go to the appropriate tab.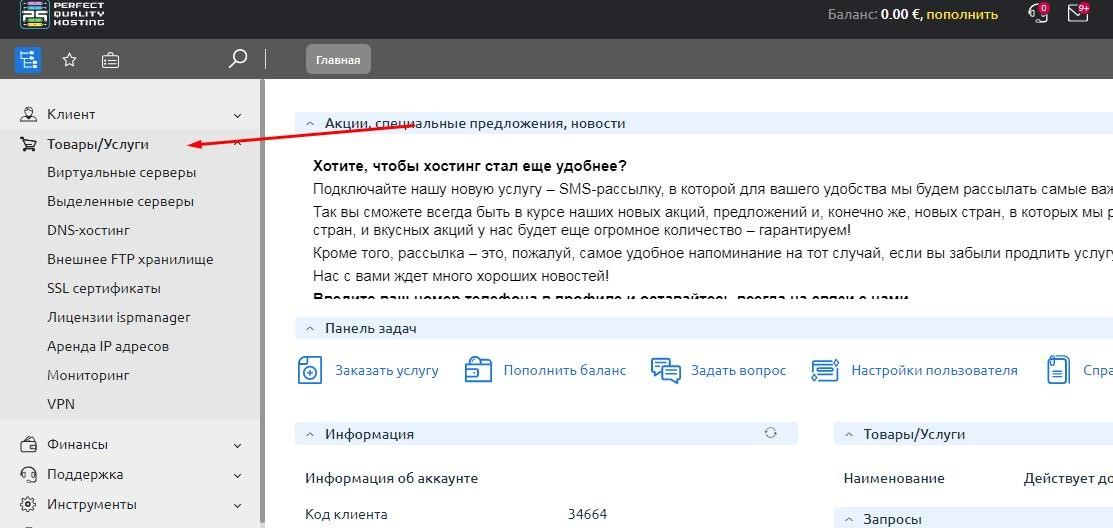 For example, we need to order a virtual server. We press the corresponding button. Then the "Order" button.
Then select the desired server settings (location, data center, performance) and click "Order".
Finally, enter your domain name and add the item to your shopping cart.
At the end, just buy a server in any convenient payment method (cryptocurrency, Visa, Mastercard, electronic wallets). Despite the difficulties that users from Russia face when paying for hosting on other sites, PQ.Hosting has no problems with this. For customers from Russia, convenient payment options are also offered. If you are from Russia, then the MIR card or Yumani electronic wallet will be convenient for you, as an option – cryptocurrency.
Conclusion
PQ.Hosting is a fast growing company that uses its own equipment to provide virtual and dedicated server rental services to its customers. The company focuses on quality and affordable prices. If you monitor the tariffs of hosters on the Internet, you will notice that in PQ.Hosting the tariffs are really below market values. At the same time, clients note the high quality of the services provided, the stability and reliability of the servers, and the compliance of the declared uptime with the real value.


Source link

www.securitylab.ru