PC Creator 2 is a simulation game for Android in which you'll be able to set up your own personalized gaming PC business.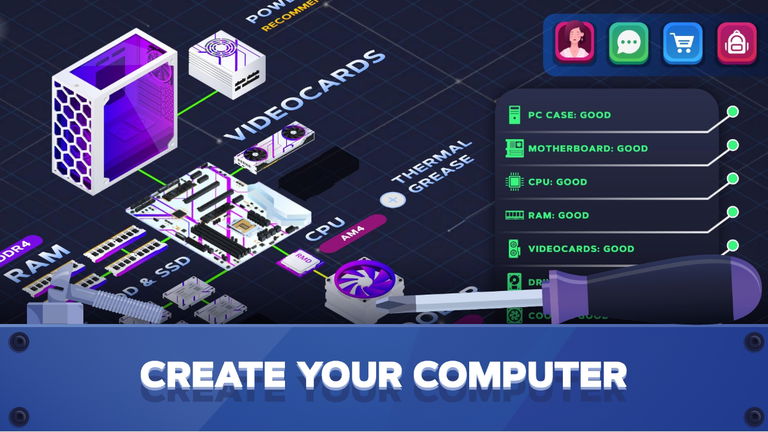 If you like to assemble your own gaming computer in pieces, surely more than once you have thought that you could dedicate yourself to it, but you have discarded it because You do not have the necessary investment to set up this company.
Well, today I am going to tell you how you can create your own gaming computer business from your mobile and without spending a single euro thanks to a curious game called PC Creator 2 – Computer Tycoon.
Create your own PC assembly business with this fun game
PC Creator 2 – Computer Tycoon is a free android game with which you can build your own gaming computers for parts and sell them to your customers. For this, this game puts at your disposal a total of 3,000 pieces of computer hardware that include processors, RAM memories, hard drives and graphics cards, which, in addition, you can trade with players around the world to get what you need.
At first you will have a limited budget and you will start mounting gaming computers in your room, where you will receive your first orders. The key to increasing your capital will be to inflate the budgets of the PCs a little so that you can earn profit after paying raw material costs.
Once you have a computer assembled you will have to test its performance using programs like Geekbench and testing games like the popular Counter Strike.
But perhaps the most peculiar aspect of this game is that it allows you to attend real cryptocurrency mining courses and even use the gaming PCs that you are building to mine virtual cryptocurrencies.
These Are The Mobile Games Literally Everyone Is Playing
PC Creator 2 – Computer Tycoon is a game completely free without ads and with in-app purchases ranging from 0.49 euros to 59.99 euros that you can download from the direct link to the Google Play Store that we leave you under these lines.


Source link

andro4all.com