Take advantage of the walks you take every day with this application that pays you to walk. We explain how it works.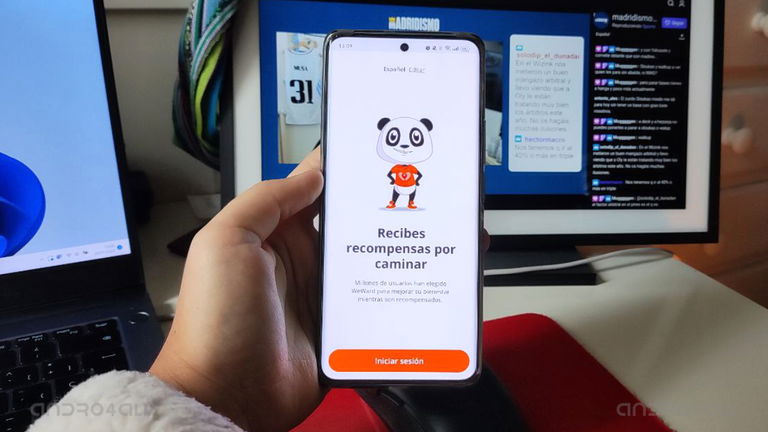 In the Android application stores there are apps for which you have to pay and other apps with which users earn money when performing certain tasks. It is in this last section where WeWard, an app that pays to walk and that I have tested for a few days to tell you how it works. In this case, you don't have to try certain applications or answer surveys to earn money, just take a walk through your city to get it.
If you are one of those who usually take long daily walks, WeWard is a very interesting app to make them profitable. If you don't usually go for walks, WeWard can also become a good motivation to do more physical exercise every day. The steps are converted into virtual coins that you can later exchange for rewards like money, gift cards in a wide variety of shops and other gifts. Let's see how WeWard works.
WeWard, the app that pays you to walk
The first thing you have to do to start taking advantage of WeWard is, obviously, download the application on your mobile. You can do it totally free from the google play storethen we leave you the link. Afterwards, you will have to create a personal account, with the possibility of register directly with your Google or Facebook account.
the process continues accepting the different conditions of use of the app and, voila, you will access the main screen of WeWard. For the app to start recording your steps, you'll need to connect it to your Google Fit accountwhat will act as a pedometer. Once this step is done, you will see how the WeWard counter is updated with each step you take.
In the same counter on the main screen you can see the currency exchange. For example, 1,500 steps equals 1 Ward (1W), while 20,000 steps equals 25W. When you log in for the first time, the app gives you 50W as a gift. It is very important that you remember redeem the steps at the end of each dayjust before 12 midnight arrives. And it is that, if you do not do it, the steps that you have gathered will be useless.
Little by little, by redeeming the steps, you will see your Wards increase. Then it's time to enter the tab "Gifts"where you can see the rewards available to you. You can donate to environmental protection associations, get hold of shopping vouchers to exchange in establishments such as gyms and even get a iPhone 13 in exchange for 160,000 Wards.
If what you want is cash, enter the "Transfers" section. There are different changes, the minimum is 15 euros for 3,000 Wards and the maximum is 150 euros for 27,000 Wards. They are not rewards that are achieved in a single day, but you can access them if you are constant and, above all, if you remember to redeem the steps every day.
Another interesting aspect of WeWard is that you can compete with your friendswith which you can compete to see who gets the most steps. In addition, when you add each other, the app will reward you with various virtual currencies.
The best 6 apps to earn money and prizes by recycling
Finally, another way to get Wards that you will later exchange for money is buy in stores like El Corte InglésNike, Asos or Levi's. If you make the purchase from your WeWard account, each euro spent will be exchanged for a series of Wards that varies depending on the store. For example, in El Corte Inglés they give you 7 virtual coins for every euro spent in the purchase
If you want to earn money for walking, WeWard is an app that you should give a try. At Andro4all we have also tested Stepler, a very similar app that also pays for walking. The World Health Organization recommends walk between 7,000 and 8,000 steps a day to take care of your health. With WeWard and Stepler you can listen to this advice and also earn money.


Source link

andro4all.com