With Microsoft Loop, the company wants to overthrow Notion's current hegemonic position.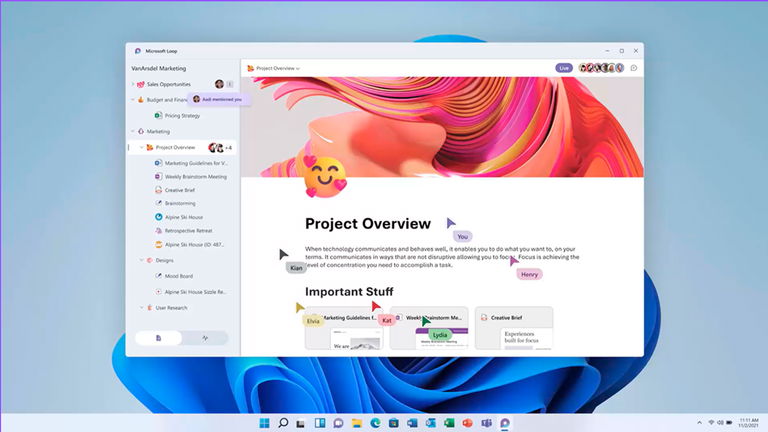 Microsoft Loop is Microsoft's new bet to compete with Notion. Its goal is to become the ultimate app, not just among the best note appssince for that segment already OneNote is available. But it goes a step further and allows you to manage databases, notes, reminders, all in a work environment that can be shared and supported by AI. The best? That you can try it totally free on your Windows computer.
Yes indeed, not the final appso everything we find in it could be subject to change.
These are the features of Microsoft Loop
In use, Microsoft Loop is very reminiscent of Notion. It is based on a very similar structure that divides our work into three: workspaces, pages and components. The components they're basically what we add to pages, whether it's a to-do list, a citation, a table, or a database. The page is formed based on these and finally we can move it to the work space to collaborate with our colleagues. We can also use it alone, as profiles. For example, one for work, another for a hobby that we have, and the other as notes from our day to day.
On the other hand, it has the focus on everything being comparable. Thus, we can send messages to our colleagues or have a small conversation with them. everything from the same app since they have emphasized that they do not want the focus of the ideas to be lost for changing applications.
One of the main features is that it uses AI. Microsoft hasn't forgotten about Copilot, the new experience based on GPT-4 that they've been putting into all their applications so that we have an incredibly smart suite. Thus, the user experience is very good and it will suggest various functions to make our lives easier. We can ask you questions and Copilot will put the page together to make everything much easier for us.
In short:
It is a notes and productivity application taken to another level and very similar to Notion.
It works based on pages and workspaces. We can have as many workspaces as we want, each one for a broad theme or for whatever we want.
Its focus is that we do not lose the flow of ideas because we are changing applications.
will use Co-pilot the most advanced Office 365 assistants which is based on GPT-4 the open AI. It thus becomes one of the best ways to try GPT-4.
In general, this application has the wickerwork of become a full application. This will allow us to have a level of control over the information we handle and the ideas we have that become very interesting.
How to try Microsoft Loop for free
we can try now totally free Microsoft Loop. This will allow us to enjoy the features it offers before anyone else. Accessing this test program is very easy, since we simply have to access loop.microsoft.comClick "Start" and sign in with our Microsoft account. Once this is done, everything will be ready and we will be able to use the application without any problem.
It is not known if in the future it will continue to be free, or if, on the contrary, it will be included in the Microsoft 365 annual payment package. What is clear is that Microsoft is making a brutal bet on AI and productivity.
How to try Microsoft Loop for free on mobile phones.
From Microsoft they have announced that mobile phone applications will be available very soon. However, they have not yet been released.
The app for iPhone can be tested via TestFlight. However, although it can access the website of the Beta, it warns us that is full and does not support more users. There is no problem about it since I'm sure it will be officially released very soon..
For his part, no android newsAlthough its arrival is confirmed, it is not known if there will be an initial beta program or if we will have to wait for the official launch of the California product.


Source link

andro4all.com