Looking for some good writing prompts for ChatGTP? This post lists 101 best ChatGPT Prompts for Writing. If you're brainstorming ideas for your writing, ChatGTP can be your invaluable resource. Give it a prompt (question) and it will generate ideas, concepts; even paragraphs you can use for writing inspiration.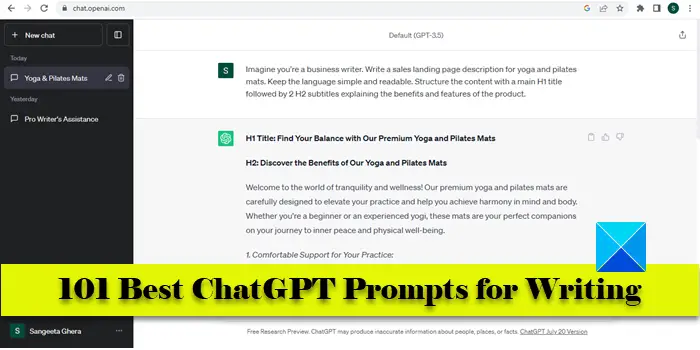 Whether you are a blogger or a professional writer, ChatGPT prompts help you automate language tasks (writing, translation, etc.) to save time and effort. ChatGTP can also generate follow-up questions in response to your prompts to help you discover new ideas and perspectives for your specific writing needs.
How do I get better answers on ChatGPT?
Crafting the perfect ChatGTP prompt is essential to produce relevant content for all sorts of writing. You need to define your objective before writing the prompt. Once you're clear about what kind of assistance you need from ChatGPT, you can follow these tips to write the best prompts for ChatGPT:
Assign a role to ChatGTP to simulate its creativity. For example, write, "You will take the role of a Content Writer", or "Imagine you are a Copywriter" to make it adopt the behavior of a writer as you move through the conversation.
Make your prompts clear and descriptive. Avoid being unclear or vague in your instructions. For example, instead of asking "Write me a blog post on anxiety", ask "Write me a blog post on 7 natural ways to reduce anxiety, including facts about anxiety and depression in young adults".
Provide context to help ChatGPT do a better job for you. For example, if you're discussing a fictional story, give necessary details about the characters and the situation to help ChatGPT generate a more engaging response.
Create rules to get the most out of ChatGPT. For example, ask for a specific number of words in the blog post or ask for the output to be in sentence case. The more specific rules you set, the more creative the response ChatGPT can generate.
Define constraints. You can instruct ChatGPT what you don't want it to do. For example, you can tell it "Don't use idioms" or "Don't use non-inclusive phrases".
Be prepared to iterate and refine your prompts. It may take several tries to identify which text gets you the best results.
101 Best ChatGPT Prompts for Writing
Here are 101 best ChatGPT prompts to help you with your writing assignments:
Note: To make it a bit easier to navigate to specific prompts, we have categorized them into 5 different types of professional writing types. You can read all the prompts or jump to the ones that suit your needs.
1] Best ChatGPT Prompts for Academic Writing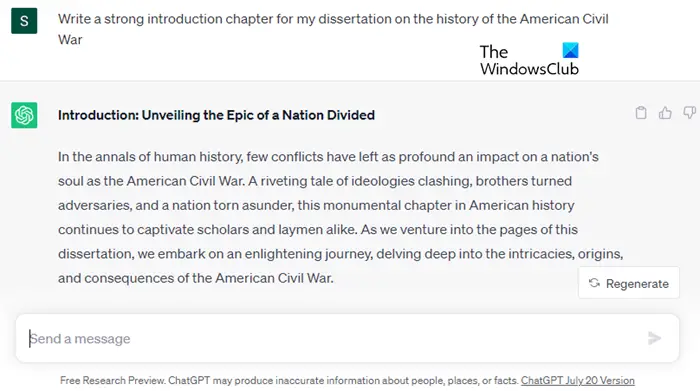 "Write me a detailed proposal on DNA evidence in criminal justice. Make sure it is free from plagiarism."
"Generate a concise, engaging abstract for a research paper based on this information: [paragraphs]."
"Create an introduction for a synthesis essay discussing the perspectives for medical imaging".
"Summarize the evolution of research on AI and vehicle automation. Extract the most important information in bullet points".
"Develop a research plan for role of bioinformatics in healthcare improvement".
"Give me an outline for a journal article about the influence of cyberbullying on suicide rates among American adolescents that I can use as a starting point."
"Write a strong introduction chapter for my dissertation on the history of the American Civil War".
"Write an introduction for my PhD thesis on a comparative analysis of the incidents of gun violence in the USA during the 2010s".
"Improve this paragraph using passive voice: [paragraph]".
"Give recommendations and conclusion for use of AI in archeology."
"Provide two contrasting viewpoints on feminism in the United States for a synthesis essay".
"Rewrite this text as a conclusion: [text]"
"Imagine you are a language expert, proofread my paper on how to conduct market analysis for e-commerce, while putting a focus on grammar and punctuation."
"Identify the key findings for this research: [paragraphs]."
"Explain this research to a 10 year old: [paragraphs]."
"Reduce the following to 400 words while making it more cohesive: [text]".
"Write objectives for the effect of emotional resilience on mental health."
"Conduct a literature review on the social value of ecopoetry".
"Suggest 5 titles for the following abstract" [abstract]".
"Generate 10 academic research questions on the art of glass-making and its prospects for the future."
2] Best ChatGPT Prompts for Business Writing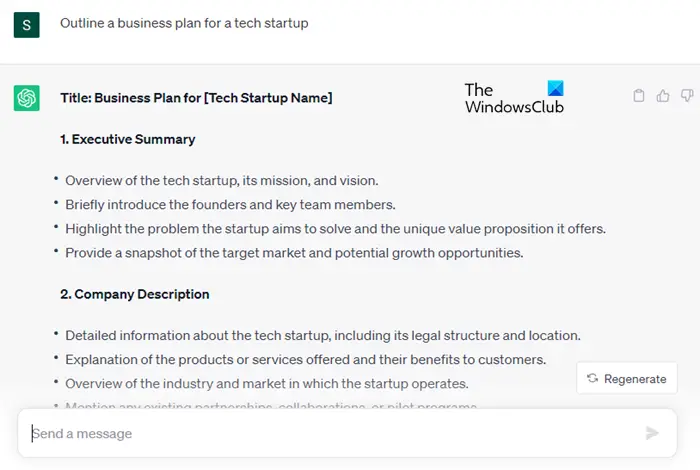 "Suggest five low-cost business ideas that can be started with minimal investment."
"Design a professional invoice template for a logistics business. Make sure the template has sections for discounts and taxes."
"Write a professional email to a client requesting feedback on a project proposal, including a deadline for response."
"Outline a business plan for a tech startup".
"Compose a polite email declining a business proposal or collaboration."
"Craft an email to introduce my photography business to potential clients."
"Identify five strategies to manage stress at work."
"Write a sales landing page description for yoga and pilates mats. Keep the language simple and readable. Structure the content with a main H1 title followed by two H2 subtitles explaining the benefits and features of the product."
"Outline the basic legal requirements for starting an NGO."
"Imagine you're a web design consultant. Use your knowledge of UX design principles to suggest a project plan for designing an e-commerce website for selling handcrafted products."
"Imagine you're an employee. Write a polite email to a supervisor requesting time off for a vacation. Include the dates of the requested time off and a plan on how you will cover work during the leave of absence."
"Suggest five strategies to handle difficult or unhappy customers."
"Create a list of seven potential blog post ideas for our company's website happy logistics."
"Write a script for an explainer video about our new product the reversible mat, which is made up of natural rubber (grippy side) and polyurethane (sticky side)."
"Assume you're a domain name generator. Suggest a list of domain names (nothing else) for my corporate finance business. The domain names should be 20 letters maximum and should end in .com."
"Identify five potential revenue streams for my clothing business."
"Create a SWOT analysis for my organic farming business idea."
"Write an email to a vendor requesting a quotation for an order, including a detailed list of the products required and a deadline for the quotation".
"Act as a business owner. Write an email requesting product samples from a supplier."
"Design a simplified invoice template that incorporates my business logo and branding."
3] Best ChatGPT Prompts for Creative Writing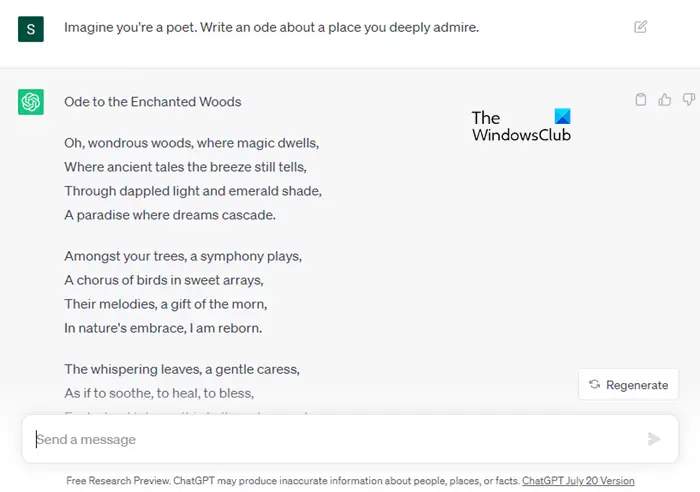 "Write a short story about a young girl who embarks on a road trip to meet her childhood friend."
"Act as a creative writer. Use your imagination to write a story about a boy who stumbles upon a time machine and accidentally travels to a significant event in the future."
"Imagine you're a screenwriter. Develop an engaging script for a web series where the protagonist is a native interpreter who puts his own life in danger to carry a wounded soldier over kilometers of difficult terrain. Restrict the script to 7 chapters."
"Write a short story about the struggles of Harry who is the only survivor in a post-apocalyptic world".
"Act as a poet. Write a poem describing the beauty and the pain of falling in love."
"Imagine you are a storyteller. Create a story about a brave knight who embarks on a dangerous journey to save his kingdom from an evil sorcerer who has taken over the castle."
"Generate a monologue for a play about the struggles of a musician who overcomes personal demons to find success".
"Create a sonnet about the beauty of nature, using metaphor and imagery."
"Create a story about a family who is struggling to survive in a world where technology is no longer available. Include elements of hope and redemption as the story progresses."
"Create lyrics about changing seasons and the emotions they evoke."
"Imagine you're a poet. Write an ode about a place you deeply admire."
"Craft a poem about the beauty of the stars and the night sky."
"Describe the feeling of gratitude to the universe in a poem."
"Write a story about a slow-witted but kindhearted man who recounts his life story to some passengers he meets on a train."
"Write a story about Jenifer, a high school student, who navigates through the ups and downs of teenage relationships and love."
"Capture the beauty and transience of life through a series of haikus."
"Generate a monologue for a play about a corporate lawyer who discovers his true passion in traveling."
"Act as a novelist. Write captivating stories about a physicist who is abducted and drugged. He wakes up to a completely different life to encounter mysterious and horrifying incidents. Make it a fascinating read by adding elements of science."
"Write a poem about chasing dreams and overcoming obstacles."
"Write a story about two characters who form an unlikely friendship despite being from different backgrounds."
4] Best ChatGPT Prompts for Technical Writing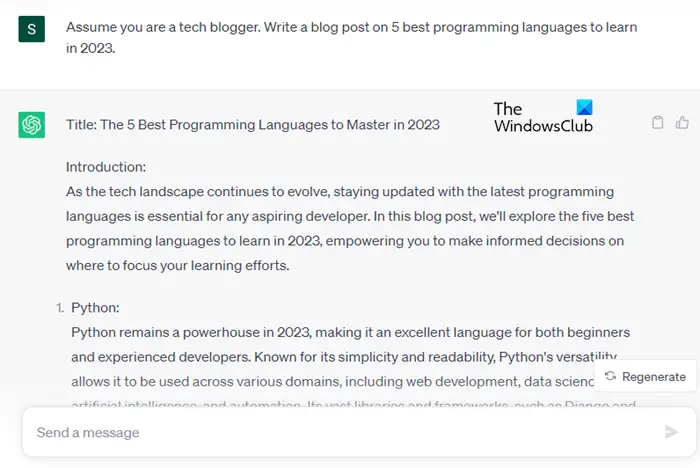 "Write a step-by-step tutorial on configuring a local machine for general web development."
"Write an overview explaining the concept of Object-Oriented Programming."
"Draft a technical report on the performance of XGBoost, the strongest ML algorithms for predictions."
"Act as a technical writer. Generate a documentation on ReactJS."
"Explain how to use the paintbrush tool in Photoshop. Keep the language simple and easy to understand."
"Create a step-by-step tutorial on how to install a software package on a Linux terminal".
"Generate five FAQs for a cloud-based hotel management system.
"Generate a content summary and outline about Agile methodology."
"Create a glossary of key terms for a book about cloud computing."
"Write a comprehensive review of the latest updates in JavaScript."
"Write a simplified explanation of machine learning."
"Draft a technical blog post on shared GPU memory vs. dedicated GPU memory."
"Explain the principles of blockchain systems for a beginner's guide."
"Create a seven-stage software development life cycle for an OCR software."
"Assume you are a tech blogger. Write a blog post on 5 best programming languages to learn in 2023."
"Briefly explain the steps involved in setting up a secure home network.
"Act as a lead technical writer. Explain to your junior the steps involved in creating a release notes document."
"Draft an email to the client communicating project delay."
"Write an introduction to a blog post about the impact of AI on software development."
"Generate three different explanations for Power BI."
5] Best ChatGPT Prompts for Copy/Content Writing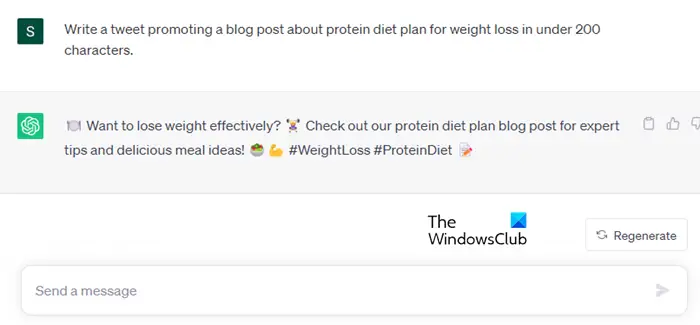 "Generate 10 catchy headlines for an article about high-fiber foods."
"Write a tweet promoting a blog post about a protein diet plan for weight loss in under 200 characters."
"Craft an enticing product description that highlights the benefits of a smartwatch."
"Write an engaging Instagram caption for a post featuring the gateway arch in about 150 words."
"Craft an engaging description for a YouTube video tutorial on setting on natural makeup."
"Imagine you're a content creator. Generate a LinkedIn post to promote the success story of one of the world's biggest furniture retailers, Ikea.
"Write a short meta description in less than 200 characters that entice users to click on a search result for best smartphones under 10000".
"Highlight the features of a kids' musical drum toy in five bullet points".
"Generate an attention-grabbing title for a webinar on ChatGPT."
"Generate a cold email targeting young adults for a job opportunity."
"Act as a copywriter. Write an opening paragraph for a white paper on reinventing strategic workforce planning."
"Write a series of email subject lines for a blood donation campaign."
"Generate five thought-provoking questions to encourage reader engagement on a blog post about mental health."
"Generate a marketing slogan for a toothpaste advertisement."
"Generate a concise elevator speech of about 30 seconds for a handbag brand."
"From a bakery owner's perpective, write a personalised thankyou message for clients who purchased your gourmet products online."
"Develop a captivating Facebook caption for a post featuring a speed slim diet plan."
"From a satisfied customer's perspective, write a testimonial for a web designing company. Limit the testimonial to 80 words."
"Create three captivating subheadings for an in-depth guide on how Google Search works."
"Write an introductory paragraph for an article comparing traditional copywriting methods with AI-generated content.
"Create an engaging podcast episode title about work-life balance."
That's all! I hope you find this useful.
Also Read: How to use ChatGPT – Beginners Guide.
What are the prompts in ChatGPT?
A prompt is a question, command, statement, or anything provided by the user for the ChatGPT to respond to.  It is intended to initiate a conversation with ChatGPT. An effectively designed prompt can guide ChatGPT to generate the best possible results for a user's task.
Read Next: 10 things you can do with ChatGPT.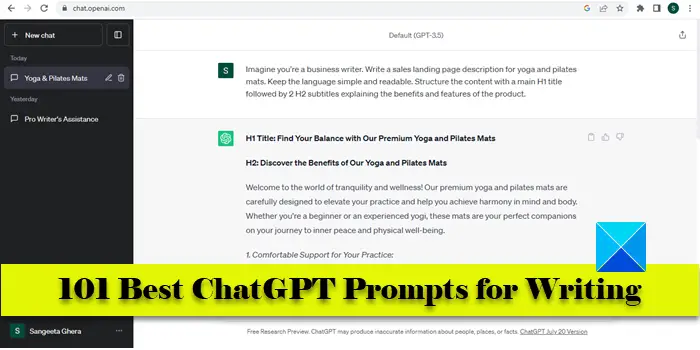 Source link

www.thewindowsclub.com