Cleaning our personal computers is essential to guarantee their proper use and operation.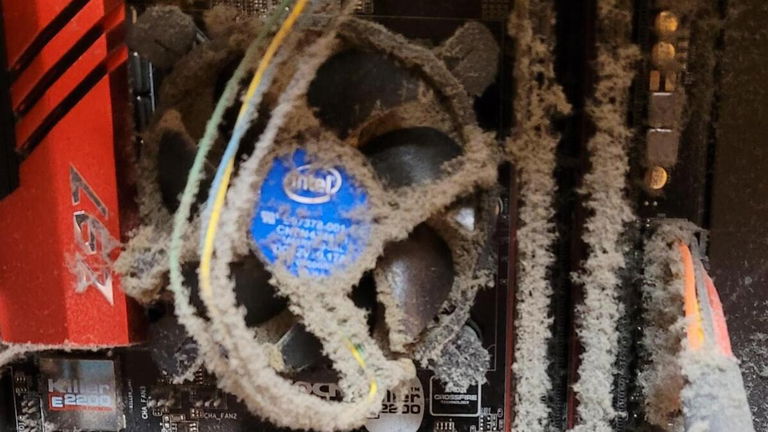 Hygiene in technological products is essential at all levels. From the most superficial, like clean your mobile screento others that are much more exhaustive, such as the case of clean our computers both laptops and desktops inside. It is a task that takes time, requires great care and poses certain risks. However, it is practically mandatory if we do not want our computers to lose power and useful life along the way. It seems that a user of Reddit I was not entirely clear, since you have shared your experience opening the computer 6 years after buying it. What you are going to see next will not surprise you, but if you are allergic, it will surely make you want to sneeze.
We recently saw how some scientists managed to create mushroom computers. Surprisingly, this user almost managed to replicate it unintentionally and rarely seen before.
This is what happens when you go six years without cleaning your computer
"This is embarrassing. This is not a computer that was sitting in some warehouse, this is my day-to-day computer. I haven't opened it since I bought it six years ago. Surprisingly it works very well. It has been very satisfying to clean it up" began a Reddit user shortly before showing the photo of his post-impressionist artwork.
The photograph speaks for itself. The truth is that it is all full of dust that has practically already turned into a calcareous crust. It can be seen as the processor heatsink (fan) has been completely eaten by a raging tidal wave of dust. The graphics card (at the bottom) looks like a monolithic slab of dust that serves as a platform for your future conquests. In addition, Reddit users have made him ugly by the fact that he placed the graphics card in that PCI slot and not the one on the top for proper ventilation. Another user, in an ingenious way, has answered that the first PCI slot was "For dust" to the laughter of the rest of the users.
It is hard to think that this computer can work correctly but the user assures that the terminal was working very well. In addition, he has assured that it has been very satisfactory to clean it. Despite this, he has not shared a photograph of the "after", so it can be assumed that he had to use a flamethrower to be able to end intelligent life that had settled on the pins of the motherboard.
Why you should clean your computer regularly
Normally, people tend to ignore the hardware maintenance of their personal computers. However, it is recommended to clean them approximately every six months. There are many motivations behind this and they are as follows:
a clean computer it heats up much less.
Allows moving items such as fans have a longer lifespan.
genders less static electricityquite harmful for any computer system.
In any case, a computer is a fairly large financial investment, so it is a very good idea to always try to keep it as clean as possible. It is also important to make a good choice with box to make it as tight as possible, always allowing proper ventilation.


Source link

andro4all.com