Who would have thought that one day you would not need to print an important document to fill or sign it? Well with everything going digital, you can now fill or sign your documents digitally. With convenience, there may be times when things don't work when you need to. It is good to know what to do when Adobe Reader Fill and Sign not working.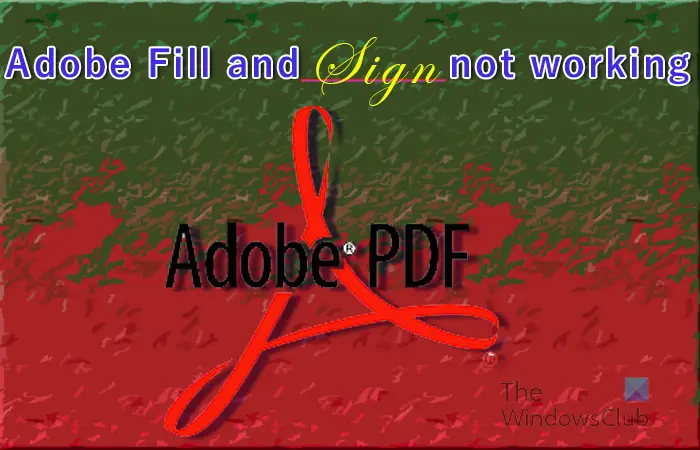 Adobe Fill and Sign not working
There may be cases when you cannot fill or sign your PDF in Adobe Reader because Fill and Sign is not working. This article will explore the causes and give solutions to this problem.
1] PDF file needs restarting
In some cases, the simplest fix to a software problem is to restart the file. You should just save the file if you made changes then close and reopen the file. When the file is reopened, try to fill or sign the form again.
2] PDF software outdated
Outdated software can refuse to do whatever they are designed to do. This can happen in PDF forms that are to be filled and signed. The software that the file is opened in may be outdated and need to be updated. Check to see if there are updates for the software then update it. When the software is updated, try to fill and sign again.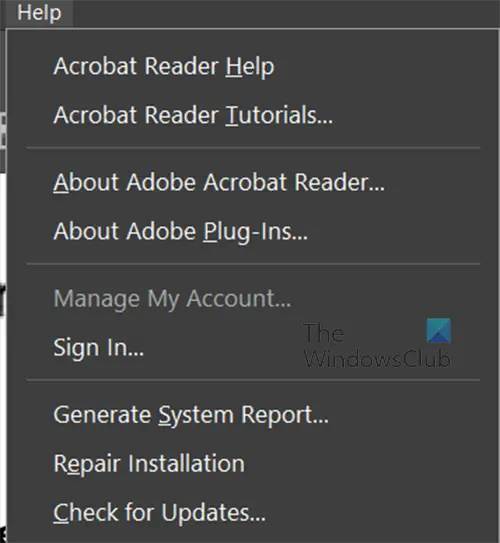 For Adobe Acrobat reader, you can click Help then Check for updates.
3] PDF security certificate blocking signing
There may be cases where the security features of the PDF block filling and signing. You can check the security options available in the PDF file. If the security features are blocking filling and signing, you need to ask the owner of the PDF file for a document that will allow filling and signing.
4] File permission set to read-only
If you try to fill and sign a fillable and signable form but it is not working, your document may be set to read-only. Read-only protects the file from accidental and deliberate editing.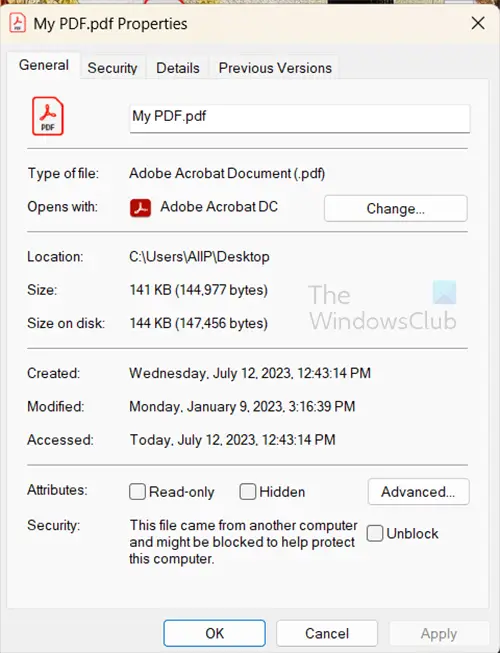 To check if the file is in read-only mode, right-click on the file then choose Properties. Look under the General tab and uncheck Read-only if it is checked. You can then open the file and attempt to fill and sign.
Read: How to add Audio Comments in Acrobat Reader
How can I make a PDF file fillable and signable?
Open Adobe Acrobat. After you've signed in, go to the Tools tab and click on Prepare Form.
Upload your document. You can do this by scanning it in or selecting the file from your navigation menu.
Optimize your form. Acrobat automatically checks your document and auto-inserts fill blocks. You may have to add new form fields depending on the type of document you're using.
Save and send.
Note this is available in the paid version, Acrobat Pro.
How do I enable fill and sign in a PDF?
To enable fill and sign in a PDF, open the PDF then go to the top menu bar. You then press Tools then Fill and sign. The fill and sign toolbar will appear above the document. you will also notice that your cursor is turned into a type cursor where you can click anywhere and type. If you want the document to be signed by someone else you can click Request E-signature. The email recipient window will appear, enter the emails. If you are the one that will sign the PDF click Sign yourself. You will see a drop-down with two options  Add signature, and Add initials.
Add signature
If you click Add signature, you will see the sign area appear and you can select Type, Draw, or Image. you can just type your name or initials. Draw your signature or upload an image of your signature. You can choose to save the signature so it is available for future use.
Add initials
If you choose to add initials you will see the add initials area appear.  you can then select Type, Draw, or Image. You can choose to type, draw or upload an image of your initials. You can choose to save the signature so it is available for future use. You can choose to save the initials so it is available for future use.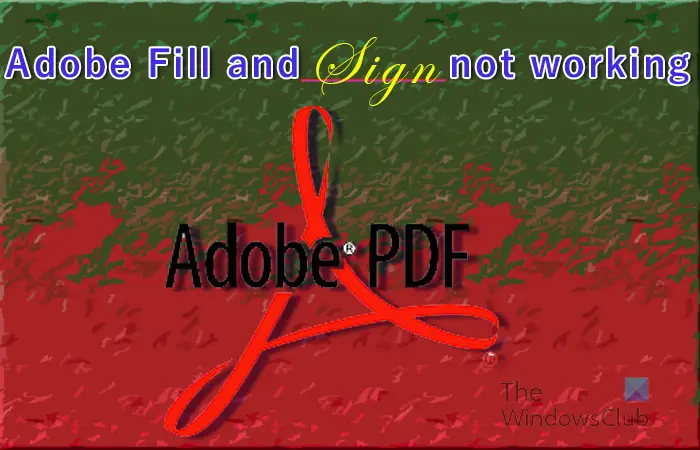 Source link

www.thewindowsclub.com