It can be a matter of concern if you find that your system drive is running low on space, and hence, freeing up space should be the priority. In such a case, you can run the Disk Cleanup Utility (built-in Windows tool) to free up and increase hard disk space, But before you clear disk space, if you would like to find out which files and folders are occupying disk space, you can use a free disk analyzer software like the Ashampoo Disk Space Explorer.
This software allows you to analyze your hard drive and selectively delete files and folders in a flash.
Ashampoo Disk Space Explorer for Windows PC
Ever seen those Low Disk Space notifications? This is usually the case when there's less than 200 MB of space remaining on the hard disk. While you can disable the low disk space message, the disk space remains utilized in reality and you will have to clear junk files as well as selectively remove large files you no longer need.
Ashampoo Disk-Space-Explorer free disk space analyzer provides to-the-point information on local disk space usage in a matter of seconds. Plus, many other significant features, which we have discussed below:
1] Check the report by Folder or File formats
Whether the hard drive keeps filling up by itself automatically for no reason, or there's high disk space usage due to games, etc., the Disk Space Explorer is the answer. It analyzes the hard drive and gives a detailed view of the disk space usage. With a better understanding of disk usage, you can locate any redundant files in the drives. What makes it stand out from the crowd is that it can display results in Folders or File formats.
Read: How to find the largest files on Windows?
2] Filter the results by file type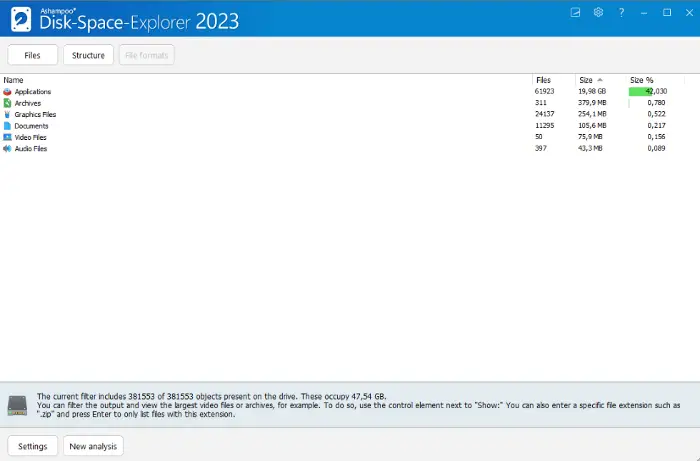 Moreover, using the Ashampoo Disk Space Explorer, you can filter the results by All files, or by individual file types. For example, you can choose to view the report for Audio files, Video files, Graphic files, Archives, Documents, or Applications separately. This gives you a clear picture of which files use the maximum resources, thus, reducing the disk space.
3] Use Bar graphs for folders
If you prefer to review disk space usage in percentage, then the Bar graph option suits you the best. It highlights the total disk space used by the folders (for folders, use the Structure option) in percentage in the Name column.
You can either select to view the report with No bars or see the bar graph for Size relative to the current drive, or Size relative to the folder.
4] Customize file formats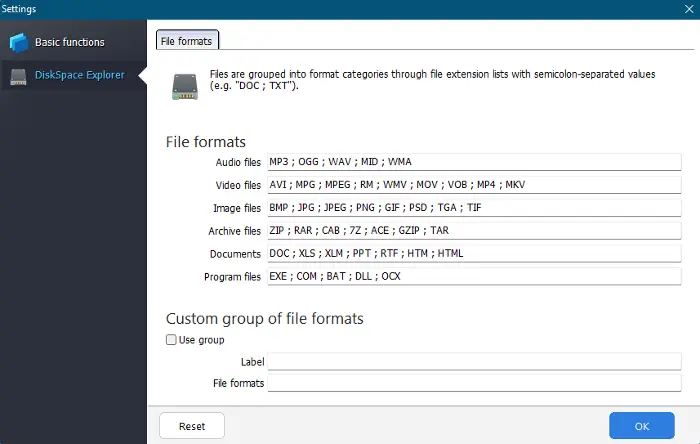 While the format-based filters are fully customizable, you can also add or delete the file formats through the program settings. For this, click on Settings at the bottom left or on the gear icon on the upper right, and here, you can add, delete, or edit file formats. You can even create a group of multiple file formats to run custom analyses.
Ashampoo Disk-Space-Explorer Features:
Easy-to-use software with a neat interface perfect for both beginners and professionals.
Displays file distribution by folder/structure/file format.
Generates detailed information about each file on your hard drive that includes size, date, and type.
Scans the hard disk for total consumption based on file formats.
Identifies the files/folders that consume the most resources.
Provides the option to filter by file type.
Offers different variants of charts to display results.
Lets you create custom filters based on file formats.
Identifies duplicate files, large files, and temporary files with the built-in duplicate file finder.
Comes with an integrated file wiper to help you remove sensitive data securely.
How to use Ashampoo Disk-Space-Explorer?
It's pretty easy to use the Ashampoo Disk-Space-Explorer software. All you need to do is to download the program from ashampoo.com and install it.
Now, launch the software and in the prompt, select the disk you want to analyze. Press OK to start. It will automatically start analyzing the hard drive and generate the results. You can then select the file, right-click on it and choose from Open File, Show in Explorer, Open folder in Explorer, or Delete. If you select Delete the file or the folder, confirm again.
Our Verdict
There are umpteen free disk space analyzer tools available for Windows 11/10 out there, but what differentiates Ashampoo Disk-Space-Explorer 2023 is the file type filters offered by the program. It gives a whole new perspective on your hard drive and the data (files/folders) it contains. From the number of files or folders to the size in percentage, it offers the finest details of disk space usage, which is otherwise impossible to find out manually. Therefore, helping you delete superfluous files that are nothing but a disk space hog.
What does Ashampoo software do?
Ashampoo is a software brand that designs products for beginners and professionals. From software like Ashampoo Winoptimizer to optimize your Windows PC or Ashampoo Backup Free to backup and restore partitions to  Office software, games, or apps, it offers a wide range of useful products.
Is Ashampoo software free?
Yes, Ashampoo offers the free full version of many of its products, for example, Burning Studio, Winoptimizer, Photo Optimizer, Audio Recorder, Uninstaller, and more. At the same time, it also offers free versions of many other products like the Ashampoo Disk Explorer and more. However, you can also buy the premium versions of these products for advanced features.


Source link

www.thewindowsclub.com