Avast antivirus slowing down computer or internet speed has been a major concern for many users. Avast is one of the top security services that provides a high-end level of protection against malware attacks on a PC. However, many users have reported experiencing Avast antivirus affecting the overall performance of their PCs and slowing down their internet speeds a few times. If you are also looking to fix the problem, then you are on the right page of the internet. We discuss proven fixes and workarounds you should implement to attain a better performance.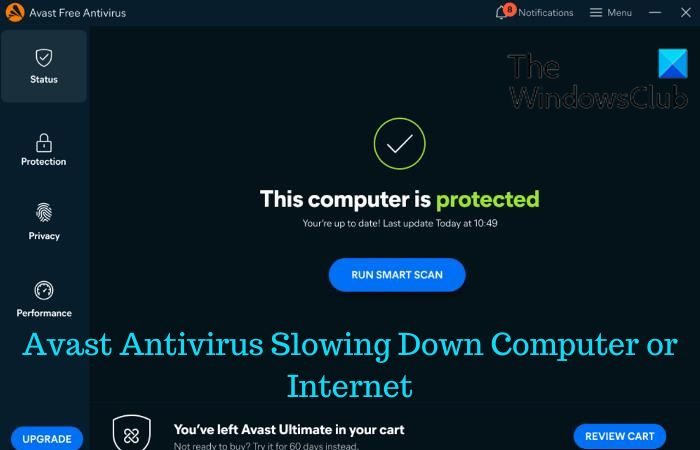 Why is Avast slowing down my internet connection?
Avast antivirus has a sophisticated security component known as Web Shield, and it is responsible for monitoring all network activities. The security component has high functionality and may affect the speed of the user's Internet activities. Even with a high-speed connection, you can experience a significant decline in your internet speed.
Also, Avast antivirus can generally slow down a computer with or without an internet connection. This is usually caused by several factors, including insufficient RAM memory, outdated Windows or Avast version, and many CPU-hogging Avast features enabled on a PC.
Fix Avast Antivirus slowing down Computer or Internet
Every user of Avast antivirus on a Windows computer should be aware of how the protection software can slow down their computer and equally affect the internet speed on it. However, there are a number of proven fixes and workarounds that will be helpful in fixing this problem, which are highlighted and discussed as follows:
1. Optimize Avast Startup Settings
2. Adjust Avast Web Shield Settings
3. Disable Avast Background Updates
4. Disable Avast Community Participation
5. Clear Windows Cache Files
6. Update Windows and Avast Version
1] Optimize Avast Startup Settings
Avast antivirus often loads faster on a Windows computer, and this can lead to conflicts with other Windows default services. To avoid Avast antivirus slowing down your computer or internet, optimize its startup option to allow other default services to load before it launches. Follow the steps below:
Open the Avast Free Antivirus software on your computer.
Click the Menu option at the top right corner of the screen, and select Settings.
From the left-pane options, select Troubleshooting.
Ensure that you checkmark the "Delay Avast startup" option.
After enabling that option, close the window and restart your computer. Avast will then allow the default Windows services to load fully before it launches.
2] Adjust Avast Web Shield Settings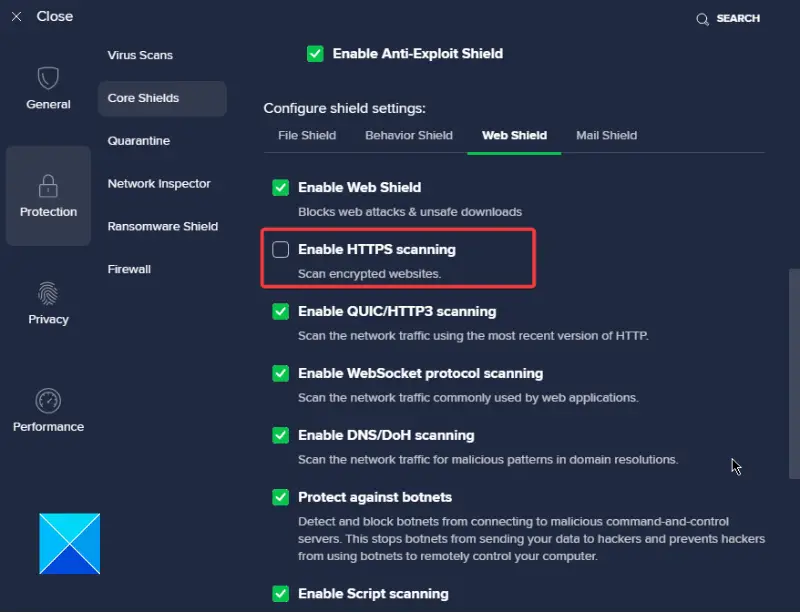 Web Shield is a security component embedded in the Avast software, and it monitors the network activities of a computer. Sometimes, your computer may confuse the Web Shield activity speed with your internet speed, thereby leading to the internet connection significantly slowing down. We advise that you adjust the settings to improve web performance when using Web Shield. Follow the steps outlined below:
Open your computer's Avast Free Antivirus software and navigate to Menu > Settings.
Click on the Protection tab and select Core Shields from the option listed.
Navigate to the "Configure shield settings" section and select Web Shield.
Disable the "Enable HTTPS scanning" option. Note that when disabled, the File Shield still scans all downloaded files from the internet.
3] Disable Avast Background Updates
Automatic updates and installation frequently going on for the Avast antivirus software can cause the computer to be slowing down, particularly when using the internet. However, you can disable the update to improve the performance. Follow the steps below:
On the Avast Free Antivirus window page, click on Menu and navigate to Settings > Updates.
Under "Virus definitions are up to date", click on More options.
Select "I'll update them manually"
If there's an update available, you'll be notified to download and install the update at your convenience.
4] Disable Avast Community Participation
As we stated before, your computer may be slowing down because of CPU-hogging features in Avast. One of them is the community participation and data-sharing option. Follow the steps outlined below to disable it:
Open the Avast Free Antivirus software on your computer and navigate to Menu > Settings.
In the General tab, click on Personal Privacy.
Under Improvements, uncheck the two options. This will stop the software from shipping files or contributing to the Avast community.
6] Clear Windows Cache Files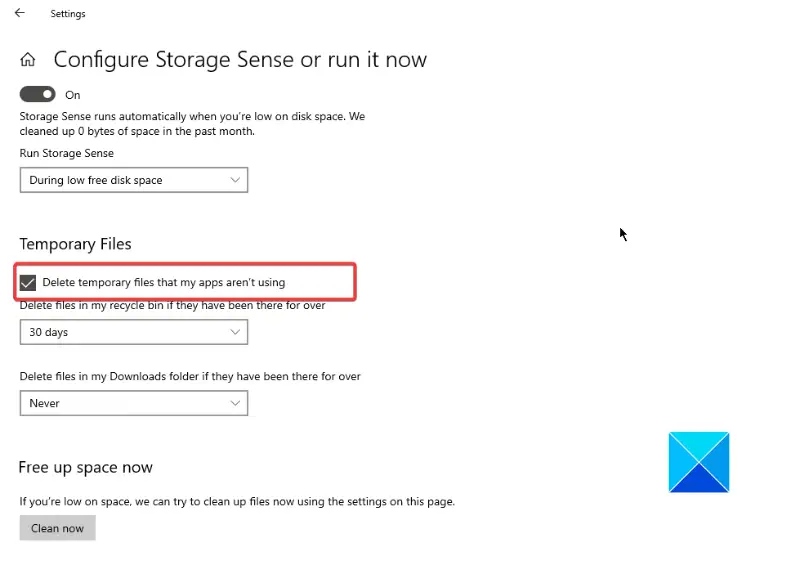 Another solution worthy of trying to fix your computer or internet slowing down is to clear the temporary files in the system file cache. It is regarded as good tech hygiene to make your computer run faster. You can set your computer to delete temporary files that are of no use to your system or program applications. Follow the steps below:
Press Windows key + I to open Settings, then navigate to System > Storage.
Scroll down to the Storage sense section and enable the feature.
Click on "Change how we free up space".
Enable the "Delete temporary files that my apps aren't using" option under Temporary Files.
7] Update Windows and Avast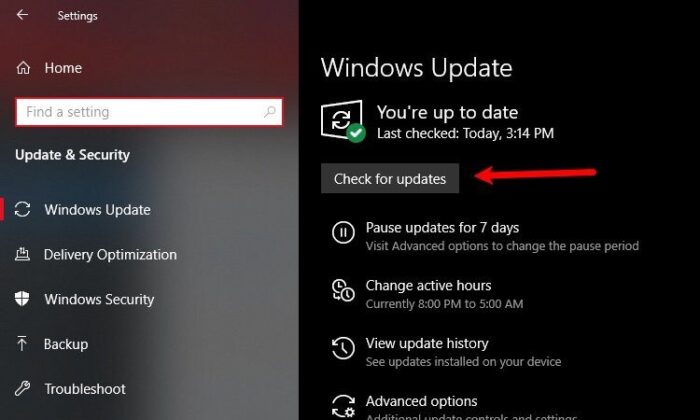 Windows update helps computers get the latest fixes and security improvements, which can make your computer run faster and more efficiently. Follow the steps outlined below:
Press the Windows key + I to open the Windows Settings, then navigate to Update & Security.
Click on the "Check for updates" to automatically check for the latest Windows update and install it.
You should also ensure that your Avast software is updated.
Hopefully, you will be able to attain a significant performance improvement after implementing all the fixes discussed herein. Good luck.
Read: Fix Avast Service High CPU & Disk Usage
Is Avast slowing down my computer?
If Avast is always running in the background on your computer and you notice that your computer randomly gets sluggish, it could be because of the Avast software. But with the help of the solutions we have discussed in this article, you should be able to fix the issue.
Does antivirus affect internet speed?
Indeed, some antivirus applications have the potential to impact your computer's internet speed by impeding processes vital for optimal internet performance. However, in most instances, you can tailor the settings your antivirus application manages. It is advisable to configure these settings to ensure optimal performance.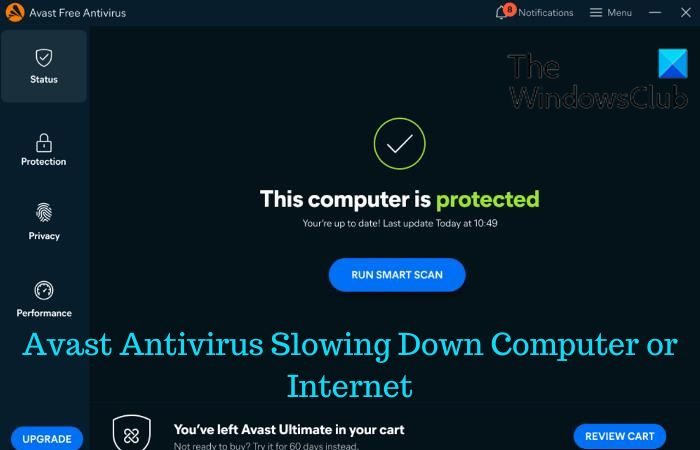 Source link

www.thewindowsclub.com