This post lists the best free Taskbar customization software for Windows 11/10. Using these software, you can set up your Windows taskbar and change its look and feel as per your preferences. These software provide you with more options than the default Windows taskbar settings to change its look and feel. You can add rounded corners to the taskbar, add a rainbow effect, make the taskbar transparent or opaque, customize taskbar items, and do much more.
How do I make my taskbar cool?
You can make your taskbar look attractive and nice using a free third-party taskbar customization app or software. There are several free apps like RainbowTaskbar, NiceTaskbar, and more that let you apply different color themes to the taskbar and make them look vibrant and better. You can also customize the transparency and style of your taskbar using these software.
Best free Taskbar Customization software for Windows 11/10
Here are the best free Taskbar customization software that you can use to customize your Windows taskbar:
RainbowTaskbar
ExplorerPatcher
RoundedTB
7+ Taskbar Tweaker
NiceTaskbar
1] RainbowTaskbar
RainbowTaskbar is a nice free taskbar customization software for Windows 11/10. It is a cool third-party tool to add a rainbow theme to your taskbar. When enabled, it keeps changing the color gradients of the taskbar as per your customizations.

Besides that, you can also customize the taskbar style as blurred, transparent, etc. You can also change taskbar opacity, underlay opacity, and layer opacity.
It has a dedicated Editor to set up the above and more taskbar options. You can customize the color gradients that you want to apply to your taskbar. In addition to that, it also lets you set up preferences like solid, fading solid, fading gradient, gradient, randomize color, hold time, fade time, gradient angle, and number of layers. It also lets you select colors to change gradients.
All in all, it is one of the coolest software to add colors to your taskbar and make it look funky, pleasant, etc. You can download it from Github.com.
Read: Enable or disable Taskbar Thumbnail Preview in Windows.
2] ExplorerPatcher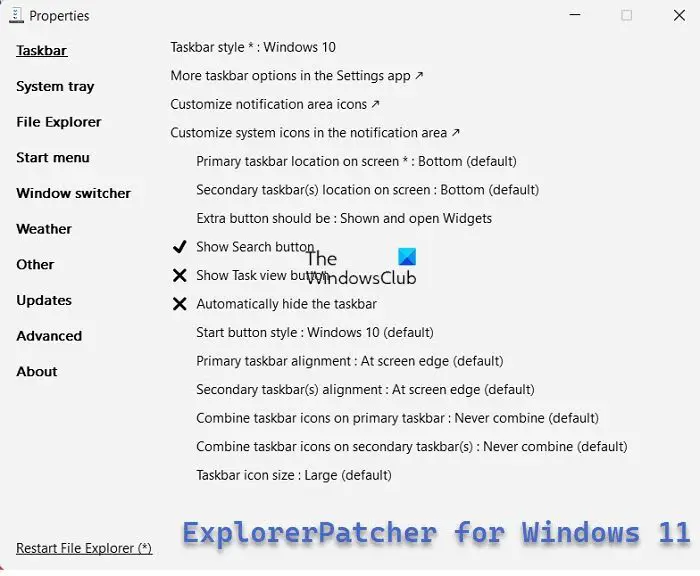 ExplorerPatcher is another nice software to customize the taskbar on Windows 11. It basically enables you to roll back your current taskbar to Windows 10's taskbar. Not just the taskbar, it even lets you customize File Explorer, Start Menu, Weather, and more. So, if you want to get the Windows 10 look and feel back to Windows 11, this software is for you.
You can customize taskbar settings like taskbar position, show search button, system icons, taskbar alignment, taskbar icon size, and more. Besides that, you can even customize the clock, battery, sound, and other taskbar items as per your preferences.
Read:
3] RoundedTB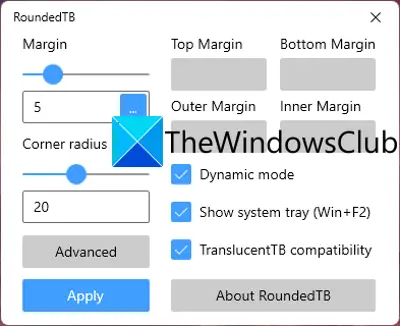 RoundedTB is a free Microsoft Store app to customize your taskbar. Using it, you can add rounded corners, margins, and segments to your taskbar in Windows 11/10. Furthermore, you can adjust the radius of rounded corners and customize the margins. Besides that, it lets you enable or disable some other options like Dynamic mode, Show system tray, and TranslucentTB compatibility.
See: How to show Multiple Clocks on Taskbar in Windows?
4] 7+ Taskbar Tweaker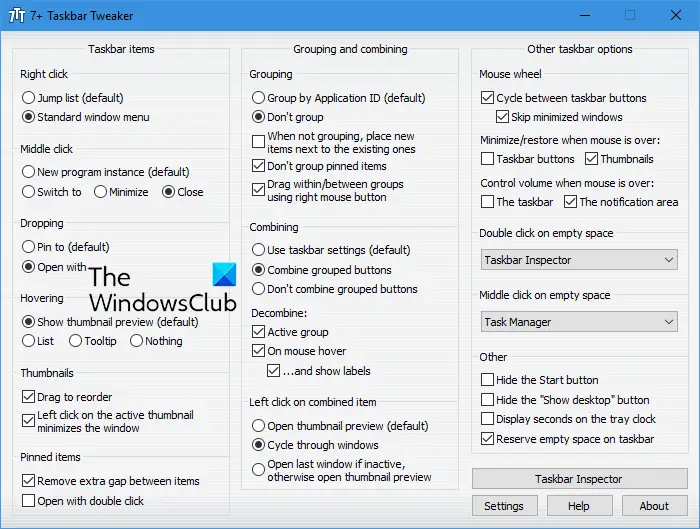 7+ Taskbar Tweaker is a taskbar customization software for Windows 10. The new Windows 11 taskbar is unsupported by this software. Hence, you can use this software to customize the taskbar only in Windows 10 and earlier versions of Windows. However, you can install Windhawk mods to use this software on Windows 11.
It lets you change some settings like right-click menu, middle-click action, thumbnails, mouse hovering, pinned items, grouping, combining, decombine, and more. More taskbar control options that it offers include the show or hide Start button, display seconds on the tray clock, reserve empty space on taskbar, etc. It has a Taskbar Inspector tool that lets you group, combine, or label taskbar items.
You can get it from here.
Read: Best Free Microsoft Store Apps to Customize Windows 11
5] NiceTaskbar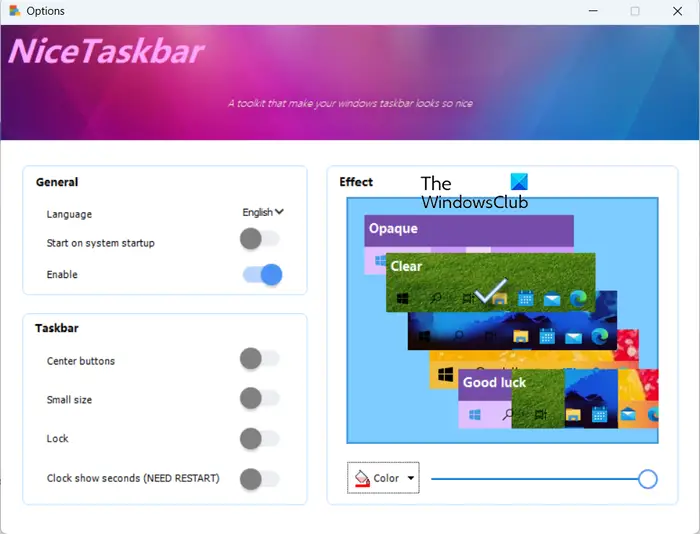 NiceTaskbar is yet another free taskbar customization app for Windows 11. It provides some basic options to customize your taskbar. You can enable or disable some options like center buttons, small size, lock, and show seconds in the clock. Besides that, you can select the background color of your taskbar and set the taskbar effect to opaque, clear, blurred, fluent, etc.
You can install it from Microsoft Store.
Read: Taskbar has disappeared from the Desktop in Windows.
Can I get TaskbarX for free?
TaskbarX is a Microsoft Store app that is paid. To download and install it, you will need to make the required payment and then you will be able to use the app. However, a free version of this app is available on Github.com and taskbarx.org that you can download and use on your PC.
I hope this helps!
Now read: Taskbar icons not showing, missing, invisible, blank in Windows.


Source link

www.thewindowsclub.com