If you are an Omegle user, these are the best Omegle alternatives you should take a look at. Omegle was a free online chat service where you could chat and talk with strangers without registering or having an account. You just had to visit the website and choose to talk. People used to use fake names, talk with randomly shown strangers, and pass the time. If you do not like talking to someone, you could skip that person and talk to another random person. After 14 years of operation around the world, its founder announced its closure on November 8, 2023. As some users are committing, exploiting children, and doing a lot that is against societal norms and laws, they have decided to shut it down.
Best Omegle alternatives you should take a look at
Some of the best alternatives of Omegle you can try are:
ChatRandom
TinyChat
CamSurf
Chatroulette
ChatHub
Meetzur
Chatspin
Bazoocam
Emerald Chat
YouNow
Let's get into the details of each one and know more about these Omegle alternatives.
1]  Chatrandom
Chatrandom is one of the finest alternatives to Omegle using which you can connect with random people around the world. You can chat via text, audio, and video on Chatrandom. With Chatrandom, you can connect with strangers in specific countries, and connect with only women, men, or couples instantly. Chatrandom is available to use on the web as well as an app on both iOS and Android mobiles. You can use it at your convenience.
2] TinyChat
Tinychat is another free-to-use alternative to Omegle. For additional features like advertisement-free videos, you can upgrade to the Pro plan by paying the subscription fee. You can connect to people all around the world and can chat with up to 12 people by building a room or by joining an existing room. The only difference between Omegle and Tinychat is that you need to have an account on Tinychat which you can create easily in a few simple steps.
3] CamSurf
CamSurf is another free alternative to Omegle on which you can connect with thousands of people around the world in a fun environment. It has a community reporting system that helps keep the users according to the terms of use. It is a lightweight chat platform that has great video chat features. Just give the camera, and microphone use permission and connect with people around the world instantly with a click. One of the good features of CamSurf is you can filter connections by location or language.
4] Chatroulette
Chatroulette is a safer and heavily moderated alternative to Omegle. You can use Chatroulette to chat with strangers around the world while all the content is moderated by AI technologies and humans in the background to provide you with a safer environment. Unlike Omegle where you connect randomly to people, here you are shown photos of potential partners. You have to provide to selfie of yours to enjoy these features. If not, you can just use the random video chat feature and make new friends.
5] ChatHub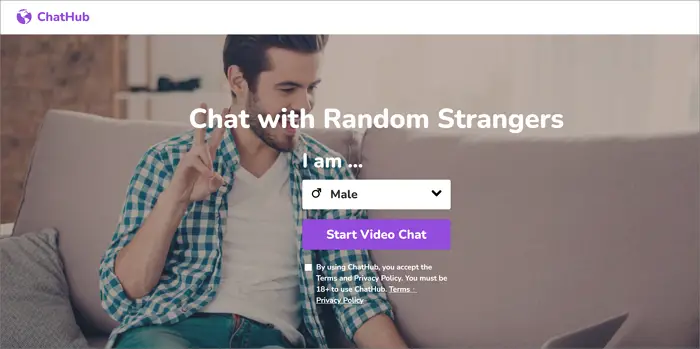 ChatHub works like Omegle and is considered one of the best alternatives to Omegle. You can video chat, talk, text chat, or communicate using the webcam free of charge with random people around the world. On ChatHub, you can filter the connections by language and gender. ChatHub has a mobile-friendly website that works well for both PC and mobile. If you do not watch to match with the same person again and again, ChatHub is for you as it has a strict no-multiple-match filter.
6] Meetzur
Meetzur, though it does not have a modern interface, is a superb alternative to Omegle. You do not need to sign up or log in, just like Omegle to talk to strangers online for free. You can even send pictures on chatrooms to share them with your friends on Meetzur. There is no guarantee that the users on Meetzur comply with the terms of use. You need to be aware of that before using this service to talk to random people. There are no filters to give you extra features.
7] Chatspin
Chatspin is a great Omegle alternative with superb features for talking to random strangers online. You can use features like the Country filter to meet people from your country of choice, AI face masks to stay anonymous, Private cam chat, gender filter, etc. Chatspin stresses online safety and has great features to make you stay anonymous on the platform.
8] Bazoocam
Bazoocam works exactly like Omegle. You can just connect to random strangers with a click and meet strangers online. Bazoocam is moderated by a small team of 40 people constantly to make this platform secure for people. If any person seems to be violating the terms of use, they will ban the user for 20 days. Bazoocam is available in multiple languages like French, Dutch, Portuguese, and Spanish for your convenience.
9] Emerald Chat
EmeraldChat considers itself as the new Omegle. You can use this platform with or without a Google account to meet and chat with strangers online. Emerald Chat has an assurance that the platform does not have any bots. Some of the great features on Emerald Chat are group chat mode, photo, and media sharing, filter matches by gender, karma rating, etc. The platform is constantly moderated and gets frequent updates.
10] YouNow
YouNow does not exactly work as Omegle. It is a different platform you can use to discover new people and broadcast yourself. It is a platform for creative people like DJs, musicians, and YouTubers to help them stay connected to their followers and fans. On YouNow, you do not meet new people instantly, but it takes time and you get the chance to meet real people who match your likings and sensibilities.
Also read: Best Discord Servers to make friends for you to join
What should I use instead of Omegle?
There are many great platforms like Emerald Chat, ChatHub, and Chatroulette to use instead of Omegle. Most of the platforms are actively moderated for user safety and some give fantastic features to safeguard user privacy. Some work with user accounts and some do not need sign-ups.
Which site is best for random video call?
For random video calls with strangers, you can use platforms like Bazoocam, Meetzur, Chatspin, etc., and meet new people around the globe and video chat with them. These platforms are free to use and you just have to visit their website and use them. It is important to comply with their terms of use.
Related read: Best free Encrypted Video Messaging app & Voice Messenger for PC.


Source link

www.thewindowsclub.com