When trying to connect to the Remote Desktop on Windows, you may sometimes come across the CredentialUIBroker.exe 0xc000027b error. This error seems to be prevalent only on Windows Server OS, and getting established on other machines without server OS. You may see the following error message:

If you open Event Viewer, you may see the following details of this error: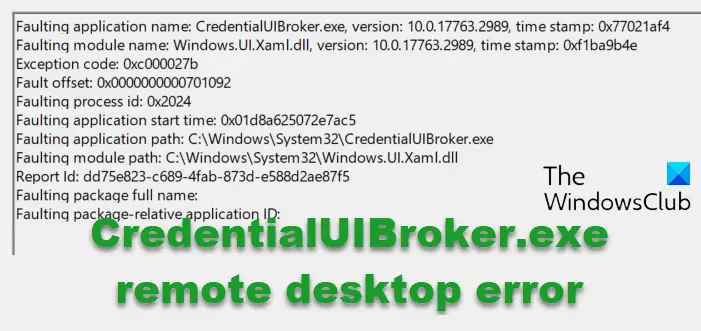 What is the CredentialUIBroker.exe remote desktop error?
CredentialUIBroker.exe or Credential Manager UI Host is an executable file and an important software whose primary job is to manage and securely save credentials. For example, usernames and passwords for several user accounts on the system. So, systems or applications can retrieve them from this file whenever required.
Since it's a critical process, it should not be removed or disabled, or it may cause system instability and other errors. However, sometimes, the EXE file may stop working due to missing or corrupted files. This could lead to a CredentialUIBroker.exe remote desktop error on Windows. Some of the other reasons that may trigger this error are:
Corrupted or damaged CredentialUIBroker.exe or related system files
When the file is deleted with malicious intent by a harmful program or accidentally by a legitimate program.
A conflict between Windows Education N (x86 version) and its shared files and another program.
Windows Education N (x86 version) got broken during download or installation.
Some of the common errors related to CredentialUIBroker.exe are as below:
CredentialUIBroker.exe Program Error.
Faulting Application Path: CredentialUIBroker.exe.
CredentialUIBroker.exe not found.
Cannot find CredentialUIBroker.exe.
Start-up error in application: CredentialUIBroker.exe.
Fix CredentialUIBroker.exe Remote Desktop error 0xc000027b on Windows
The CredentialUIBroker.exe remote desktop error on Windows locks you out of your account and this can be frustrating. Most users have no idea what is the CredentialUIBroker.exe process and hence, are left clueless. Now that you know that it's an important process for the Windows OS and completely safe, and you know the reason behind the error, here are a few methods you can try to fix the issue.
Run SFC and DISM scans
Update Windows OS, Device drivers and the RDP software
Replace the EXE file with a fresh copy
Remove saved credentials
Additional troubleshooting methods
1] Run SFC and DSM scan
If the missing or corrupted system files are a reason why you encounter the CredentialUIBroker.exe remote desktop error on Windows, you can try running the system utilities the System File Checker, followed by the DISM tool.
While the SFC scan (system file checker) will replace the missing files or repair any corrupted files, the DISM tool will fix corrupted Windows component store corruption or a broken Windows image.
Read: How to find out what a Windows process does?
2] Update Windows OS, Device drivers and the RDP software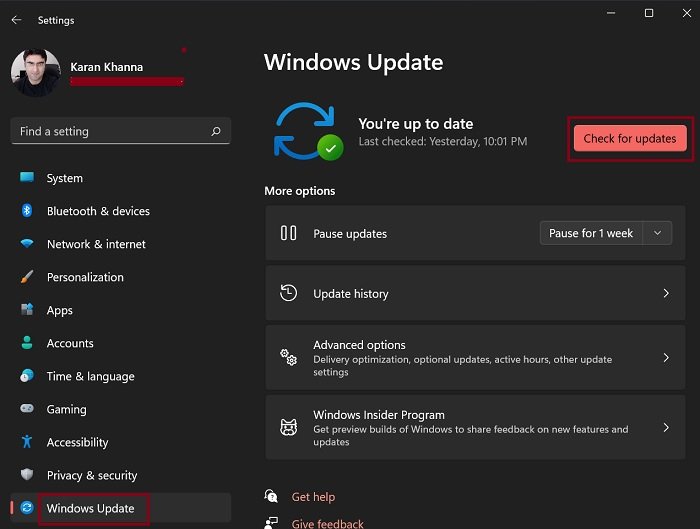 You should update your Windows OS, the Device Drivers and the RPD software.
It may sound unrelated, but sometimes, graphics card drivers tend to create a conflict with the CredentialUIBroker.exe file and trigger the Remote Desktop error on Windows. Therefore, it's suggested that you definitely update the graphics drivers to the latest version to get rid of the error.
3] Replace the EXE file with a fresh copy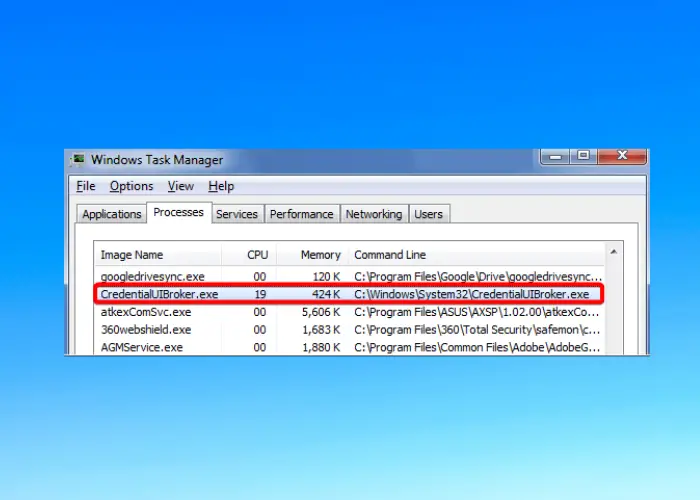 If the SFC and the DISM scan fail to fix the error, which is unlikely in our opinion, you may consider replacing the CredentialUIBroker.exe with a fresh copy. For this, you can copy the file from another healthy system, paste it into the System32 folder, and replace the old file.
You can also download the EXE file from a trusted source.
Read: How to assign default Credential Provider in Windows
4] Remove saved credentials
If the error states that the RDP server doesn't allow saved credentials as the server isn't completely verified, it could indicate a bad/expired certificate. In this case, remove your saved credentials and the error should be fixed.
Read: Your credentials did not work in Remote Desktop
5] Additional troubleshooting methods
Read: Your Remote Desktop Services session has ended
How do I fix the Remote Desktop error?
To fix the remote desktop error, the first thing you should check is if the operating system (OS) configuration is correct. If the OS is fine, you can then check if the network connection is working fine, or if the firewall is blocking the application. Also, check if the remote desktop settings are correct. At the same time, make sure that access to the remote desktop is enabled and that you are using valid user credentials.
Read: Credential Manager UI Host is not responding RDP error
Why won't my credentials work in RDP?
If your credentials are not working on the remote desktop (RDP), it could be possible that the network profile is set to public. This means that your computer is protected at public hotspots and it will block any incoming connections.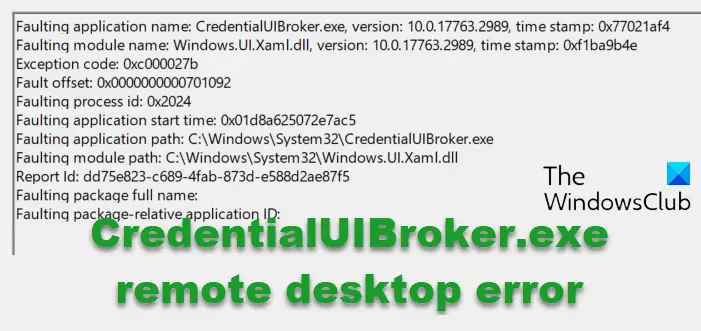 Source link

www.thewindowsclub.com