Deutsche Bank data for sale on hacker forum
50 gigabytes of confidential information is about to go under the hammer
An unknown hacker under the pseudonym "Alliswell" on a popular hacker forum BreachForums sells confidential files allegedly stolen from Deutsche Bank by the gang lockbit.
A user named Alliswell claims to own 50 GB of Deutsche Bank data and will sell it to the highest bidder. According to the attacker, the information contains not only the data of Deutsche Bank employees, but also the source code of the banking application.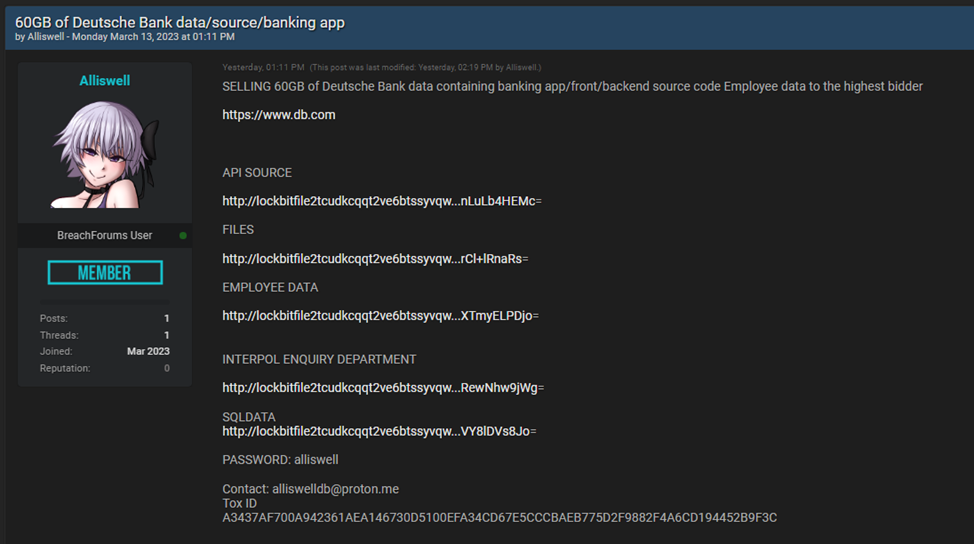 The post also lists several separate "lockbitfile" links as proof that all files are present. Each link is divided into categories:
API source code;

corporate documents;

employee data;

department of inquiry of Interpol;

SQL data.
The images examined by the experts do not contain a mention of Deutsche Bank, but indicate a Citibank account in Zurich and 2 accounts of high-ranking HSBC bank executives.
The reputation of the alleged hacker is not assessed, and the profile indicates that he only registered on the forum in March. The files in question contain only tables with data, which casts doubt on the true size of the leak of 50 GB.


Source link

www.securitylab.ru