Some users are unable to link their Activision account to any other service. When they try to link COD to a third-party service, such as Steam or Battle.Net, or access the linked account, they get an error. In this post, we will see what you can do when you face an error connecting to an Activision account in COD MW or any other edition of the Call of Duty.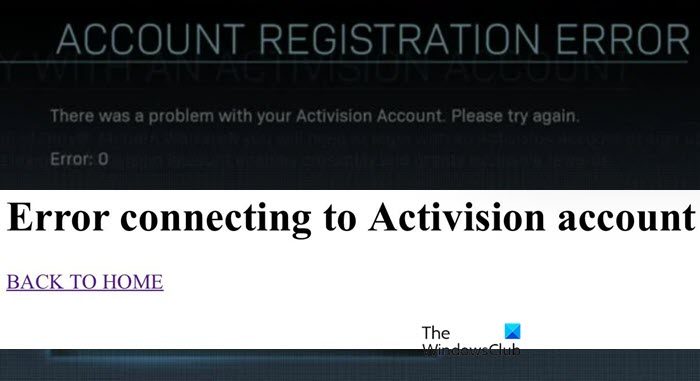 There are multiple variations of this error message. We have mentioned a few below. However, you should check this guide even if you get a different error message as these solutions are apt enough to resolve any Activision login error.
ACCOUNT REGISTRATION ERROR

There was a problem with your Activision Account. Please try again.

Error: 0
OR
Error connecting to Activision account
Fix Error Connecting to Activision account in COD MW
If you get an error connecting to an Activision account in Call of Duty Modern Warfare, check your Internet Speed. In case your system is not getting enough bandwidth or if there are fluctuations in the Internet connection, you will face this error. To resolve slow Internet, power cycle your router, and if that fails, contact your ISP. If that does not help, follow the below solutions to resolve the issue.
Relink your Activision account
Check if there is an issue with your browser
Create a new Activision account
Let us talk about them in detail.
1] Relink your Activision account
First of all, we need to unlink and relink the Activision account. One of the reasons why you get this is some temporary glitches or if the connection has expired. In either case, just removing the connection and then adding it will do the trick. Follow the steps given below to unlink and then relink the Activision account.
Navigate to callofduty.com which is the official website of Call of Duty.
Now, click on LOGIN and enter your credentials to sign in.
Once you have logged in to your account, click on your Username and select LINKED ACCOUNTS.
You will get the whole list of services that you have linked to.
Click on the Unlink button of the service you are unable to connect to.
Once you have unlinked the account, link it again.
Finally, check if the issue is resolved.
2] Check if there is an issue with your browser
It is also very likely that your browser's caches are corrupted or that there is an extension that's causing this issue. To check what's responsible for this error, there are two things that you can do, open your browser in Incognito or Private mode, or use a different browser.
Incognito or Private mode allows the browser to open without any extension. If you can link your account, disable all of your extensions and then enable them manually to find out what's causing the issue. Once you know the culprit, remove it, and your issue will be resolved.
In case, after switching to a different browser, your issue is resolved, clear the cache of Edge, Chrome, Firefox, Opera, or the browser that you use and see.
3] Create a new Activision account
If nothing worked, your last resort is creating a new Activision account. It is pretty easy to do the same, just go to s.activision.com/activision/signup, enter the required details and sign up. This will do the job for you.
We hope that you have resolved the issue using the solutions mentioned here.
Why am I unable to connect to Call of Duty?
If you cannot connect to COD, go to support.activision.com/onlineservices and check if the status indicator is green. In case it is not green, the service is down. You have to wait as the developers work on this issue. In case the service is not down, but you are unable to connect, make sure you're signed in to your system's account. In case that doesn't work, check our guide to know what to do when you are unable to connect to COD services.
Read: COD: Modern Warfare Split Screen not working [Fixed]
Is the Call of Duty network down?
To check if Call of Duty's server is down, go to their support page. We have given the link to the page earlier in this article. You can also check out free down detectors from our list. Do keep in mind that if the server is down, there is nothing you can do other than wait for the issue to be resolved.
Also read: Fix COD Warzone Black Screen issue on PC.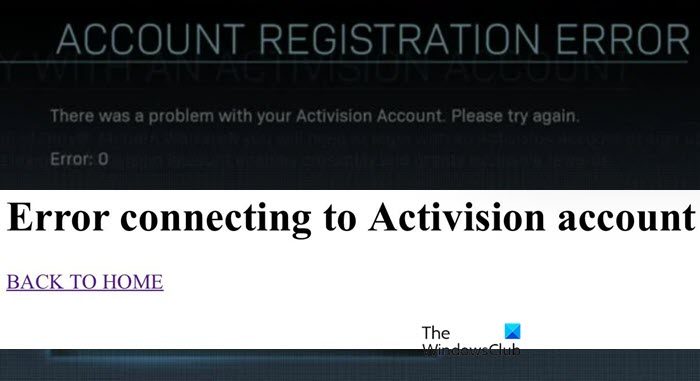 Source link

www.thewindowsclub.com