If you see Blue Screen of Death (BSOD) while playing games like Starfield, Payday, Roblox, Valorant, Dota, Fortnite, League of Legends, etc., on your Windows 11/10 PC, then this post will help you fix the issue. A blue screen with an error message indicates a system crash. It occurs when the system encounters a critical error it cannot recover from, leading to shutdown and restarting.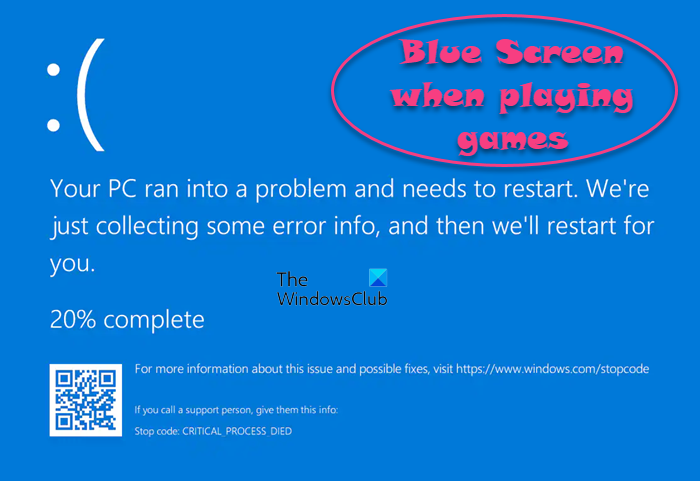 BSOD is one of the several issues users often encounter while playing graphics-intensive games. The most common factors for a blue screen while playing a game include hardware issues (overheating, hardware malfunction, inadequate power supply), driver issues (GPU driver crash, incompatible or outdated drivers), operating system issues, software conflicts, and overclocking.
Fix Blue Screen when playing games on Windows PC
The specific error code and error message displayed on the Blue screen of death might provide crucial information for troubleshooting technical issues that arise during gameplay. However, some common solutions might help you fix the Blue Screen when playing games on a Windows PC.
Start by rebooting your Windows PC. This simple quick fix can sometimes resolve temporary glitches causing the blue screen. If that doesn't work, use the following solutions to fix BSOD while playing games on a Windows 11/10 PC:
Check system specification
Run the Windows Memory Diagnostic
Update Graphics Drivers
Update Windows & Game
Disable or Reduce Overclocking
Perform SFC Scan and Repair Windows Image
Let us see these in detail.
1] Check system specification
The minimum system requirements for playing games on PC vary significantly, so always check the specific requirements of the game you wish to play. For example, Intel Core i5 and AMD Ryzen 5 processors do well for most modern games; however, high-end games may require Intel Core i7, AMD Ryzen 7, or even a more powerful processor. Similarly, a dedicated gaming GPU such as NVIDIA GeForce, a minimum of 8 GB RAM (16 GB recommended), and a fast and spacious SSD are essential for most modern games.
Read: Best Windows Help & Tech Support websites
2] Run the Windows Memory Diagnostic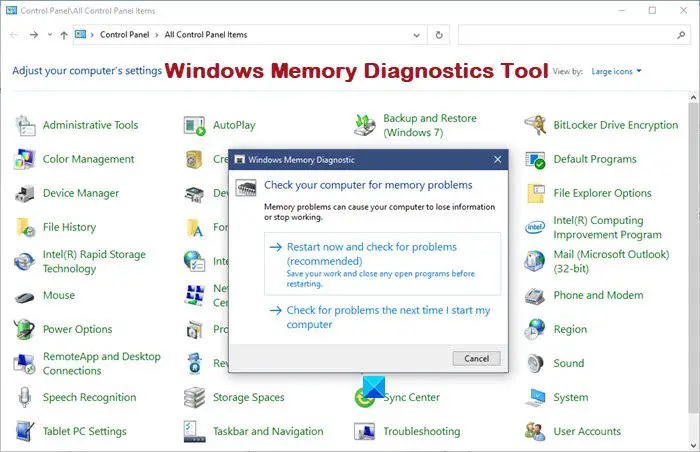 Windows Memory Diagnostic tool is a built-in tool in the Windows operating system that helps users identify and resolve memory-related issues that lead to crashes, system instability, and various other errors, including the Blue Screen of Death. Try running the Windows Memory Diagnostic test to see if the issue is related to a faulty RAM.
To open the tool, press Win+R and type mdsched.exe in the Run dialogue box. Press Enter to launch the tool. Next, choose a memory test option (restart the PC and begin the test immediately or schedule the test for the next system startup). You will see a blue screen with a progress bar during the test, showing you how the test is going. Your system will restart when the test is finished.
To see the results, you can check the  Windows Event Viewer. If an error is found, the Memory Diagnostic tool will describe it.
Read: How to Understand and Troubleshoot common Windows Blue Screen
3] Update Graphics Drivers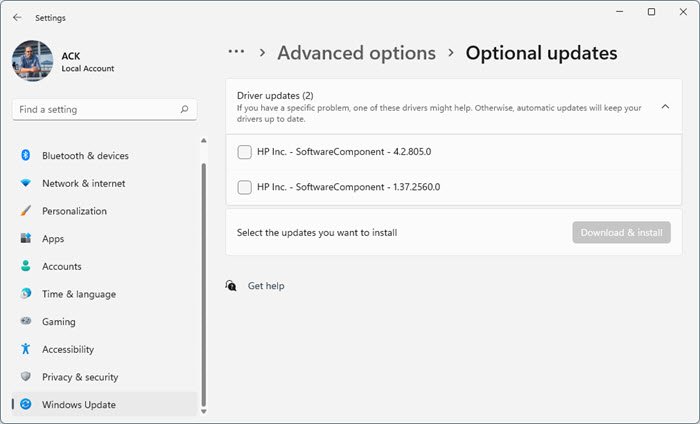 To ensure your graphics card functions optimally and is compatible with the latest software and games, update your graphics drivers to the latest available version. To update your graphics drivers, go to the Windows Update section in your system's Settings and check for updates. If any updates are available, including any graphics driver updates, Windows will download and install them automatically. You can also download the latest graphics drivers directly from the manufacturer's website.
4] Update Windows & Game
Next, try updating your Windows OS as well as the game that's giving the BSOD issue.
To update the game, launch the game distribution platform (Steam, Microsoft Store, Epic Games Store, etc.) and visit the library of your installed games. Games with available updates will have an Update button next to them. Click on the button to download and install the update.
5] Disable or Reduce Overclocking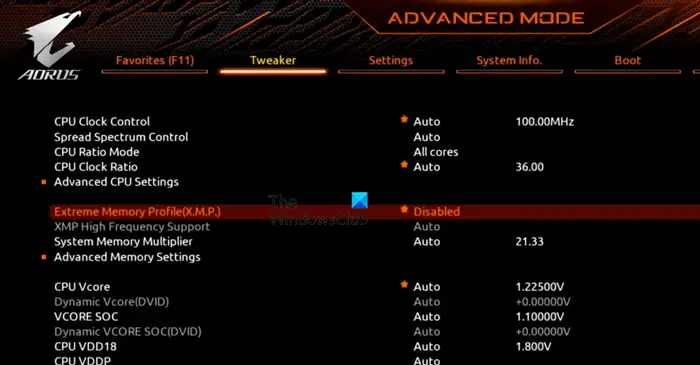 Overclocking refers to the process of running PC components at clock speeds higher than their default (rated) value. While overclocking can boost performance in many circumstances, it can also cause system instability and crashes, such as BSODs.
If you've overclocked your CPU, GPU, or RAM, consider running everything at their default or more stable values. If you suspect RAM for causing the BSOD, turn off Extreme Memory Profile (XMP) in your BIOS or set it to Auto to fix the issue.
6] Perform SFC Scan and Repair Windows Image

Running SFC and DISM scans can help fix BSOD issues, including those occurring while playing games, in some cases.
Open Command Prompt using administrator privileges and execute the following command:
SFC /scannow
The above command will scan your system for corrupt system files or integrity violations and attempt to repair the files during the next reboot.
If that doesn't resolve the issue, execute the following command:
DISM /Online /Cleanup-Image /RestoreHealth
The above command will scan the Windows Image for corrupt or missing files and replace them with their 'known good versions'. It uses Windows Update as the source to download the files.
If none of the above solutions help, perform a clean boot to rule out any possibility of software conflicts.
I hope this helps.
Read: Fix Halo Infinite Blue Screen on multiplayer gaming.
Can faulty RAM cause blue screens?
A faulty RAM can indeed cause a Blue Screen of Death while playing games on a Windows 11/10 PC. It is a critical component of a computer's hardware and it can lead to system crash, data loss, and other hardware issues when it's not functioning properly. Using the Windows Memory Diagnostic tool or other third-party software such as Memtest86 can help identify RAM issues.
Does overheating PC cause blue screen?
Yes, an overheating PC can cause a Blue Screen of Death. It is one of the proactive mechanisms the system chooses to prevent serious damage to its hardware when the temperature rises to critical levels. If you consistently experience BSODs and suspect overheating as the cause, consider upgrading your cooling solution on a priority basis.
Read Next: Bluescreen after installing Drivers in Windows 11.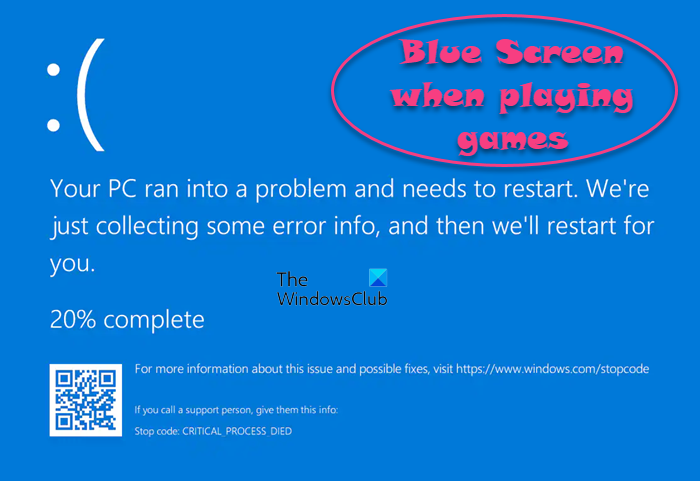 Source link

www.thewindowsclub.com