Blue Screen of Death, or BSoD, errors can be incredibly frustrating as they often appear without warning, causing considerable exasperation and disrupting your ongoing tasks. More often than not BSOD is caused due to driver failure. In this post, we will talk about one such BSOD, that is NETwlv64.sys Blue Screen.
Your PC ran into a problem and needs to restart. We're just collecting some error info, and then you can restart. (100% complete)

If you'd like to know more, you can search online later for this error:
DRIVER_IRQL_NOT_LESS_OR_EQUAL (netwl64.sys)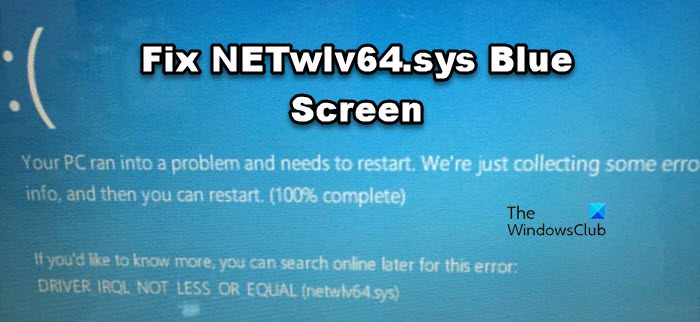 What is NETwlv64.sys?
NETwlv64.sys is an Intel Wireless Wi-Fi network adapter driver on the Windows operating system. This driver file plays an important role in facilitating communication between the Wi-Fi network adapter and the Windows operating system and allowing the computer to connect with the Wi-Fi network and use wireless networking capabilities.
Fix NETwlv64.sys Blue Screen on Windows 11/10
Before going to the troubleshooting guide mentioned below, connect your computer to your router using an Ethernet cable to make the Internet work. Having done that,  to resolve the NETwlv64.sys Blue Screen, follow the solutions mentioned below.
Update the Intel Wi-Fi driver
Reinstall the Intel Wi-Fi Driver
Use BSOD Troubleshooter
Run System Restore.
Let's get started.
1] Update the Intel Wi-Fi driver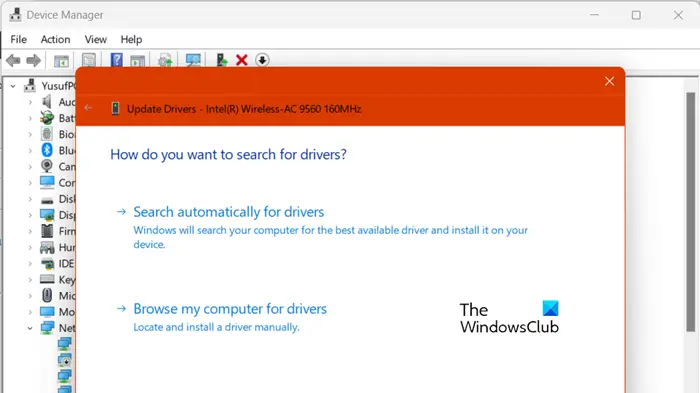 As mentioned earlier, NETwlv64.sys BSOD is caused by outdated drivers. So, you might be getting this error as your Intel Wi-Fi drivers are outdated. That is why, you need to follow the steps mentioned below to update the drivers.
Press the Windows + X key and select Device Manager from the list.
On the top of the Device Manager window, click on View and select Show Hidden Devices.
You can see a tiny arrow mark before each device. If you find any device with a yellow exclamation mark, that device is causing a NETwlv64.sys blue screen error. Even if you cannot find a device with a yellow mark, expand the Network adapters, and there you can see the Intel WiFi device.
Right-click on the device and select Update driver.
Select Search automatically for drivers and follow the on-screen instructions.
Alternatively, you can install Windows Driver and Optional Update or use Intel Driver & Support Assistant to update Intel drivers easily.
2] Reinstall the Intel Wi-Fi Driver
If updating is to no avail, we need to reinstall the Intel Wi-Fi Driver as it most likely is corrupted. To do the same, you first need to uninstall the driver and then go to the manufacturer's website to get the latest version. This should do the job for you.
If you wish to download drivers for Intel products manually, go here on intel.com.
3] Use BSOD Troubleshooter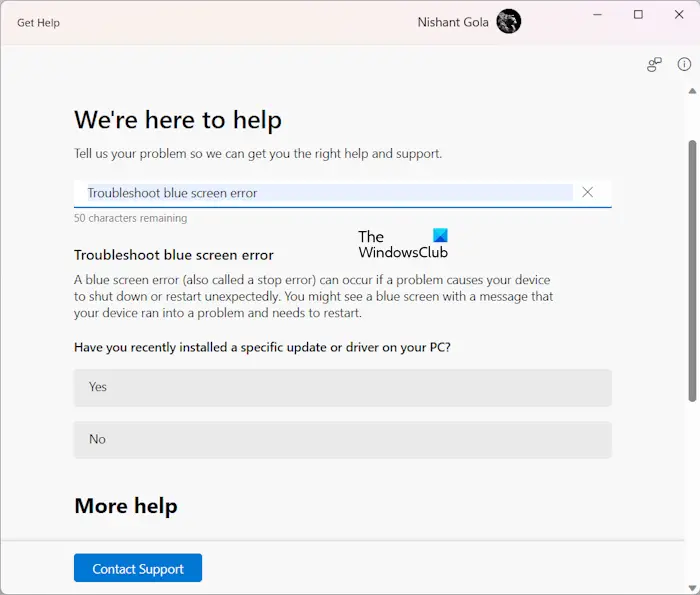 You can also run the Blue Screen Troubleshooter from the Get Help app. It is a wizard that will help you troubleshoot your system to find what's triggering the Blue Screen and suggest the remedy.
Read: Bluescreen after installing Drivers in Windows
4] Run System Restore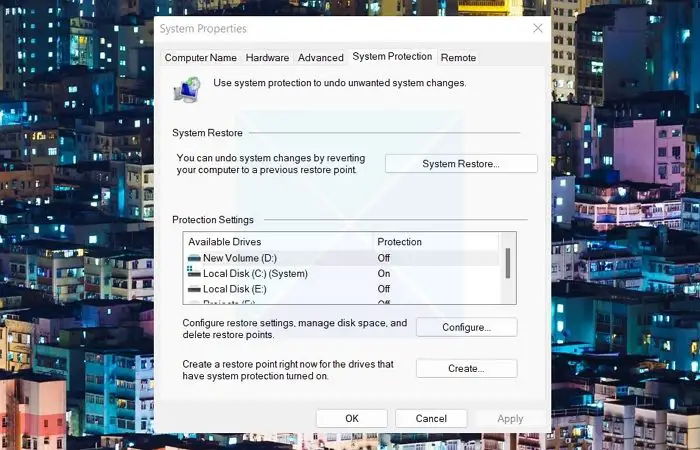 System Restore is a feature of the Microsoft Windows operating system that can help restore your computer to an earlier state using a Restore Point. If you have created a restore point earlier then you can resolve NETwlv64.sys blue screen error using the restore point that you created earlier.
Let's see how to resolve this issue:
Press the Windows key and type restore point in the search box.
Select Create a restore point.
Once the System Properties open, click on System Restore and then click on the next button.
You will get multiple options here, choose a recommendable restore point and then click on next.
Finally, click on the Finish button to start the restoration process.
Hopefully, after the restoration process is finished, the said error will be resolved.
Related: Fix Netwtw08.sys, Netwtw04.sys, Netwtw06.sys, Netwtw10.sys BSOD
Why is Netwlv64 sys not working?
Netwlv64.sys is the Intel Wireless Driver and if it is corrupted or outdated it could stop working. You must update or reinstall this Intel driver. You may also get the Netwlv64 error message if the system files are corrupted.
Read: Fix hardlock.sys Blue Screen error in Windows
How can I fix Blue screen error?
Blue screen errors can be resolved using the Blue Screen troubleshooter, running Memory Diagnostics, repairing system files using the SFC, and other troubleshooting methods. However, every BSOD has a meaning attached to it; that's why, to fix Blue Screens, use the error message to look for solutions, or better, find the BSOD log file and use it to probe your issue.
Read: Fix Ntfs.sys Failed BSOD Error on Windows.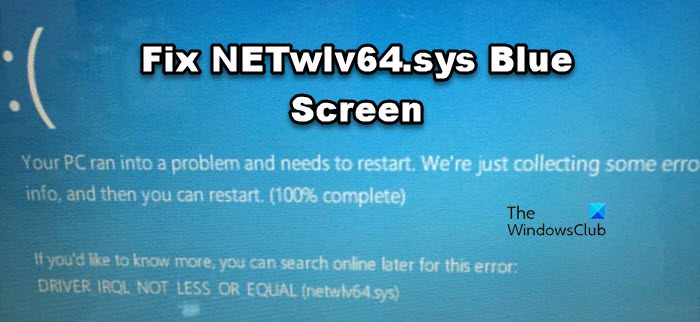 Source link

www.thewindowsclub.com