Photoshop is one of the most popular image editing, and photo correction software available. With its popularity, it is used by professionals and hobbyists alike. This makes it common for the development of plugins. Plugins add more useful features to Photoshop. However, plugins can malfunction or refuse to show when you want to use them. This could be due to any reason. What can you do to fix Photoshop plugins are not showing?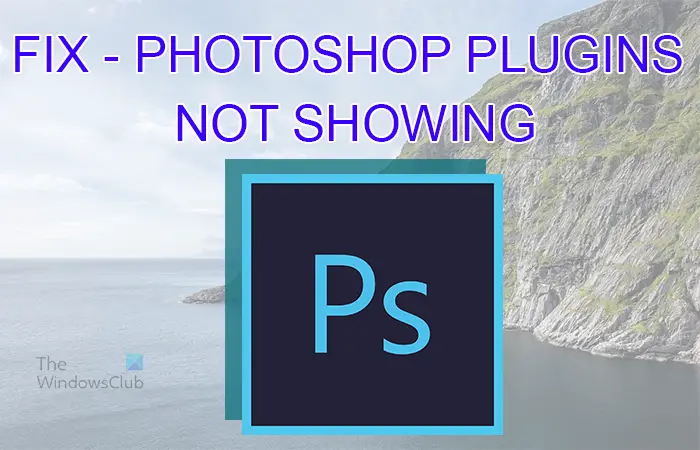 Fix Photoshop Plugins not showing
There may be times when Photoshop plugins are not showing when you need to use them. This may be due to several reasons. This article will explore the most common reasons and how you can fix them.
Plugins installed incorrectly
Incorrect image mode
Conflict between smart filter and plugins
Plugins incompatible with Photoshop version
Enable Show All Filter Gallery Groups & Names
1] Plugins installed incorrectly
If you have a new version of Photoshop and your plugins were not installed and working on it, the plugins not showing could be caused by incorrect installation. Some plugins come with an installation file, which will find the correct folder when installed. If your plugins do not have an installation file, you must copy and paste them into the correct folder. To do this, you would need to extract the files and search for the Plugins folder. Depending on the version of Photoshop that you have, the path to the plugins folder may be different.
Extract the plugin files, then copy them. You would then search for the plugins folder for Photoshop. For some versions of Photoshop, you will have to enable Show Hidden files before you can find the plugins folder.
This may be one path for your plugins folder:
C:\Program Files\Adobe\Adobe Photoshop <version>\Plug-ins\
or
C:\Users\<username>\AppData\Roaming\Adobe\Plugins
You would then paste the content of the plugin folder that you extracted into the plugins folder. If one path does not work, then you can try the other.
Sharing plugins between multiple Graphic Software
You may have multiple graphic software installed on your computer. You may want to use your plugins across all of them. This means you would need to place the plugins in a central folder that they all can access. You would create the central plugins folder and then direct them there.
If Photoshop is having problems showing your plugins, then you may need to check if you had changed the plugins folder. You can redirect Photoshop to the plugins folder.
Read: How to install Plug-ins in Photoshop
2] Incorrect image mode
Most plugins work with images that are in 8-bit RGB mode. If you load an image that is in another color mode. You need to change it to RGB color mode first.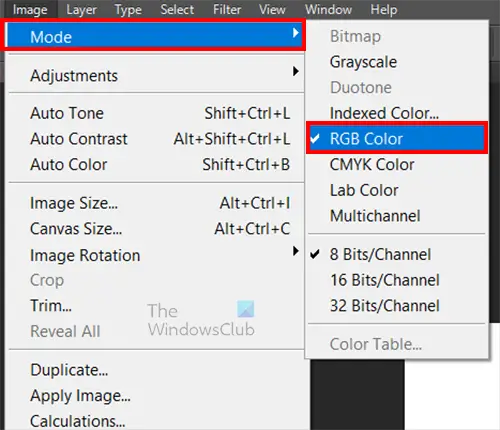 To change to the RGB color mode, go to Image, then Mode, then RGB Color.
3] Conflict between the smart filter and plugins
Some plugins will have a conflict with the smart filter. This means that if you change your image to a Smart Object.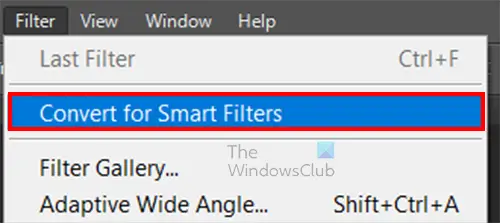 This can be done by placing the image in Photoshop and then selecting the image, going to Filter then Convert to Smart Filter.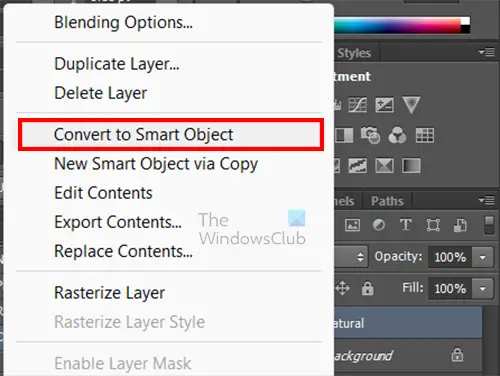 You can also right-click the image in the layers panel and select Convert to Smart Object. Smart Filter or Smart object allows you to edit any filters applied to the image.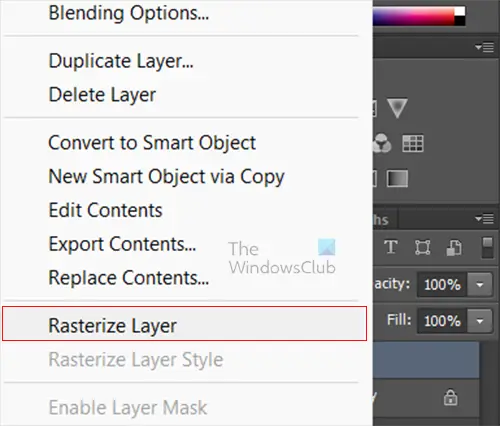 If you suspect that the smart filter is conflicting with the plugins, then you will have to disable the smart filter or smart object. To disable the smart filter or smart object, go to the layers panel, right-click on the image, and then click Rasterize Layer.
4] Plugins incompatible with the Photoshop version
If your plugins are not showing in Photoshop, it could mean that your plugins are not compatible with your version of Photoshop. Many plugins are 32-bit, so they will work with the 32-bit Photoshop but may not work with the 64-bit Photoshop. Be sure to install or paste the plugins into the 32-bit folder for Photoshop. This folder is usually found at C:\Program Files (x86)\Adobe\Photoshop <version>\Plug-Ins
It is important to check that you are running the 32-bit version of Photoshop. If you have both versions installed, ensure that the 32-bit version is the one you are working on.
5] Enable Show All Filter Gallery Groups & Names
If your built-in plugins are not showing in Photoshop, it could mean that you have to reinstall Photoshop. However, before reinstalling Photoshop, go to preferences and enable Show all Filter Gallery Groups & Names.
To enable Show all Filter Gallery Groups & Names, go to Edit, then Preferences, then enable Show all.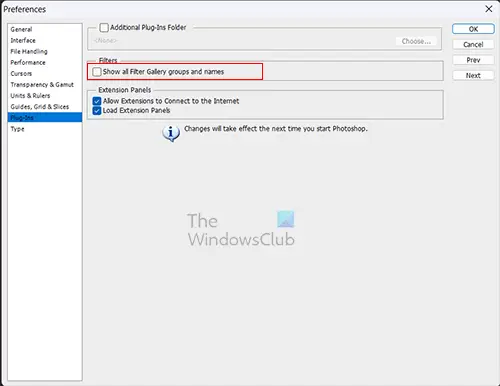 Filter Gallery Groups & Names. When you have enabled this option, click OK.
Read: How to do Double Exposure effect in Photoshop
How do I skip loading optional and third-party plugins when I start Photoshop?
You may be having trouble in Photoshop and you need to diagnose if your plugins are the cause. You can choose to skip the plugin loading when you start Photoshop and then troubleshoot. To skip the plugins loading when you start Photoshop hold the Shift key then launch Photoshop. A dialogue window will appear asking if you want to Skip loading optional and third-party plug-ins. Click Yes to continue loading Photoshop.
How do I manually install a plugin in Photoshop?
Some plugins have an installation file and you can simply use this installation file to install the plugin. If your plugin does not have an installation file then you can simply install it manually. You first have to extract the plugin if it is zipped. You then locate the plugin folder for Photoshop, or you may have a central plugin folder where multiple graphics software can access plugins. You would copy the extracted files and then paste them into the designated plugin folder.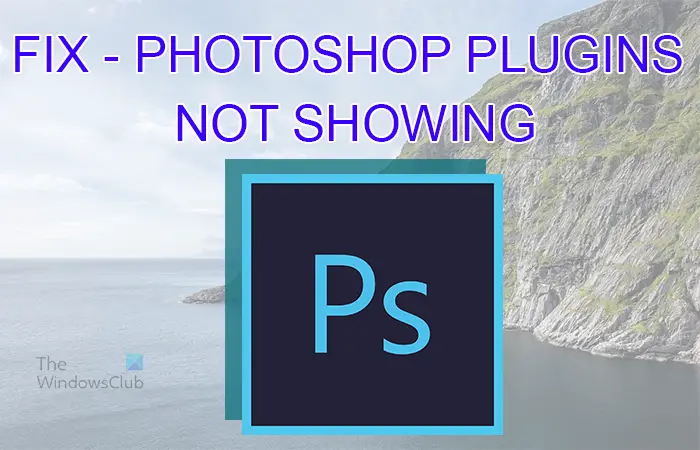 Source link

www.thewindowsclub.com