Want to learn how to time Google Slides? In this post, we will show you how to add a Timer in a Google Slides presentation.
A day may come when you may feel the need to time events in Google Slides. The best way to do this is to use a timer, and luckily, Google Slides has had this feature locked down for quite some time now.
Timers are important because they can aid in workshops, classroom presentations, among other activities where time is of the essence. This feature is very useful, and as such, everyone who uses Google Slides should give it a try when needed.
How to add a Timer in Google Slides presentation
Adding a timer to a presentation in Google Slides is easy if you use YouTube or a supported browser extension. We cover both the methods.
Add a timer in Google Slides via YouTube
Add a timer to Google Slides with browser add-ons
How to time Google Slides
How to add a timer in Google Slides via YouTube
Google Slides does not have its own timer feature, therefore, we have to use third-party tools and YouTube is one of the best options.
The plan here is to find a YouTube countdown timer video and embed it into your presentation. Let us explain how to get this done effectively.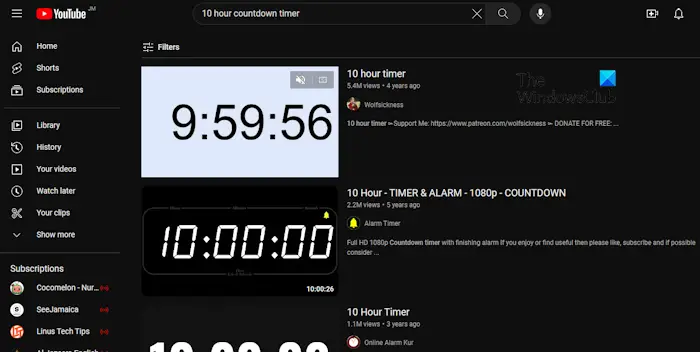 First, you must fire up your favorite web browser.
After you've done that, please go to the official YouTube homepage.
If you haven't signed into your account, you do not have to unless asked to do so.
Search for the relevant timer
Once the homepage is up and running, please click within the search box.
From there, you can search for a 10-hour countdown timer, for example.
Check the search results for the best option, then click on it.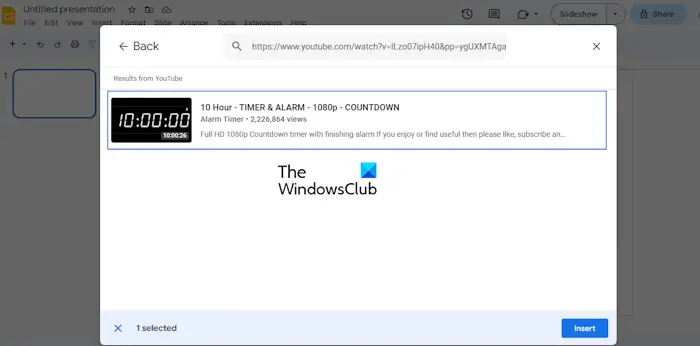 Embed video to presentation
The next step here is to embed the YouTube countdown video directly into your presentation. If you're not sure how then let us explain.
Open your Google Slides presentation from within a web browser.
Go to the Slide where you want the presentation to appear.
Once you've done that, click on Insert, then select Video.
Next, return to the selected video on YouTube and copy the link.
Go back to the Google Slides video section and choose the YouTube option.
Next, you must paste the video link in the search box, then hit Enter.
From the results section, select the video, then click on the Insert button below.
Right away the video will be added to your slide.
READ: How to embed videos in Google Slides
Add a timer to Google Slides with browser add-ons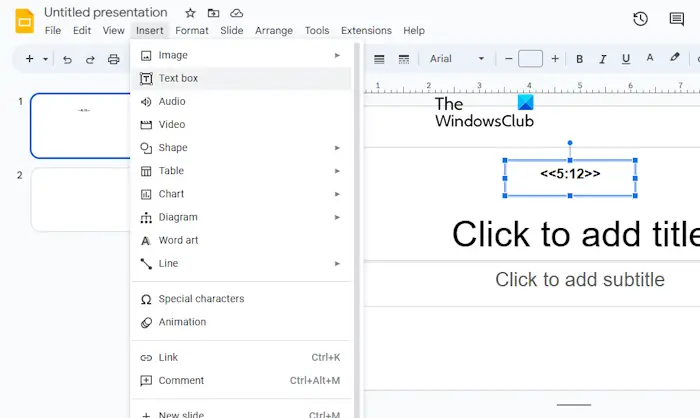 If you do not want to go through the hassle of using YouTube, then how about taking advantage of your browser extensions or add-ons? At the moment, only Chromium web browsers such as Google Chrome, Microsoft Edge, etc.
Now, the extension we want to talk about here is called Slides Timer, and it can be found free of charge via the Chrome Web Store.
Once added to your web browser, you can easily add a timer to a presentation in Google Slides with relative ease. This will only work if the web browser with the extension installed is being used.
Now, as for how to use Slides Timer, you must open Google Slides.
Go to the relevant presentation.
Choose the slide where you want the timer to appear.
Next, click on Insert, then select Text Box from the dropdown menu.
Create a timer by using the following method:
<<0:00>>
So, within the text box, you can type, for example, <<5:12>> and that's it.
To learn about other types of formatting, please click on the extension icon on your web browser.
READ: How to lock an Image or Object in Google Slides
Can you make Google Slides timed?
Begin by opening a presentation in Google Slides, then navigate to Publish to the web. From there, ensure Choose Link or Embed is selected. Now, under Auto-advance slides, choose the length of time you want to add between slides.
Does Google Slides update while presenting?
The answer is no. You see, once a presentation is up and running, it will not receive further updates from collaborators.


Source link

www.thewindowsclub.com