If you are a fan of Roku TV, you must be curious about how to cast content from your Windows 11 PC to this streaming device. While Roku comes with a screen mirroring feature, the PC you want to cast from should be Miracast enabled.
So, if you are using a smart TV that supports Miracast technology, you can simply connect a Roku set-top box or the stick and start streaming your favorite content. But if you have a Roku TV, it comes with the Roku software integrated. So, you don't need to use a separate Roku device.
Therefore, Roku works as the external monitor and you can cast your Windows 11 PC to Roku directly. However, under a few conditions which we will explain below.
Can I connect Roku to my PC?
Yes. To connect Roku to your PC, you must enable the screen mirroring feature in Roku and the Miracast feature on your Windows 11 PC. However, your PC should support Miracast and your Roku device should run at least Roku OS version 7.7 or the latest version.
While the latest range of Roku streaming devices and Roku TVs support screen mirroring, there are certain exceptions. For example, Roku Express models 3930 and 3900 support screen mirroring, but not model 3700.
How to Cast to Roku from PC in Windows 11/10
Before you enable the screen mirroring feature on Roku and Miaracast on Windows 11,  check the model of your Roku device. For this, navigate to Settings > System > About. For an older version, make sure that you connect the Roku device to the internet and check for a software update. Alternatively, you may also Compare Roku streaming players on their site to check if the current model supports screen mirroring for both Windows and Android devices.
Enable Screen Mirroring on Roku
Enable Miracast on Windows 11
Connect Windows 11 PC with Roku
1] Enable Screen Mirroring on Roku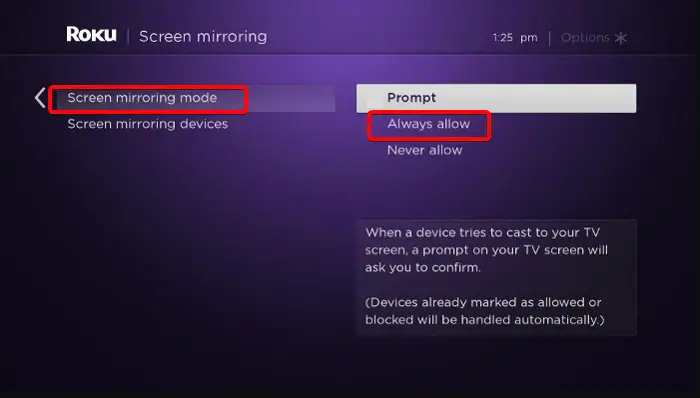 Please note that screen mirroring is by default enabled for Roku devices running OS 7.7 and above. However, if it's not, then you can follow the below procedure to enable screen mirroring on Roku:
On your Roku remote, press Home and select Settings from the menu.
Next, select System on the left.
Now, under System settings, click on Screen Mirroring.
On the next screen, click on the screen mirroring mode and select Always Allow.
Read: Fix Lag when Projecting to PC or Streaming to TV
2] Enable Miracast on Windows 11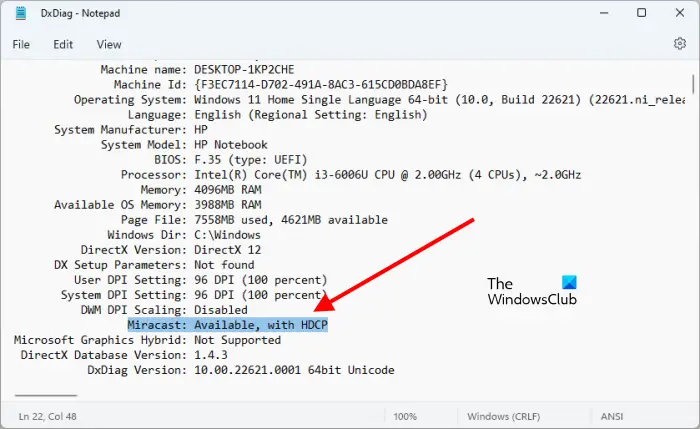 Before you proceed to enable Miarcast on your Windows 11 PC, you must ensure a few things. For example, check if your PC supports Miracast and set it up, and that the Wireless Display option is installed on your PC.
At the same time, make sure to change a few settings under Settings > System > Projecting to This PC. Now, your Windows 11 PC is ready to mirror the Windows screen to another device.
Read: Miracast keeps disconnecting randomly on Windows PC
3] Connect Windows 11 PC with Roku
Once you have successfully enabled Miracast on your PC, you must now connect it to the Roku device. For this, click on the Taskbar corner overflow to expand the section. Here, click on Connect or Cast. Windows will now start looking for nearby devices and display the list. Once it detects the Roku device, you can now cast your Windows 11 content to it.
Read: Wireless Display not Working on Windows
Why is Roku not showing up on cast Windows 11?
Sometimes you may encounter a situation where the Roku screen mirroring is not working. You may either see an error message that says Couldn't Connect or the screen may get stuck at Connecting. Due to this, Windows fails to cast its screen on your Roku TV. However, you can try a few solutions like restarting your PC and the TV, reconnecting the Roku device, or updating the wireless network driver. Also, you may temporarily disable any antivirus on your PC and check if this helps. At the same time, changing the network profile type to Private has proven to be useful for many.
Can you screen mirror from Windows 11 to TV?
Yes. You can display your Windows 11/10 PC screen on your TV or any other device using the wireless screen mirroring feature. However, the TV should be compatible with Miracast technology. Also, to mirror your Windows screen to the TV, make sure that you have a relatively fast Wi-Fi or a wired connection.


Source link

www.thewindowsclub.com