In this post, we will show you how to find saved Facebook drafts. 'Facebook Drafts' is a very useful feature for content creators and social media marketers. Drafts allow them to revisit their content, make improvements, and fine-tune the message before making the post public. They also help them plan and organize their content in advance and serve as a backup in case of technical issues or data loss.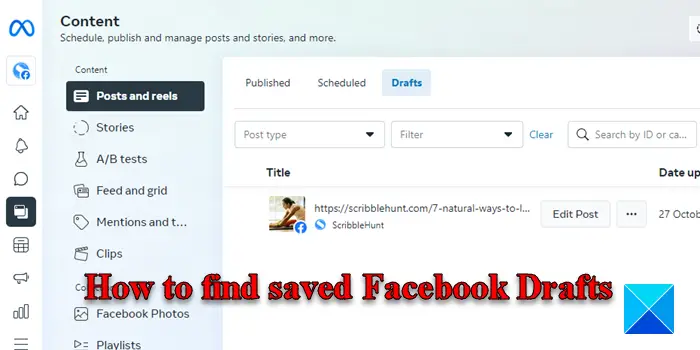 If you own a Facebook Page, you can create drafts of posts before sharing them with your audience. All your drafts are managed within your Facebook Page. In this post, we will take a look at where these drafts are saved and how to find them using the Facebook web app.
How to find saved Facebook Drafts
Before we show you how to find saved Facebook drafts, it is worth knowing that posts can only be saved as 'drafts' on Facebook pages, as opposed to personal profiles. When you create a post and you try to navigate to a different section or use another Facebook feature, you're prompted to either continue or discard the draft before leaving. The only way to save the draft on a personal account is by accessing Facebook on other platforms, such as Android or iOS.
Find your saved drafts under Meta Business Suite
Coming to the point, here's how you can find saved Facebook drafts on your Windows 11/10 PC:
Visit the Facebook web app in your browser and log into your account. Then click on the Pages option in the left panel.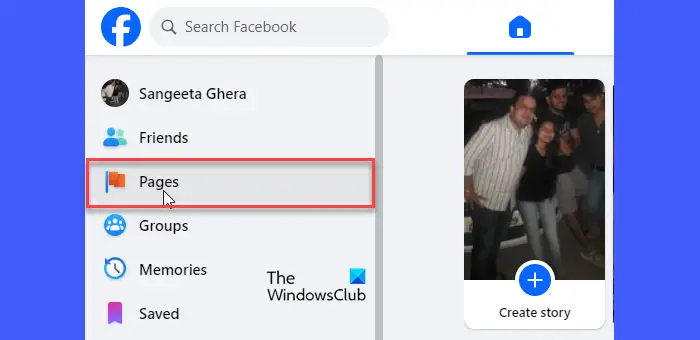 In the right panel, you'll see the list of pages you manage under your account. Select the page for which you were working.

In the left panel, click on the Meta Business Suite option.
This will switch you to the Facebook Meta Business Suite (in another browser tab) – a centralized tool that lets you schedule posts and stories to be published on both Facebook and Instagram.
Click on the Content option in the left panel.
You'll see a list of posts you've Published on the Page/Instagram using your Facebook account. Just above this list, you will see two other tabs: Scheduled and Drafts. The Scheduled tab lists posts that you've scheduled to be published at a later point in time. The Drafts tab lists posts that you've saved as drafts. Click on the Drafts tab to see all your Facebook drafts.
Note: You can also find your draft posts under the To-do list of your Meta Business Suite Homepage.
Edit your saved Facebook drafts
To edit a draft, click on the Edit Post button next to the draft entry. A popup will appear. You can edit the draft the way you want and then either publish or schedule the post, or continue saving it if it is not finished yet. Option to Publish/Schedule Post will appear when you click on the down-arrow icon next to the Save button at the bottom right corner of the popup.
That's all! I hope you find this useful.
Read: Drafts not saving in Outlook; Recover Draft Emails in Outlook.
Where do I find my saved drafts on Instagram?
Open the Instagram app on your Android device. Switch to the Profile tab and click on the New Post button. Besides the Recents tab, you will see a Drafts tab. Switch to this tab. You will see all the posts that you've saved as drafts in your Instagram account.
Where are drafts on Facebook Mobile?
Launch the Facebook app on your Android device and create a new post. After typing the content, click on the back button. A prompt will appear. Click on the Save as Draft option. You'll receive a push notification about the draft on your mobile. Tap on that notification. Your recent drafts (up to 3 days old) will show up in the Facebook app.
Read Next: How to temporarily save your Instagram Reels in Draft and Edit later.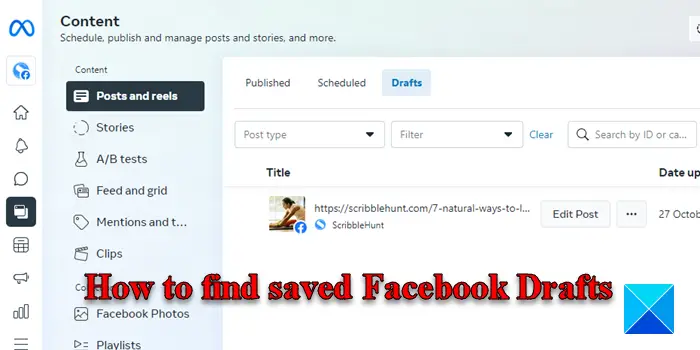 Source link

www.thewindowsclub.com