To get Microsoft Rewards, you only need to have an active account. In this article, we will show you how to get Microsoft Reward points fast using simple methods and tasks you can accomplish daily. The rewards point is a way for Microsoft Corporation to appreciate individuals who use their services, buy goods, or interact on various qualifying platforms.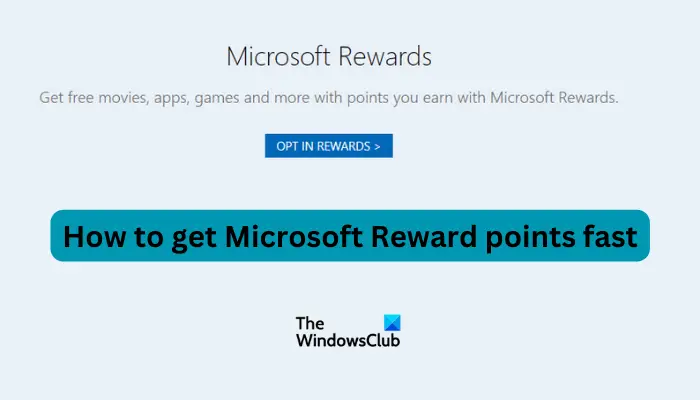 According to Microsoft, from September 30, 2023, all accounts that qualify for the Microsoft Rewards program will be enrolled automatically. However, a user will be required to activate their membership on the rewards portal if they wish to redeem their points. Note that you can opt-out anytime you want.
What is Microsoft Rewards program?
Microsoft Rewards is an initiative by Microsoft to appreciate its loyal customers and users. The rewards are not only for Windows operating system users but also for other services like Bing, Cortana, Microsoft Store, Edge, etc. The program is now automatically given to all eligible users, but one can opt-out anytime they wish to.
You can use the reward while purchasing Microsoft programs or subscribing to a service. Actually, it's a good way to reduce the cost when you intend to buy something from the Microsoft Store. To check your Microsoft Rewards, visit the Rewards page. Once on the dashboard, you can redeem points, set goals, see your daily accumulation, etc.
How to get Microsoft Reward points fast
If you have a Microsoft account and you wish to get Microsoft Reward points fast and redeem them when making a purchase for Microsoft products and services, you can do the following:
Use Bing as your search engine
Refer a friend
Buy products on the Microsoft Store
Complete daily tasks
Take part in surveys
Let us look at these methods in detail.
1] Use Bing as your search engine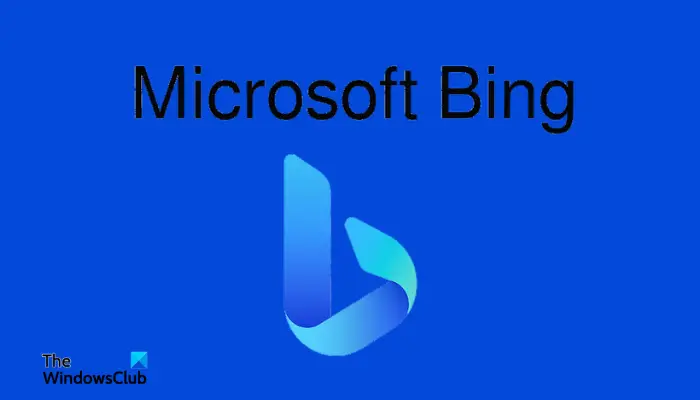 When you conduct your daily search on Bing, you get rewarded, whether on mobile, PC, or any other device. Nowadays, you can even earn points by using Bing Chat. If you are a level 2 member, you can get at least 600 points per month when you use Bing on Egde.
2] Refer a friend
By referring a friend to sign up for Microsoft reward points for the first time, you get 200 points. They should set up their account for you to earn the points. So, since new users are automatically enrolled, you can only earn points if you invite someone who does not have an MS account.
3] Buy products on the Microsoft Store
When you purchase something on the Microsoft Store, you get reward points. The rewards here depend on the amount you spend while buying a program or in-app purchases. For instance, you can earn 1–10 points for every dollar you spend in the store.
4] Complete daily tasks

The daily sets may involve Bing searches, watching a video, quizzes, etc. Once you complete these tasks, you get rewards depending on the tasks and their quantity. You can get 20 points or more on these daily sets.
5] Take part in surveys
Doing surveys can also get you Microsoft reward points fast. The points for surveys depend on the kind of survey and the time taken. Basically, you can get a few points to hundreds. Surveys are not always available, so take advantage of them when one comes up.
Read: Show or Hide Microsoft Reward Points in Edge Profile
General tips to earn Microsoft Reward points quickly
The following are some extra crucial tips to help you earn Microsoft Reward points fast every day:
Always take up an opportunity when it appears. One good example is surveys. Take as many as you can when they are available. Watch videos if you are requested to, and set Bing as your default browser.
Set daily or weekly goals. This tip will help you stay on track and work hard toward meeting your targets. Note down the point you want to hit on the period and stay on course.
Be patient. Always be consistent and patient. It might take more time than expected to hit your target, but you will eventually reach it. The more you use Microsoft products, the more points you get in your pool.
We hope you find something valuable here.
Tip: We also covered how you can fix Microsoft Rewards if it is not working on your account.
Can you use VPN for Microsoft Rewards?
Using VPN or other proxies for Microsoft Rewards is considered as cheating and is against Microsoft's terms of service. If this is detected, your account might be banned, and you will not be able to use the program for life or a stated period of time. Use accepted means to get Microsoft Rewards points fast.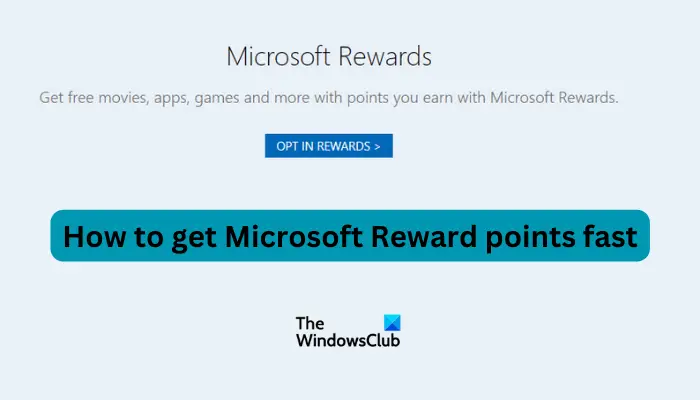 Source link

www.thewindowsclub.com