Flappy Birdle is possibly the most difficult Wordle of all, and not precisely because the words are hard to guess.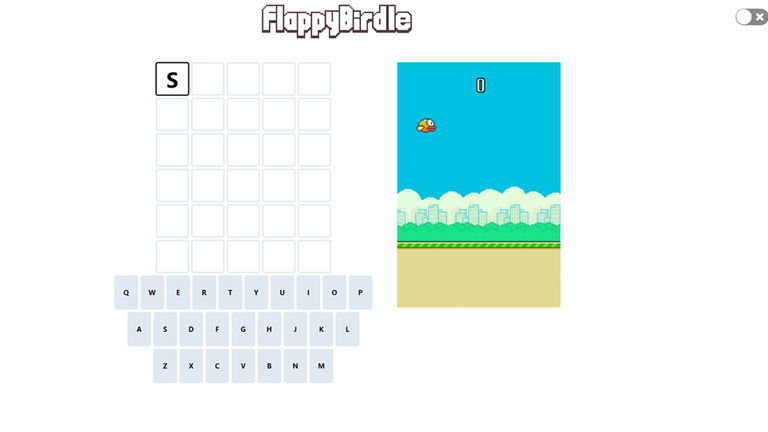 There are dozens of Wordle imitators. we have authentic role playing games that recover their essence, we also find music wordbut in this case it's time to talk about one really hard to master. We refer to flying birda title that seeks to combine Wordle with Flappy Bird with the aim of achieving a title that is among the most difficult in its category.
Flappy Birdle, the most stressful and hellish Wordle of all
Although it may seem that a game with a so simple premise It might be impossible to make it challenging and difficult, it turns out that it is. Flappy Birdle mixes two really disparate concepts and doesn't bother to put them together. The objective, precisely, is to make the title something incredibly difficult and that requires giving everything.
This way, we will have to play Wordle and Flappy Bird simultaneously. The goal is for us to be able to keep the bird in flight until we complete the word. For this reason, it is best to prepare the words to use before starting, because if the bird falls, we will lose and we will have to start over. Thus it becomes an incredibly complicated and very difficult mission to complete. In this way, if you considered that the Wordle was original for casuals this is definitely your title, although you may be facing an incredibly difficult challenge.
It is for this reason that the game has earned the title of being the "World's Most Stressful Wordle". It is not for less, since you have to be attentive to many stimuli on the screen. It is frankly difficult and becomes the most challenging option of all. Now, we can activate the "easy mode" so that the pipes disappear and we simply have to strive to keep the little protagonist bird standing. In fact, there are already people who are dominating the game and achieving make lots of pointssomething that can be seen in this video.
The title has been developed by AE Studio, a team that claims he has created a "monstrosity". The reason why they have decided to launch this title is basically that they "do very complicated things" in their usual jobs, so they have preferred to do something simpler when it comes to programming but which is a challenge for users. The developer team is really dedicated to creating bots, data science and development of web and multimedia applications. They are not focused on the world of gaming and this is a little "joke" in their free time.


Source link

andro4all.com