In Windows operating system, HVCI is a feature used for virtualization-based security. This security feature will protect your system from malicious code at the hardware level as it runs the operating system and applications in a virtual environment and separates the main memory from the remaining OS. And after doing so, it only allows those codes to execute that are signed by a trusted source. A lot of users reported that  McAfee Security Scan Plus is not compatible when Windows 11/10 HVCI mode is enabled. In this article, we will know how to resolve this issue.
McAfee Security Scan Plus is not compatible when Windows 11 HVCI mode is enabled. Please close application.
Some users saw Windows 10 in the error notification even when they were using Windows 11. This is nothing but a bug, and you can follow the solutions mentioned in this article or wait for an update to get released.
Fix McAfee Security Scan Plus is not compatible when Windows 11/10 HVCI mode is enabled
The error message will pop up on your screen when you want to run McAfee and HVCI is enabled on your computer. The reason for this error message is that McAfee software is not working properly in the HVCI's virtual environment. However, it is not the only reason as there is a high chance that a bug might be causing this issue. To resolve it, you can execute the solutions mentioned below.
Update McAfee
Turn off  HVCI
Uninstall McAfee Security Scan
Let's discuss these solutions in detail.
1] Update McAfee
If McAfee is not updated, you may see the error message. In such scenarios, you can simply resolve the issue by updating the software.
To do the same, double-click on the McAfee icon, and select the Help option. Now, click on the Update app, once the app is updated, launch it and see if the issue is resolved or not.
Hopefully, updating McAfee will resolve your issue.
2] Turn off HVCI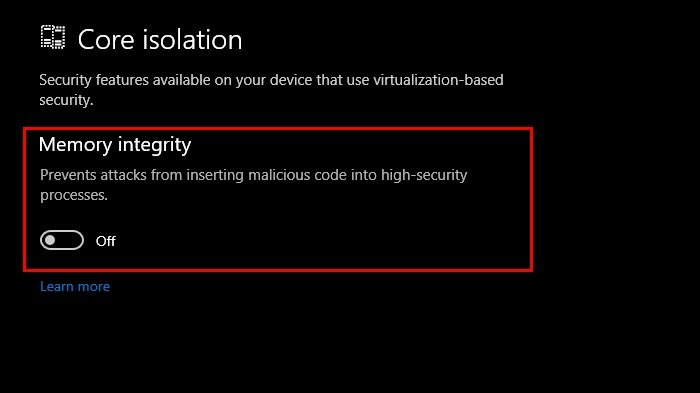 Hypervisor-protected Code Integrity or HVCI is a part of Microsoft Windows Core isolation security feature, this is used to save the Windows core processes from malicious programs by separating the main memory from the OS. This way no malicious code can enter high-security processes. However, if this feature is enabled when running a third-party antivirus, there is a possibility that some errors will get triggered, therefore, we recommend you turn off the HVCI feature, also known as Memory Integrity. To do the same, follow the prescribed steps.
Press the Windows key and click on the Setting app.
Click on Privacy & security option.
Click on the Windows Security > Open Windows Security option.
Then click on the Device security feature.
Under Core isolation, click on Core isolation details.
Now turn off the toggle button under the Memory integrity option.
After doing the procedure, restart your computer to save and apply the changes.
You can also disable HVCI using a CMD command. Just open Command Prompt as an administrator, and run this command – bcdedit /set current hvci off.
Let the command execute and disable HVCI. Hopefully, turning off the windows HVCI feature will resolve your issue.
3] Uninstall McAfee Security Scan
The error in question can also occur due to a corrupted installation and the solution, in this case, is to uninstall McAfee and then reinstall it. This way you will not only resolve the issue but also get the updated version of the app. To do the same, follow the steps given below:
Press Windows + I key and then click on Apps.
On the right-hand of the screen, click on Installed apps.
Select the app which you want to delete and click on the three-doted line and select Uninstall option.
Follow the on-screen instruction and restart your computer.
After uninstallation of McAfee Security Scan Plus from your computer, download the software again from mcafee.com and install it on your computer.
Hopefully, you will be able to resolve the issue using the solutions mentioned in this post.
Read: McAfee Ransomware Recover (Mr2) can help in decrypting files.


Source link

www.thewindowsclub.com