OneDrive allows you to store your videos so that you can play your videos without saving them on your hard drive. Some users reported that OneDrive videos are not playing. It is possible that the unstable or weak internet connection or using the wrong video format is causing this problem. In this article, we will show you some solutions to fix the issue if OneDrive videos are not playing.
The complete error message is:
Sorry there was a problem loading the video.
Fix OneDrive videos not playing
If your OneDrive videos are not playing, use these solutions to fix this issue.
Check your internet connection
Clear the cache and cookies
Convert the video to a compatible format
Use a different browser
Check if the video is DRM-protected
Uninstall and reinstall OneDrive
Let's start.
1] Check your internet connection
Poor internet connection can be a reason for this issue. Therefore, the first step is to check your internet connection. If an ethernet cable is available, connect your system to it and then see if it brings any changes. You can also do one more thing: switch to another network connection (if available) or switch to the 5GHz WiFi band if your system supports it.
2] Clear the cache and cookies
Sometimes this issue can interfere with video playback. If this is the case, it can be resolved by clearing the cache and cookies. The steps to clear cache and cookies are different for different web browsers, including Chrome, Edge, Firefox, Opera, etc.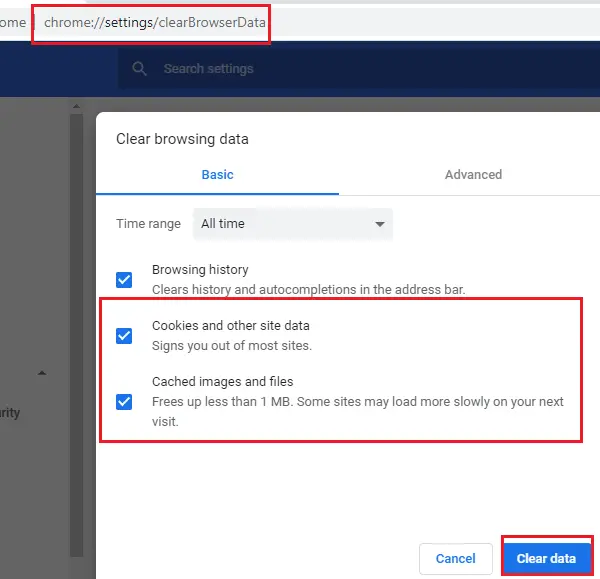 The easiest method to do this is to use the keyboard shortcut. Press the Ctrl + Shift + Delete keys. This will open the Clear browsing history window or tab. Now, you can easily clear cache and cookies.
After clearing cache and cookies, open your OneDrive in your browser and play your videos. Check if the issue still persists or not.
3] Convert the video to a compatible format
An incompatible format can be the reason why OneDrive videos are not playing. If your video is in a format not supported by OneDrive, OneDrive will not be able to play it. You can try to convert your video to some of the most popular video formats, like MP4, AVI, FLV, etc. You use some best free video converter tools to convert videos from one format into another format.
4] Use a different browser
If your video format is correct and you're still unable to play your video in OneDrive. Use another web browser. If one browser is having trouble playing a video, another browser may be able to play it. OneDrive is the product of Microsoft. Hence, we suggest you first try Microsoft Edge and see if the problem persists.
5] Check if the video is DRM-protected
OneDrive does not support the playback of DRM-protected videos. This is because OneDrive does not have the necessary licenses to decrypt DRM-protected content. To check if the video receives DRM protection, use the steps mentioned below.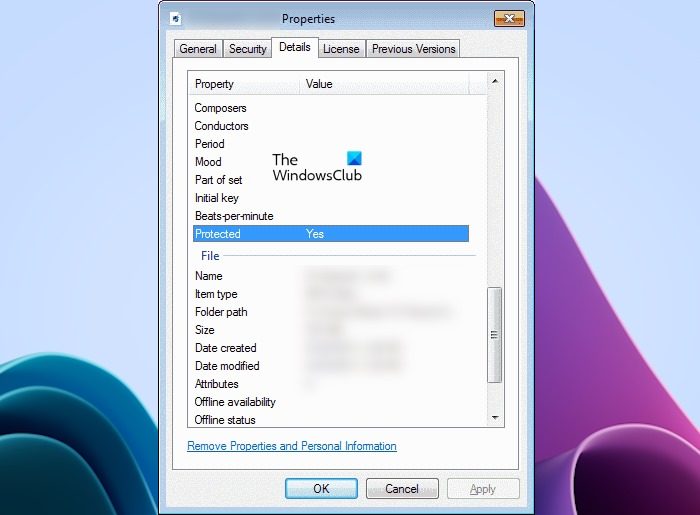 Open the video folder in File Explorer.
Right-click on the video which you want to play and select Properties.
Click the Details tab on the Properties window.
Now, scroll down to the Protected category. If the video is DRM-protected with any keys, its status will be Yes.
If the video is DRM-protected, it will not play in OneDrive even though it is in a compatible format.
6] Uninstall and reinstall OneDrive
If you're still facing the issue, then try to uninstall and reinstall OneDrive. You will not lose any data in OneDrive by uninstalling it, provided all your files are completely synced to the cloud. It will be available when you sign back into your OneDrive account. Follow these steps to reinstall your OneDrive.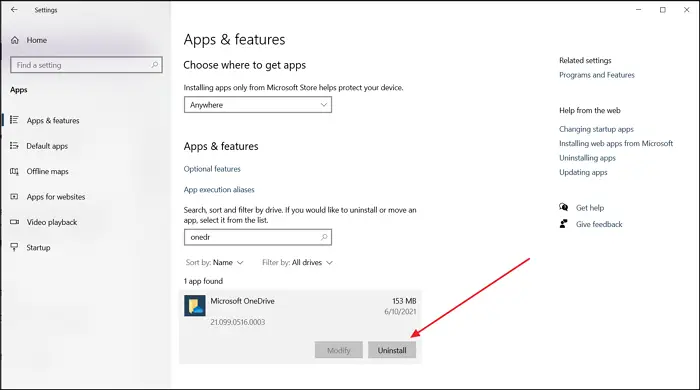 Open Windows Settings.
Select the Apps category from the left side and then click Installed apps or Apps & features (whichever option is applicable).
Search for Microsoft OneDrive.
Click on the three dots, and click on Uninstall.
After uninstalling OneDrive, download its latest version from the official website of Microsoft and then install it manually.
I hope the above solutions help you to fix the issue.
What video format does OneDrive use?
OneDrive supports an extensive list of popular video formats including video codecs like MJPEG, HEVC, MPEG1VIDEO, MPEG4, etc. You can view the complete list of supported video formats by OneDrive on Microsoft's official website.
Why is OneDrive not playing MP4 files?
MP4 is the most popular video format supported by OneDrive. If you cannot play MP4 videos in OneDrive, it is possible that your internet connection is unstable. Or your video file might have been corrupted, OneDrive lets you repair your corrupted files but this feature is only available for Microsoft 365 users.
Read next: OneDrive Camera Upload not working on Android.


Source link

www.thewindowsclub.com