Printers are so common that we forget how convenient they truly are. We take them for granted until they develop a fault then we remember how much we need them. One problem is when the printer is not printing text, lines, and dots properly. At some point, you may encounter this problem, and knowing the cause and how to fix it is important.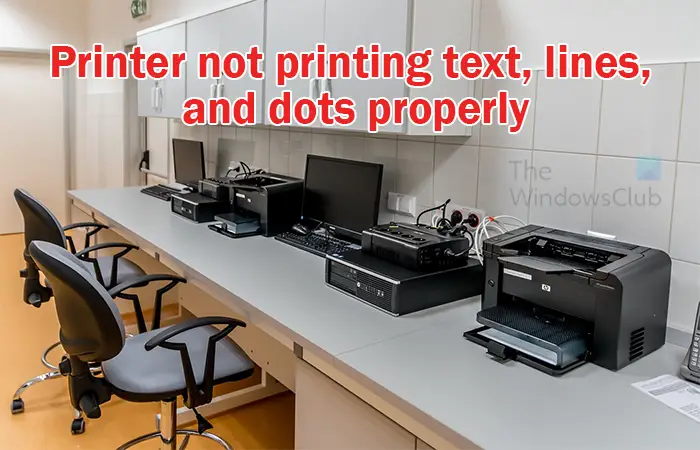 Printer not printing text, lines, and dots properly
Printer not printing text, lines, and dots properly is a problem that can be seen in inkjet, laser, and LED printers. The cause for each type of printer is different. This article will show you the reasons why and what you can do about it.
Clogged nozzle
Misaligned printhead
Damaged drum
Dirty LEDs
1] Clogged nozzle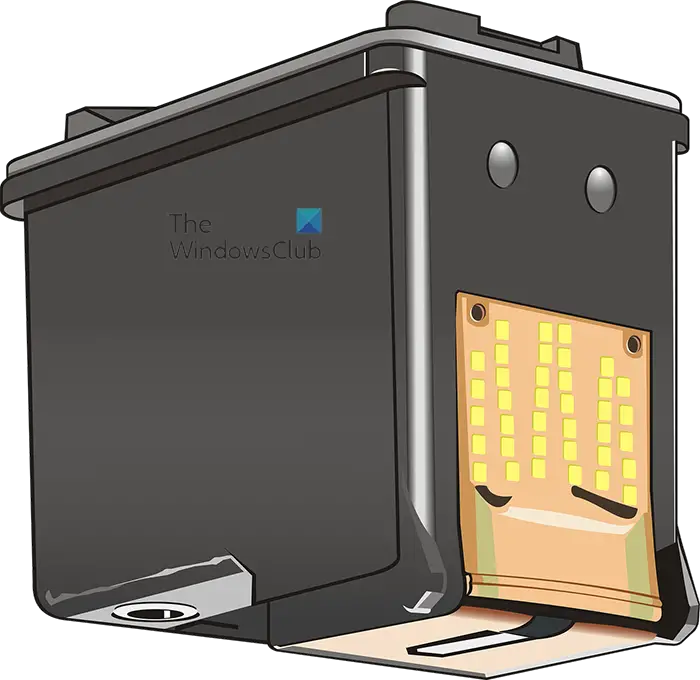 A clogged nozzle is usually in inkjet printers and can happen for a few reasons. A clogged nozzle can be caused by not using the printer for a long time and the ink cartridges begin to dry. A clogged nozzle can be caused by having the printer uncovered in areas where it is exposed to dust and debris. When the printhead is clogged, the printer will not print, text, lines, and dots properly.
If your printer is already having print problems, you should try cleaning the printhead. You should look at your printer's manual or the manufacturer's website to see how to clean your specific printer. Printers usually have two types of printheads, one that is built on the ink cartridge and one that is built into the printer. Printers usually have a built-in self-cleaning process that you can activate from within the software. The built-in self-cleaning function uses up some ink in the cleaning process so be aware of that. If you decide to clean the printhead manually, consult your printer's manual for instructions on how to do so.
If you plan on being away for a while, try not to open a new cartridge for your printer if possible. You should also keep your printer covered when it is not in use. If possible, keep your printer in a room that has climate control and kept dust free.
Read: Printer says paper jam when there is no paper jam
2] Misaligned printhead
Whenever you get a new printer or you change the cartridges, you get a prompt to do a calibration. This calibration is intended to align the printheads. If the printhead is misaligned, this can cause the printer to not print text, lines, and dots properly.
Whenever you get a new printer or you replace your ink cartridges, do a calibration so that the printhead can be aligned. If your printer not printing text, lines, and dots properly, do a calibration on the printer. You can use your manual or the manufacturer's website to find out how to do a printer calibration.
3] Damaged drum or toner cartridge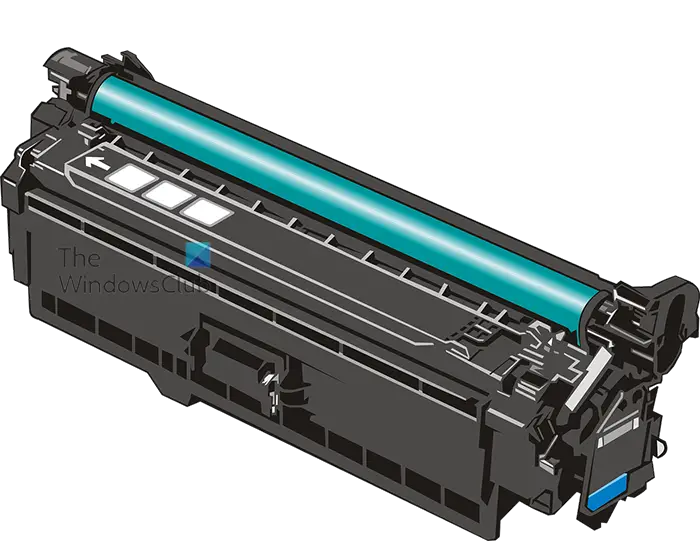 If your laser printer has a damaged drum, this can cause your prints to be defective. Some printers have the drum inside the toner cartridge while some have the drum separate.  The drum rolls the content of your document onto the paper. If the drum is scratched it will affect the print. If you use a defective toner or toner that is not the original it can affect your print.
Before going through the much harder troubleshoots try changing the toner or toners to see if that will help. You can also try cleaning the drum to see if old leftover toner is causing the problem. Try changing the toner and see if that help, before trying much more difficult troubleshooting. Ensure that you use original toner made by your printer's manufacturer.
Read: Printer not printing anything on paper
4] Dirty LEDs
LED printers work similarly to laser printers when applying data to paper. The only difference is that instead of using a laser the LED printer uses LED as the light source. If there is dust, paper residue, or leftover toner residue on the LEDs, this could affect the print.
If you suspect that dust, paper residue, or toner residue is on the LEDs, you can clean them with a lint-free cloth. If your printer has a self-cleaning function you can use it as well. Cover your printer when it is not in use for a long period.
Read: What is PostScript and why is it used in high-end printers?
How does the LED printer work?
LED printers are most similar to laser printers, using a drum, toner, and fuser system to apply colored or black toner to the paper. There is one key difference between the two – laser printers use a laser and mirror to create a toner-attracting static charge on the printing drum while LED models use a strip of LEDs.
Why won't an inkjet printer with ink print?
An inkjet printer with ink may not print if the nozzles are clogged by dried ink or dust. It may not print if there is a communication problem between the device and the printer. It may not print if there are stuck jobs ahead of your document in the print queue.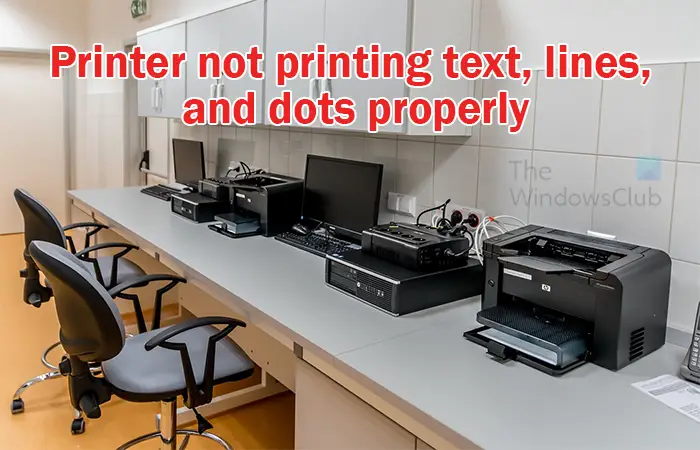 Source link

www.thewindowsclub.com