Microsoft Outlook is an essential tool. It allows you to organize your emails and calendars and helps you with other features. However, many users complained about an Outlook error that says Task 'RPM Mail – Sending and Receiving' reported error (0x800CCC69): 'Unknown Error 0x800CCC69'. The error usually occurs when sending emails and when Outlook emails are processed.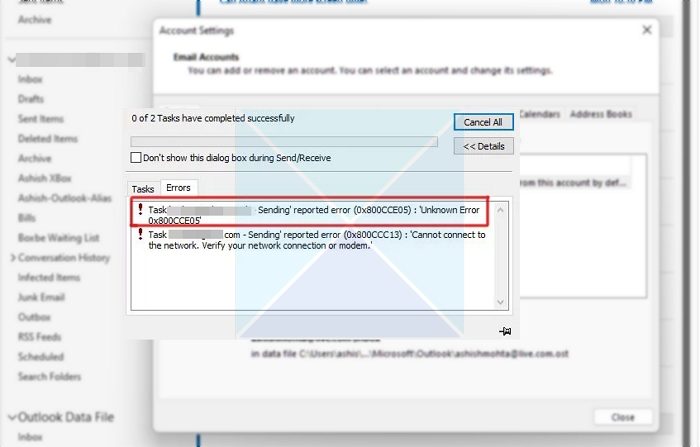 Sending reported error 0x800CCC69 in Outlook
The error mainly occurs due to the system files of your Outlook client. Or you have misconfigured your Outlook settings. To fix this, you can try the following methods:
Restart computer & router
Check all of your SMTP settings
Repair your Outlook installation
Reinstall Outlook on Computer
Makes sure your user account has complete access to configure Outlook settings.
1] Restart computer & router
First, Restart the computer & router and see if it makes the problem go away. If it does not help, read on.
2] Check all of your SMTP settings
You should also check your SMTP settings and see if they are all right. If the SMTP settings aren't accurate, errors like the Unknown Error 0x800CCC69 are common. To check the settings, follow the below steps:
Launch Outlook, then go to File > Account Settings > Account Settings
On the Account Settings window, select the account you're trying to troubleshoot and select Change.
On the Change Account window, check the Incoming mail server and Outgoing mail server (SPTP) settings against those from your email provider. If it's different, update the settings.
Under Logon Information, verify you're using the correct User and check if the issue has been resolved.
Read: Emails stuck in Outbox of Mail app on Windows
3] Repair your Outlook installation
As mentioned, the issue can occur because of corrupt Outlook system files. So the first thing you should try is to repair your Outlook installation. To do so, follow the below steps:
Press the Windows key + I to launch Settings.
Go to System > Apps > Apps & Features.
Over here, search for Microsoft 365 and then click on the three dots icon next to it.
Now click on Modify.
Finally, select Quick Repair from the How would you like to repair your Office programs? Window and see if it solves the issue for you.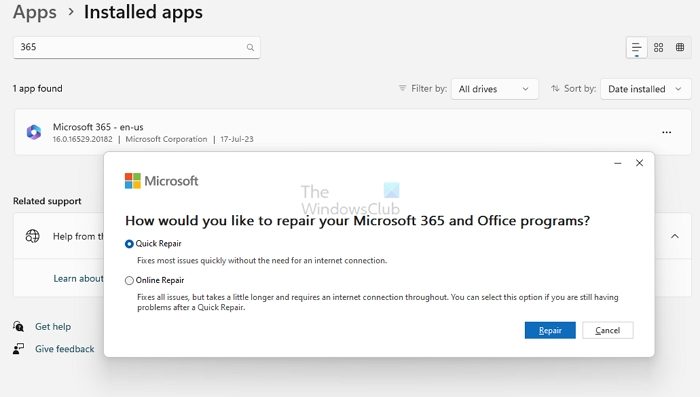 In case Quick Repair doesn't fix the error. Then follow the same steps again but this time select Online Repair and see how things turn out for you.
If you are running a standalone version of Outlook, you will need to follow the same steps, but instead of Office 365, search for Outlook and choose to repair.
Read: How to fix Microsoft Office installation errors
4] Reinstall Outlook on Computer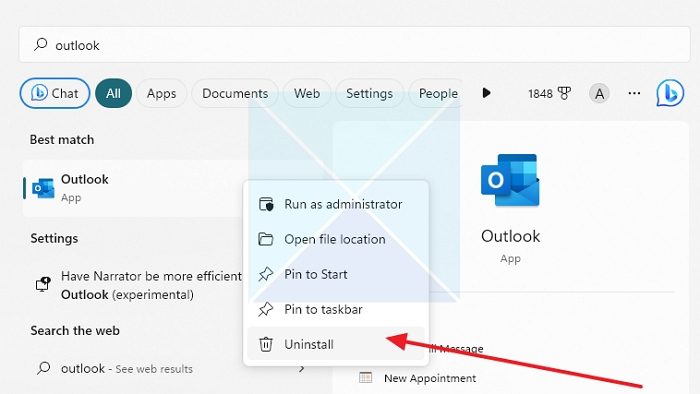 If, in the end, nothing works out for you, then you can consider reinstalling Outlook. To do so, follow the below steps:
Press Win + S and search for Outlook.
Right-click on it once it appears in the light, and choose to uninstall.
Once uninstalled, download the Office installer, and choose to install Outlook.
Check if the issue has been resolved for you.
How do I fix Send error in Outlook?
If you encounter a send error in Outlook, try these steps: check your internet connection, restart Outlook, verify SMTP settings, disable antivirus/firewall temporarily, review email settings, clear the outbox, reduce email size or attachments, check email server status, update Outlook, or repair/reinstall the program if needed. Contact your email service provider or IT department if the issue persists.
How do I refresh Outlook?
To refresh Outlook, you can close the Outlook application and reopen it. This will refresh the email client and load any new emails or updates. You can also manually click the Send/Receive button in the Outlook toolbar to refresh your inbox.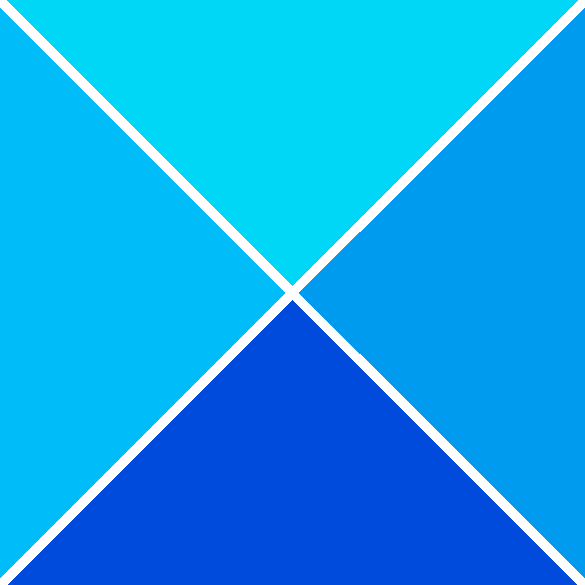 Source link

www.thewindowsclub.com