If you are a Steam user, you might have encountered an error while purchasing. In this article, we see how to fix Steam when there is an error trying to load your shopping cart. This is not a common error, but when it occurs, you are unable to buy a game or any other in-app purchases successfully.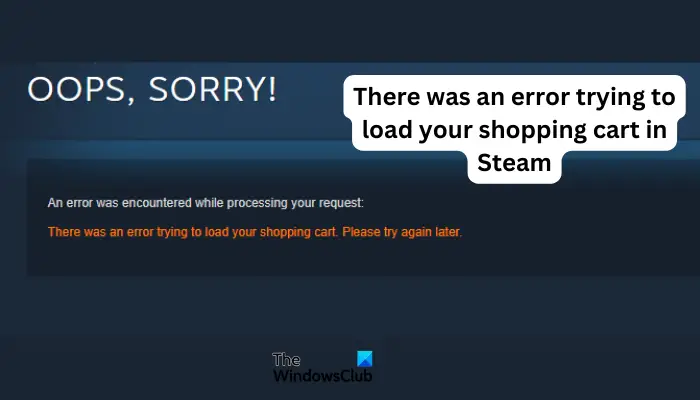 OOPS, SORRY! An error was encountered while processing your request. There was an error trying to load your shopping cart. Please try again later.
The error can be temporary and might go away after the second attempt, but if it persists, you must fix it immediately. When the Steam store button is not working or you can't load your shopping cart, it's annoying as you cannot buy and launch your game. Luckily, this post has some of the best solutions to fix the issue.
Why isn't my Steam cart loading?
There are several reasons why you get the shopping cart loading issue on Steam. The main one is browser cookies and cache issues. Other causes of the error can be temporary bugs, Steam being outdated or having installation file issues, or probably the servers are down and you need to wait a little bit. The error can also be caused by an unstable internet connection Whatever the reason, we need to resolve the problem quickly, so let us see various solutions next.
Fix There was an error trying to load your shopping cart in Steam
If there was an error trying to load your shopping cart in Steam when buying a game on the Steam Store, we recommend trying the following solutions to fix the issue:
Start with general steps
Clear Steam Cookies on your browser
Try another browser
Reset or repair Steam
Let us now look at these solutions one by one.
1] Start with general steps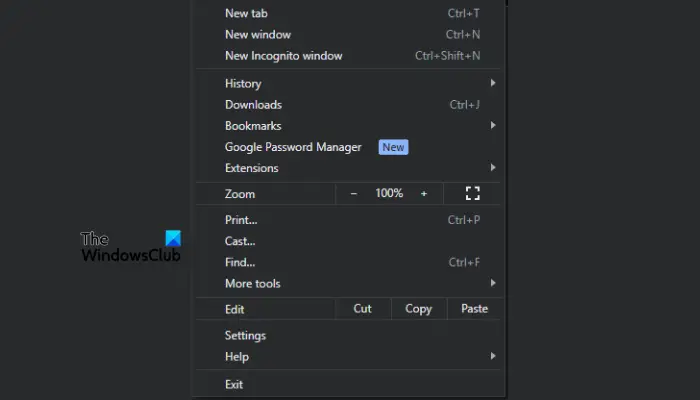 In most cases, the loading error in Steam is temporary and can be fixed by running preliminary steps. Perform the following general steps before heading to more complex solutions:
Exit Steam and restart it. This can fix simple technical issues the game launcher may be facing. You may also restart your computer or browser.
Check if your internet has issues. Check its speed, routers, cables, etc. If there is an issue, fix it or contact your ISP for further guidance.
Check the server's status. Sometimes Steam might be down, and the only thing you can do is wait as they resolve the issue.
Try Incognito or InPrivate mode to access your Steam account. If it works there, then the cause is cookies and cache.
Fix: Connecting Steam account stuck
2] Clear Steam Cookies on your browser
Clearing Steam cookies on your browser ensures that broken browsing data files causing the shopping cart loading error in Steam are removed and new ones are created automatically. You can clear Steam cookies only using the following steps on Google Chrome:
Go to Chrome Settings and click Privacy and Security.
Next, locate and click the Cookies and other site data option.
Type steampowered in the search box, and then select store.steampowered.com.
You will see a box labeled ShoppingCartGID.
Click it and select Delete.
TIP: Learn more about how to clear cookies for a specific website in your browser.
If you can't see that option on your browser, you can clear all the browsing data in Chrome or Edge.
3] Try another browser
Sometimes, your current browser can have issues, resulting in the error 'There was an error trying to load your shopping cart'. Y
ou can use a different browser like Edge, Chrome, Firefox, etc. Ensure you use the official Steam site, as some third-party sites might have issues while purchasing games.
Fix :Steam won't let me reset my password
4] Reset or repair Steam
Forced shutdowns, viruses, etc. can corrupt apps like Steam clients. This can lead to errors, such as Steam not loading the shopping cart. The best way to fix this is by resetting the game launcher and seeing if you have resolved the issues. So, repair or rest the Steam app using the Windows settings under the Apps & Features options.
NOTE: If nothing works, you can contact the Steam customer support team for personalized assistance.
We hope you find something valuable here.
Read: Fix Steam black screen or not loading on Windows PC
Why am I getting Steam error?
There are various possible reasons why you are getting a Steam error. For instance, the error can be caused by a poor internet connection, the Steam server not working, firewall settings on your PC, or conflicts with antivirus software. To fix the issue, you need to first know the possible cause so that you can take the necessary steps. For example, you can check your Wi-Fi connection if Steam is not loading properly.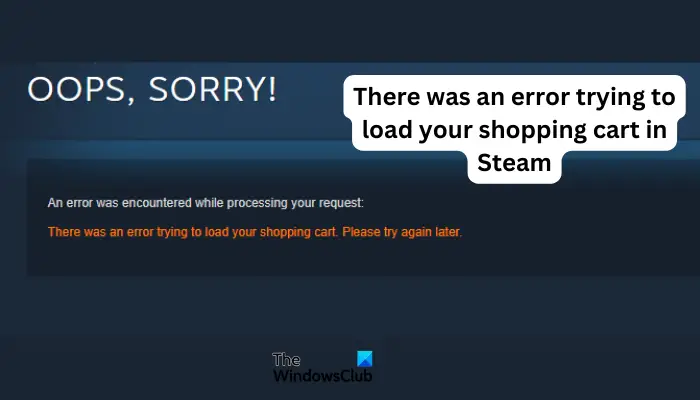 Source link

www.thewindowsclub.com