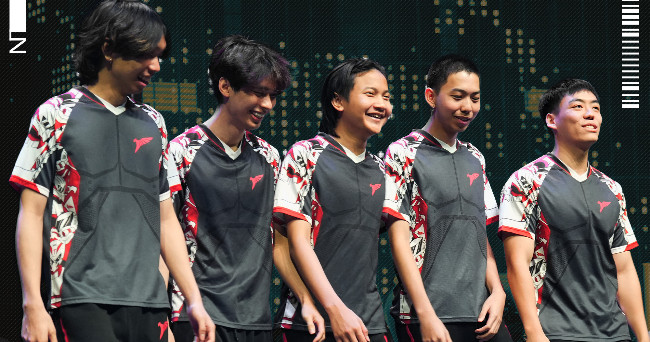 Thursday, July 20, 2023, 9:45:52 a.m. Indochina time

Talk to each other without stopping. for the most important competition VALORANT Champions Tour 2023: Pacific Last Chance Qualifiers After a representative from Thailand like Talon Esports Has come out to show his skills above the agency Explosion FocusMe ready to win with a score 2-0 Therefore, today they have to come back to show their skills again. to grab the last ticket of the competition 2023 VALORANT CHAMPIONS To reach this, you can read more details inthis article
which the competitionDay 2 will be round Upper quarter-finals and will still apply the rules single removal (Lost and eliminated) as before, for the competition to begin. July 19 There will be teams competing all together. 2 pair as follows
Rex Regum Qeon and Global Esports
Gen.G and Talon Esports
one shot finish @TALON_ESPORTS Still in the race for the title of Champions Los Angeles.

We have two more knockout series tomorrow. meet again #LCQ Pacific! pic.twitter.com/LQHjJx3lqZ

— VCT Pacific @ LCQ (@vctpacific) July 18, 2023
Starting to open the field with a tight pair like Rex Regum Qeon and Global Esports In this battle, although it is quite close, even though no one gives up But due to the intensity, including the non-stop fire of the players within the jurisdiction Rex Regum Qion Therefore making this summary still come out on the same page with the score 2-0 (13:10 , 13:10) and result world class esports The stigma of defeat is unfortunate. ready to end their path in the year 2023 implicitly
Yen and husband = 🔥🔥🔥🔥 #LCQ Pacific

📺 https://t.co/h4MPtwXkRl pic.twitter.com/fexFsFCIm7

— VCT Pacific @ LCQ (@vctpacific) July 19, 2023
After the end of the first pair, Wai Ji came together in the second pair. It will be a meeting of two agencies as well. Gen.G and Talon Esports Of course, if referring to "old data", it can be seen that the way Talon Esports ever organized a landslide Gen. Came with a score 2-0 but had to admit that that period was when Gen. Are "the form is falling in the worst way because losing every team without a break" In addition, this battle, except for tickets to compete 2023 VALORANT CHAMPIONS And then there is one more bet. which will affect "work duties in the year 2023 And after all this, "so that both teams do not want to lose in this battle in all respects.
.
by the first two maps Talon Esports who grabbed the first point with asthma on his neck, and Gen.G, who did a great job on his own map. As a result, both teams had to decide on the final map. Haven Although at the beginning Talon Esports will be able to hit points before reaching 8 – 4 But after switching sides Gen. Came out with a punch girl, wearing it without holding back Until the point slowly moves to follow little by little until entering the range Administrative Organization in the end though Talon Esports will be able to hit up and bring it first But with the ability to trade players of Gen. Including playing tight thus making this victory go to Gen. with score 2-1 (11:13 , 13:10 , 15:13 ) and closes the door to the list 2023 VALORANT CHAMPIONS of Talon Esports unfortunately go
2v5? no problem @garnetssssss @foxzfoxzfoxz 😌#itssoarintime #LCQ Pacific pic.twitter.com/QkdWQU1k6x

— Talon (@TALON_ESPORTS) July 19, 2023
in terms of competition Day 3 will start July 20 It will be a round competition. Upper semi-finals and this battle will have all the teams competing together 2 pair as follows
ZETA DIVISION VS King of Kings Qeon
Team Secret vs Gen.G
Our upper bracket semi-finals are set. #LCQ Pacific pic.twitter.com/MrcRIY6qDf

— VCT Pacific @ LCQ (@vctpacific) July 19, 2023
Finally, I have to express my condolences to the way. Talon Esports and hope that athletes will be able to stand up again soon Finally, before the author writes a daily summary, he tries to read the comments inside. fan page of Talon Esports which has many groups of players swarming into each other without rest, as if they were killing someone Of course, giving opinions is not wrong, anyone can do it. But it should be within the limits and also empathize with the competitors because " The person who feels the worst is the competitors themselves, not you guys " May everyone understand and take care of them a little bit.
This has been the hardest year in my entire career…very disappointed in myself. sorry to all the fans

— Claw l Crws (@Crws_vlrt) July 19, 2023




Source link

www.4gamers.co.th