In this post, we will discuss Microsoft Mesh and what exactly it is. We are also going to list what are other Augmented Reality-based collaboration and communications platforms that you can use.
What is Microsoft Mesh?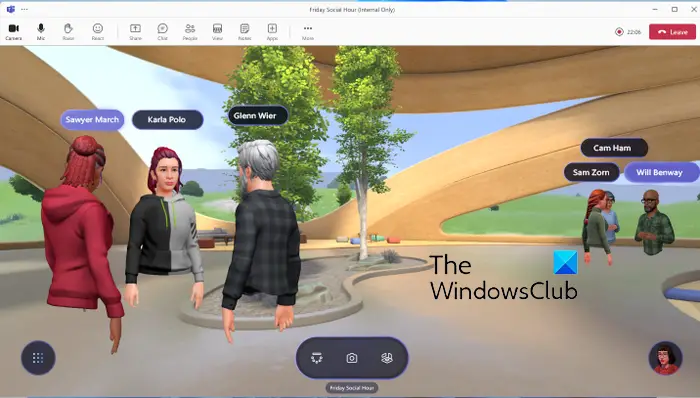 Microsoft Mesh is an Augmented Reality Framework that brings real-world and computer-generated content together to create immersive experiences. It empowers organizations to enable their workers to connect like never before with some great features like avatars, spatial audio, etc. You can also engage with eye contact, facial expressions, and gestures just like you do in the real world.
It is basically another feature that aims to improve team collaboration remotely. The whole idea behind Mesh is to create a sense of natural co-presence and togetherness during meetings.
Microsoft Mesh integrated with Microsoft Teams
Microsoft is bringing Mesh Augmented Reality Framework to Microsoft Teams for shared immersive experiences. It incorporates Avatars in Teams that represent an individual and enables employees to create connections in meetings without having to enable their cameras. This adds more fun to your Teams meetings.
It allows you to create immersive spaces in a Teams meeting which can be accessed through PCs or Quest 2 headsets. Furthermore, it provides employees with capabilities like connecting to an individual and having a side-by-side chat in space, having multiple conversations without talking over each other, interacting with objects, and much more. You can also start presentations, share animations, etc. So, Mesh can be used for guided tours, employee training, team onboarding, and more.
Besides integration with Microsoft Teams, Mesh is also available for organizations as a standalone application. Currently, Mesh private preview is available for the Microsoft Mesh Technical Adoption Program (Mesh TAP). The generic public needs to wait until it is released for everyone.
Now, if you are looking for a similar set of services and apps that let you interact with others in a workspace with VR and AR tools, this post will help you find the right alternative. So, let us check out.
Mesh: Microsoft's Augmented Reality Framework Alternatives
Here are some alternatives to Microsoft Mesh that are used for shared immersive experiences:
GlarAssist
Campfire
holo|one sphere
The Wild
GatherInVR
vTime
Foretell Reality
Imaginate's Atom
1] GlarAssist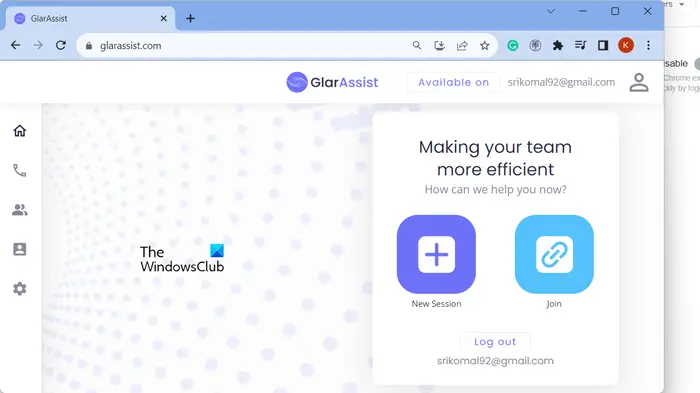 GlarAssist is a free visual remote assistance software and is a good alternative to Microsoft Mesh. Its primary objective is to make your team collaborate and work more efficiently. It allows users to interact in real-time using Augmented Reality, draw AR annotations, delete an annotation if required, chat with each other, send messages, share files, and do much more. You can also share your screen.
A registered user can start a session and the other participants can join the session using the session ID. After that, all users in the sessions can start interacting with each other using AR features.
You can check out more about this service on its website. It is free as of now.
Read: SMASHDOCs is a web-based productivity & collaboration tool.
2] Campfire
Campfire is another Microsoft Mesh alternative that is used for communication using AR objects and features. It provides a natural feel of people in a virtual meeting, thus improving collaboration and communication amongst people in an organization. It primarily focuses on holographic coloration in an organization.
You can create 3D scenes from different types of models and share them using their links. It offers some great tools to explain and understand concepts and communicate more effectively in a work meeting. These tools include Pointer, Sketch, Flashlight, Slice, Grab, etc.
The software provides a free as well as an Enterprise edition. You will have some feature limitations in its free edition, e.g., up to 5 projects can be created, 5 scenes per project can be generated, 5 GB of storage, etc.
Read: Best online Whiteboard tools to create great ideas.
3] holo|one sphere
holo|one sphere is another real-time mixed reality (MR) collaboration platform for
organizations. It can be used by enterprises for different purposes including Remote Assistance, Virtual Collaboration, Workflow Guidance, and Life-size Overlay. The main purpose of this software is to let employees connect effectively using MR and AR features.
4] The Wild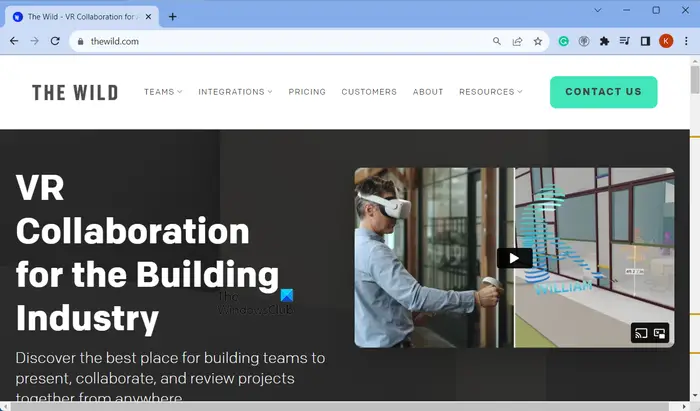 The Wild is another Microsoft Mesh alternative that aims to facilitate an efficient and effective way of communication within organizations using VR and AR tools. Here are some key features of this software:
You can create shared virtual workspaces and conduct meetings in real-time.
It can be integrated with Revit, SketchUp, and BIM 360 workflows.
It supports popular 3D file formats for importing.
You can work, present, and collaborate with people in a space in real time.
It is cross-platform and lets you access your data from Meta Quest, HP Reverb, Pico Neo, HTC Vive, AR (iOS), or desktop (Mac or PC).
It consists of a variety of sketching tools to express your ideas.
Read: Best Zoom apps for Education, Productivity, Collaboration and Recording.
5] GatherInVR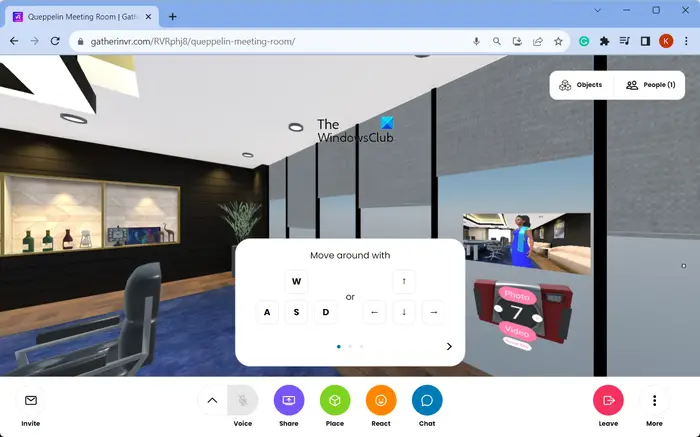 GatherInVR is another Microsoft Mesh alternative that provides shared immersive collaboration experiences. It consists of several public rooms that you can enter and start communicating with others. Upon joining a room, you can customize your name and avatar.
Here are the features provided by GatherInVR:
Chat: You can send text messages to people present in the room.
React: It provides various emojis to react to a situation.
Share: You can share your screen as well as video through webcam.
Place: If you want to add a drawing, place a camera, insert an avatar and scene, or upload an image, video, etc., you can use this feature.
Voice: You can talk with people in a space.
Favorite Rooms: It lets you add a room to your favorite list.
6] vTime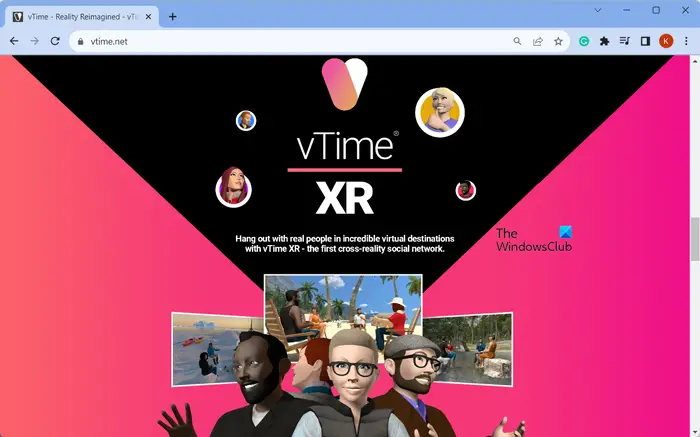 vTime is another AR-based communication platform. It is primarily a cross-world avatar messaging app and cross-reality social network that lets you build, share, and explore 3D avatar content and hang out with real people in virtual places.
7] Foretell Reality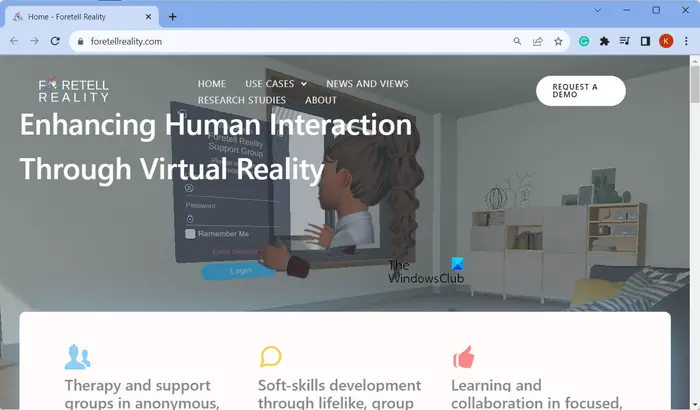 The next Mesh alternative on this list is Foretell Reality which enhances human interaction using VR and AR tools and features. It aims to improve communication, learning, and collaboration in immersive environments. All this is achieved with realistic simulation of scenarios, demonstrating ideas using various tools, collaborative activities, etc. It also contains features to monitor and analyze outcomes and share behavioral feedback and usage data for further improvement.
Its key areas include therapy and support groups, soft skills development, and higher education.
Read: What is Metaverse? How does it work?
8] Imaginate's Atom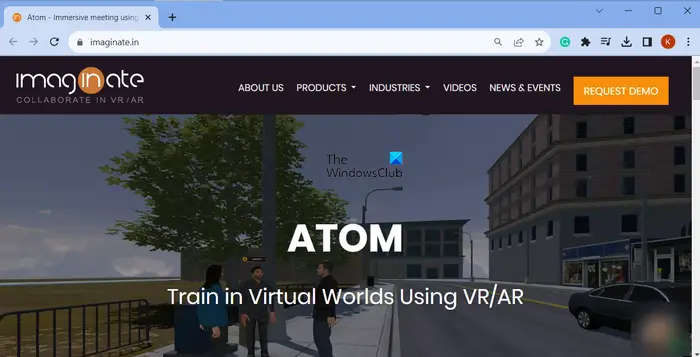 Imaginate's Atom is yet another immersive meeting platform that uses AR and VR. It allows organizations to train in virtual environments with the help of VR and AR. It basically allows users from different corners of the world to come together, connect, train, and learn. To do so, users can use interactive and gamified 3D content.
Some of its key features include Screen Capture, Spatial Audio, VR And Screenview Modes, Web Browsing, No Code Authoring Platform, and Annotations tools. The users in a 3D environment are represented by avatars. It also enables users to share PDF, PPT, video, and other files.
It contains several CAD objects that you can share in a space. Plus, you can also move, rotate, and scale the objects. You can use it in both standalone and collaborative modes.
What is the HoloLens used for?
Microsoft HoloLens is an untethered mixed-reality headset using which you can see the real environment around you while adding 3D holograms to it. The users can interact with holograms with the help of their hand gestures or voice commands. It contains features like Hand Tracking, Eye Tracking, Spatial Mapping, Large Field of View, etc.
Now read: Best e-Learning Apps, Websites & Tools to educate Kids at Home.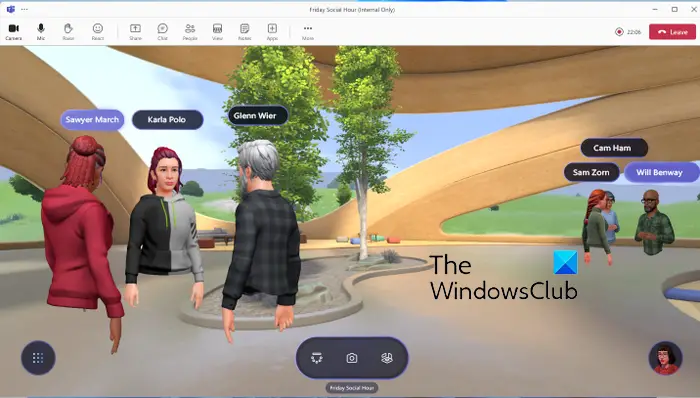 Source link

www.thewindowsclub.com