In this post, we have created a rundown of some of the best Amazon Price Tracker Services and Extensions to help you monitor the price of your favorite product on the go.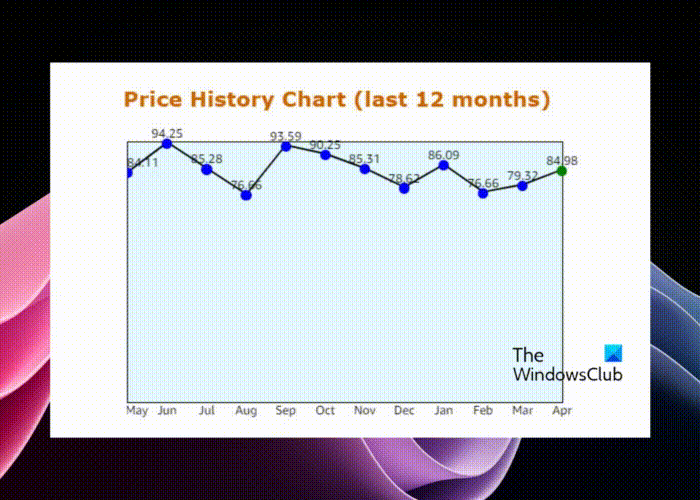 To keep track of price changes on Amazon, you can use price tracking services, software, or tools. These tools should be either websites or available in the form of apps or extensions. With these tools/services, you can monitor the price history of items or price drops you are interested in, thus making informed purchasing decisions. This is a great way to save money online and find the best deals on Amazon.
Best Amazon Price Tracker Services and Extensions
Before you look for the price tracker extensions, you may want to consider the Amazon Assistant software, which is available for free. It does quite a good job of tracking and comparing prices for your selected items and also notifies you of the latest deals, special offers, and more. Moreover, it's also available as a browser extension for quick tracking of Amazon products. However, if you are looking for more features like price history, in-depth analysis, price-drop alerts, and more, we have listed some of the top picks for Amazon price-tracking services.
Slickdeals
Honey
Keepa
PriceBefore
CamelCamelCamel
Glass It
1] Slickdeals
If you want the best deals for your favorite products, head to Slickdeals. It supports almost all countries worldwide, making it one of the most popular Amazon price-tracking services. It's not only a price tracker, but it offers a lot more than that, and all for free. For example, you can expect the best bargains, coupons, discounts, money-saving offers, and more under one roof.
All you need to do is sign up for free and set up Deal Alerts or customize alerts for your preferred products. You can access its online platform or download its mobile app on Android/iOS to begin with price tracking.
Read: How to use Google Flights to track prices for a flight or route
2] Honey
Honey is a great price tracker available as a Chrome or Edge extension for buyers looking for automatic price drop alerts. It allows you to save items from different stores including Amazon, and as soon as the tool tracks a price drop, it sends you a notification. However, now, it allows you to save items from participating stores only from eligible countries.
Having said that, it's a breeze to install the extension. Simply visit the website, click install and you are done adding the tool in seconds. Best of all, it's free. Now, all you need to do is press the Honey button and add items from the participating store from an eligible country. As soon as the service detects a price drop in your selected products, you are notified immediately.
Read: How to Enable Online Shopping feature in Microsoft Edge
3] Keepa
If you are looking for the top Amazon price-tracking service, Keepa is an excellent addition to the list. You can check the detailed price history for more than 3 billion Amazon products on a friendly interface similar to Google's layout. The best part about this service is that it's available for almost all countries, including Brazil, India, and Mexico.
While you can access almost all of its features, some features like the Keepa API, interactive graphs, or price alerts are available for a subscription. There's a browser extension available for almost all browsers; however, on Android devices, you can access it via only Firefox.
Read: Avoid Online Shopping Fraud & Holiday Season Scams
4] PriceBefore
Another popular price tracker in the list is PriceBefore.com, which not only tracks the prices of the selected items, but also offers price history charts, & price drop alerts from Amazon, Flipkart, and more. You can access the graphs and charts for a detailed price history of your preferred products and their current prices.
In short, it's a complete price-tracking tool that helps you save money while shopping online for products such as smartphones, home appliances, tech gadgets, and more. That said, it's a website, and hence, no need to install software or extensions.
Read: How to spot a Fake Shopping Website?
5] CamelCamelCamel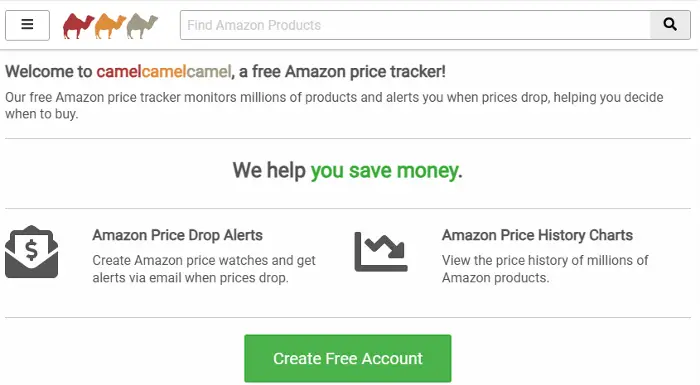 Wondering why CamelCamelCamel.com is not at the top of our list? While it's undoubtedly one of the most popular free price trackers in the category, it does not yet support all countries worldwide. For now, it serves only the UK, the US, Australia, and a few other European countries.
Having said that, it allows you to create Amazon price drop alerts and provides a detailed view of the price history through charts. The best part is that it's solely dedicated to Amazon, so there's no way you are missing that price drop of your favorite product. Moreover, you can also install its browser extension on Chrome, Edge, Firefox, Opera, and Safari through Camelizer.
Read: Best Chrome extensions for shopping
6] Glass It
Another name in the list of top Amazon price tracking services would be Glass It. It's a dedicated price tracker with no hoopla for buyers and sellers on Amazon. It's a plain simple price monitoring tool for not just Amazon but a plethora of other names like Myntra, Ajio, Costco, IKEA, Macy's, Best Buy, and more.
Simply select the e-commerce platform from the drop-down, select an item, and there you go! You can now view the updated price of the product, price history, and stock availability. Alternatively, you can enter the product item URL from the platform and your email address, for email alerts. You can also add it as an extension to your current browser for real-time price tracking.
Which Amazon method is best?
While dropshipping is quite a profitable option, FBA (Fulfillment by Amazon) is still the best way to make money on Amazon. Considering that almost 59% of the sellers on Amazon run their business using the private label sales method (FBA), it's safe to say that it's more lucrative. With FBA, you can expect better scaling of your Amazon business and potentially higher profits.
How to set a price drop alert?
To set a price drop alert on your mobile phone, open the Google app or your mobile browser. Now, search for the product you wish to buy, tap on the Shopping tab, and choose a preferred item. Next, scroll down a bit and enable the Track price on the product page.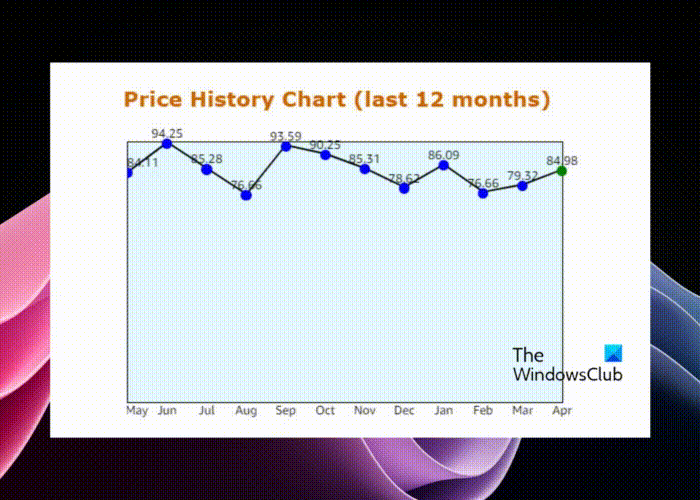 Source link

www.thewindowsclub.com