Are you looking for the best YouTube proxies for an undisturbed video streaming experience? Proxy servers allow you to go past websites banned in certain countries. But, while YouTube has been popular worldwide for its variety of content, the platform has been blocked by some countries, institutions, and organizations.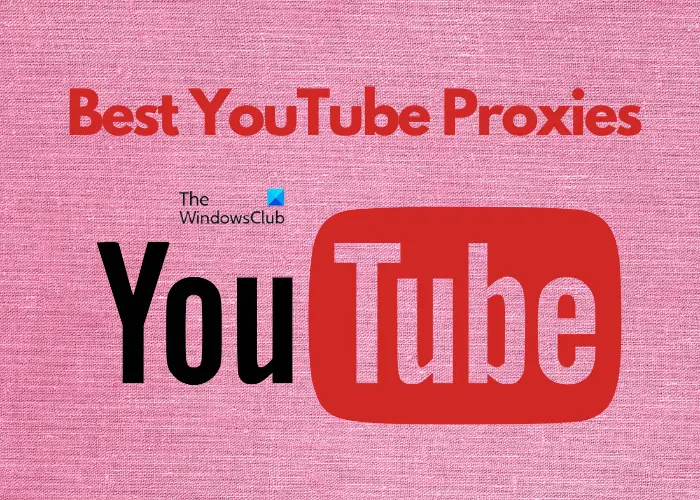 With over 15 years of reputation and over 800 million videos and counting, YouTube is one of the significant sources of income for many. From content on weight loss, gaming, cooking, personal finance, and more, this popular online video-sharing platform covers almost all topics you can think of. However, the fact that it's banned in specific locations, calls for the need for best YouTube proxies to unblock the website.
Best youtube proxies to watch uninterrupted video streaming
Proxy sites are online servers that are known to hide the IP address and bypass the blocked region. So, whether you are traveling to a place that does not allow YouTube streaming, or you stay in such a place, you can use some of the best proxies to access the website. These proxies help you to enjoy an uninterrupted video streaming experience with an added layer of security. Here we have created a rundown that includes both free and paid YouTube proxy sites for your reference.
1] Bright Data
A good YouTube proxy in the list would be BrightData.com which helps you to avoid restrictions and blocks smoothly. While it allows you to target any country, city, zip code, carrier & ASN, it also offers unlimited simultaneous requests. With Bright Data, you get access to over 350 Million unique IPs that offer top-quality service and the best scalability.
Best of all, it's known for its stability and 99.99% success rate. This residential proxy allows you to start for free with Google or register for a free trial, and start unblocking YouTube and other similar sites.
Read: How to unblock and access Blocked or Restricted Websites
2] IPRoyal
With a reach of 195 countries and a 99.7% success rate, IPRoyal.com is one of the best YouTube proxies in recent times. It offers more than 2 million legal and unique IPs, most of which stick for 24 hours at a stretch. Moreover, this residential proxy allows you to target specific Cities/States, hold unlimited simultaneous sessions, offer API access, and support SOCKS5. Best of all, you get frequent Proxy changes, and the traffic never expires.
3] SmartProxy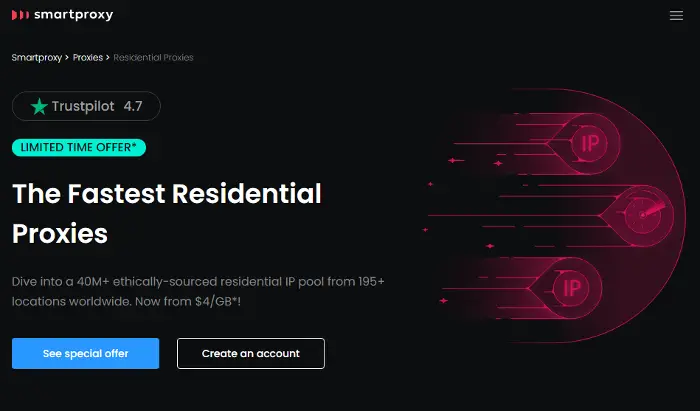 Ranked at number 3 in the list, SmartProxy.com is among the best advanced YouTube proxies. It offers proxies from over 185 countries and access to over 40 million residential proxies via single-address gateways. As you start using it on your device, you are assigned a unique IP address from the global pool. Alternatively, you can also select your preferred location. Best of all, all proxies are pre-checked to offer the best experience; hence, there are no dead proxies. With a 99.47% success rate, you can unblock most websites easily, including YouTube.
Read: KProxy is a free anonymous web proxy service
4] Oxylabs
Oxylabs is another revolutionary residential proxy that not just helps you to unblock a restricted location for YouTube but also offers a high success rate. While it's not a free proxy for blocked sites, you get much more than you pay. Known as one of the largest and most stable residential proxy sites, this premium proxy provider allows you to select the proxies from over 100M IPS.
Some of its other key features include unlimited concurrent sessions and sessions as long as up to 30 minutes. Besides, with Oxylabs, you can target countries, cities, and states at no extra cost.
5] Storm Proxies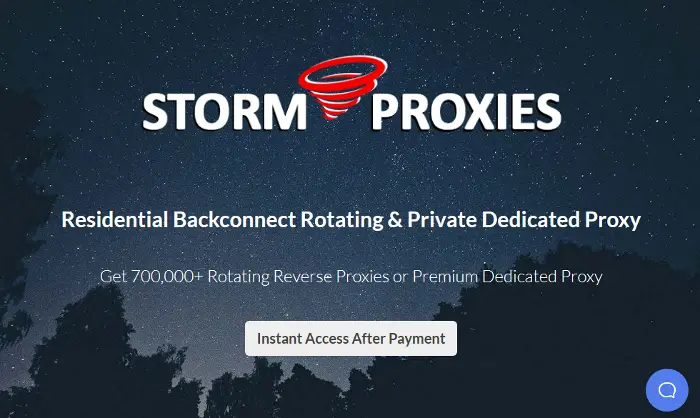 If you want to unblock YouTube in your country and look for the best speed and performance, StormProxies.com is what you need. This residential private dedicated proxy provides 700,000+ rotating reverse proxies to choose from. You get instant access after payment, unlimited bandwidth, with no hidden costs. Best of all, it also offers a risk-free period with test proxies for 24 hours. Along with the 24-hour money-back guarantee period, you also get premium support 24/7. Moreover, it hides your real IP and hence, the proxies are 100% anonymous.
Read: Hola is a free VPN to bypass internet restrictions and open blocked websites
How do I use a proxy to increase YouTube views?
To increase your YouTube traffic or view counts, you would need to use many different proxy sites (free or paid). However, as many proxy hubs you may use, YouTube will count only one view from each IP address. While you may use the best free proxy software on your PC or a free web proxy like the VPNBook, you can also use paid proxies to unblock YouTube and increase views.
How do I watch unblocked videos on YouTube?
You can unblock YouTube videos on restricted networks easily using VPNs, Proxy servers,  proxy software, browser add-ons, and more for free. Alternatively, you can also use paid proxy servers as in the above list for a better experience.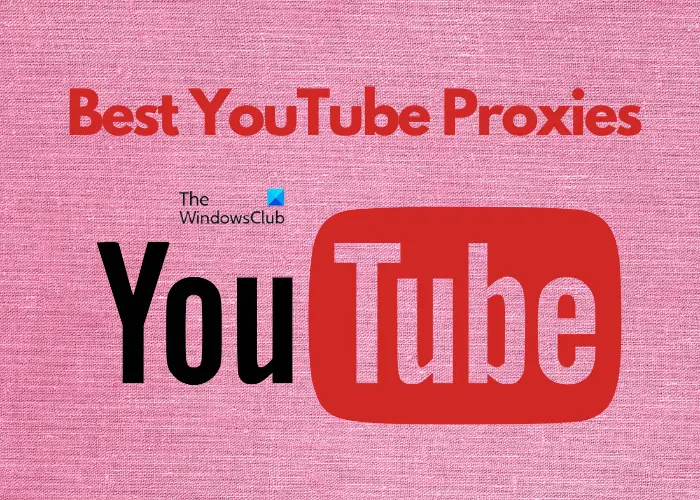 Source link

www.thewindowsclub.com