WarpJITSvc or windows.warp.jitservice.exe is a crucial component of the Windows operating system. It is one of the silent services that some users think are not useful and hence can do away with. If you are wondering whether you can disable WarpJITSvc service in Windows 11/10, then this post gives more insights on this service so that you can understand whether it's safe to disable it or not.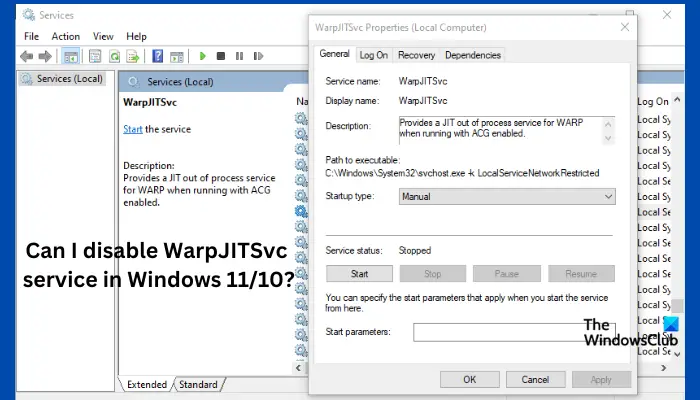 Some users feel that, sometimes, WarpJITSvc Service takes too many resources on the Task Manager, they can disable it, and nothing will happen to their PC. Some even think that windows.warp.jitservice.exe is a virus that should be removed from the system. We all have these misconceptions; we must shed light on this topic.
What is WarpJITSvc service?
WarpJITSvc is a short form for Windows Advanced Rasterization Platform Just-In-Time Service. It is a crucial service for DirectX which is a Windows component for graphic performance on your PC. It is part of Microsoft Application Programming Interfaces, also known as APIs. The tasks like gaming, video programming, multimedia, etc are made possible on Microsoft platforms with the help of WarpJITSvc service. Windows has silent crucial services that may seem less important but play quite a huge role in the general performance of your operating system. WarpJITSvc service uses DirectX Warp to enhance graphics rendering.
The JIT in the service WarpJITSvc represents different ways how your system handles processes. JIT offers a mechanism for the WarpJITSvc service that allows your PC to optimize the graphic experience based on your system hardware condition. For example, when gaming, the service will offer a better graphical experience based on the resources the program is consuming.
Can I disable WarpJITSvc service in Windows 11/10?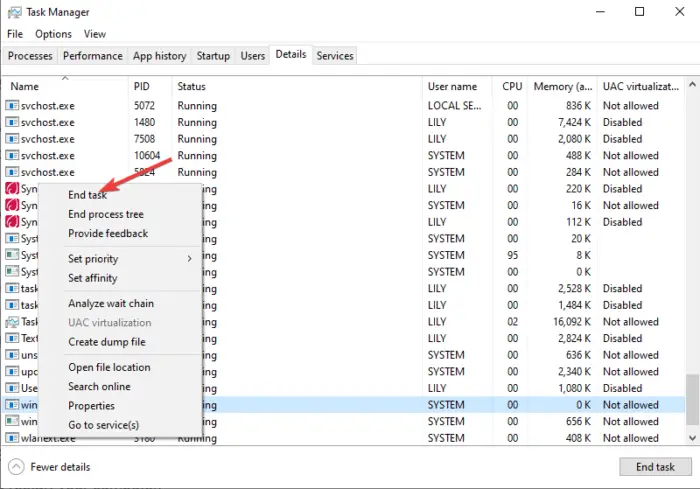 The decision to disable WarpJITSvc service in Windows 11 or Windows 10 mainly depends on whether your system relies heavily on DirectX Warp in the process of rendering graphics. Some users wonder if there could be an issue in the general performance of their PCs when they disable the WarpJITSvc service.
You might sometimes see the WarpJITSvc service on Task Manager consuming high percentages of the system resources, but that should not give a 'Yes' answer to disable the service. Disabling the WarpJITSvc service may lead to poor graphic performance.
You may consider disabling the WarpJITSvc service if it has issues or there is a conflict or a glitch. If the service does not cause any problems, it is recommended to leave it enabled and running. If you have determined that WarpJITSvc service is causing issues, you can either stop it or disable it temporarily. To stop the WarpJITSvc service, follow the steps below;
Open Task Manager and click on Details.
Locate and right-click on windows.warp.jitservice.exe.
Click End Task to stop the service for that specific session.
Alternatively, you can stop the service by going to the Service tab on Task Manager. Look for WarpJITSvc toward the bottom of the list. Click Stop to stop the service.
Stopping a service only be valid on the current sessions; it will be re-enabled after you restart your computer.
Disable WarpJITSvc service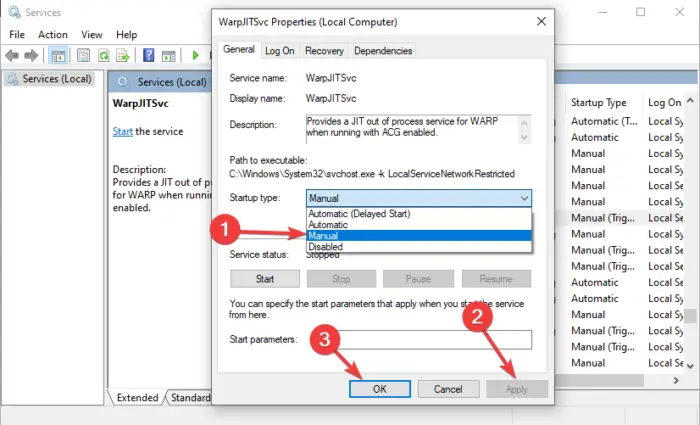 If you decide to disable the WarpJITSvc service, follow the steps below;
Press the Windows button + R and type services.msc. Press Enter to open the Service Manager.
Locate Warp JIT Service and go to Properties.
Select Disabled in the Startup type dropdown menu.
Next, select Stop which is under Service status.
Finally, click Apply and then OK to complete the process.
Remember that disabling WarpJITSvc service will not run again after you reboot your computer. This action may trigger your computer to have poor graphic output.
We don't recommend this procedure unless it is the last resort process.
I hope something here helps you out.
Read: Which Windows Services can you safely disable in Windows 11
How do I fix WarpJITSvc keeps terminating?
If WarpJITSvc keeps terminating on Windows, resolve the issue by stopping the service, restarting your system, or temporarily disabling the service on the Task Manager. If that doesn't work, you can go ahead and repair the app that is triggering the error. The error could be caused by app conflicts, glitches, faulty installation, driver errors, or background apps. We recommend trying to identify the app causing this problem and then start resolving the issue from there.
Next: Accidentally disabled all Services in MSCONFIG in Windows 11
What happens if I disable WarpJITSvc service?
If you disable the WarpJITSvc service on Windows PC, the programs that heavily rely on DirectX will have poor graphics resolution. Disabling this service is not recommended unless it's making your PC function abnormally. However, you can stop the service in the current session if it uses unnecessary resources. It will start running again when you reboot your system.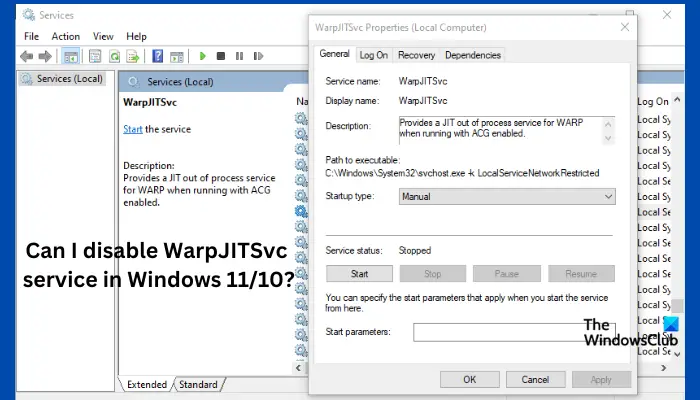 Source link

www.thewindowsclub.com