If Cisco Webex is not working or launching on Windows 11, these solutions could help you fix the issue. Before reinstalling the app, try these sugggestions to quickly troubleshoot the launch issue and join your important meeting within moments.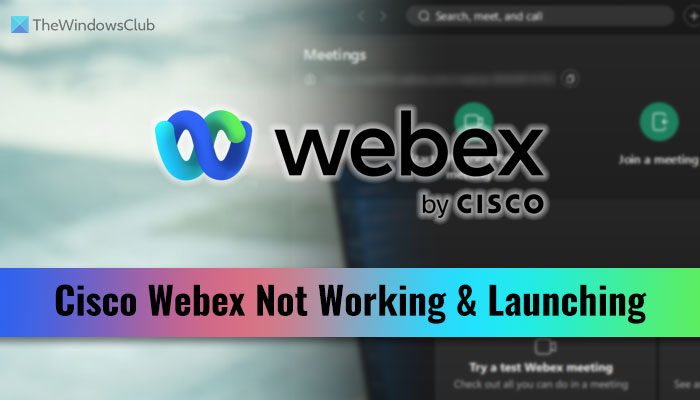 Cisco Webex not working or launching on Windows 11
If Cisco Webex is not working or launching on Windows 11, it is suggested to restart your computer once and check if it resolves the problem or not; else follow these steps:
Check commercial status of Webex
Terminate the app entirely
Check internet connection
Disable system-wide VPN app temporarily
Allow Webex through Firewall
Uninstall and reinstall Webex
To learn more about these solutions, keep reading.
1] Check commercial status of Webex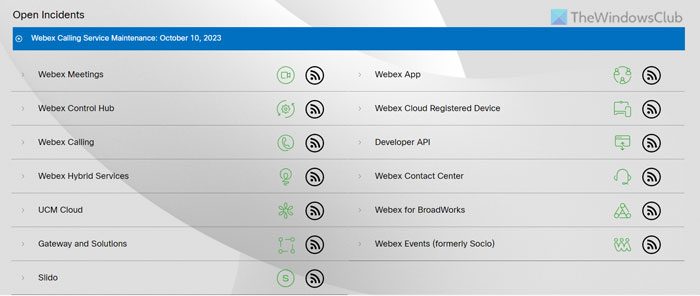 Webex uses various servers to run all the programs and functionalities. If the required server is down due to any reason, you cannot do anything to resolve it. That is why it is suggested to check the Webex server status at status.webex.com first. If it shows any problem with the Webex App server, you may need to wait for some time until it goes green.
2] Terminate the app entirely
At times, it could be a bug or glitch that caused the issue on your computer. If so, you need to restart the app. It is also true that Webex may often show a blank page with all the minimize, maximize, and close buttons. Generally, users click the Close(X) button to close the app. However, this process may not always work. That is why you need to use the Task Manager to terminate or close the app entirely.
For that, press Ctrl+Shift+Esc to open the Task Manager and find the Webex app in the Processes tab.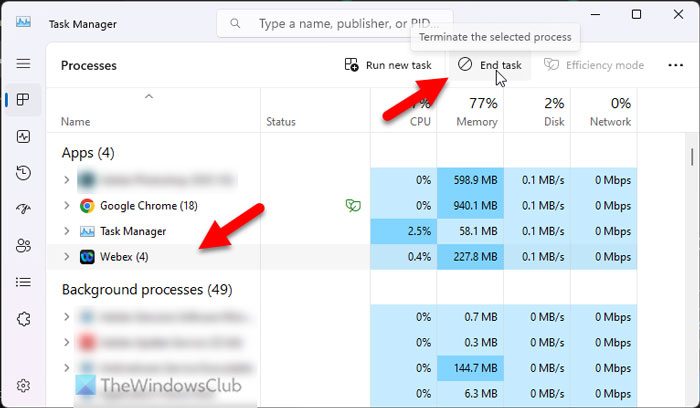 Select it and click on the End task button.
3] Check internet connection
Webex requires an active account, and in order to validate the credentials, you must have a valid internet connection. If there are some issues with the internet connection, this app may not launch at all. That is why it is suggested to do some basic things:
Do a ping test.
Try opening a website in your browser to confirm.
Switch to a different internet connection.
4] Disable system-wide VPN app temporarily
There are mainly two types of VPN apps – one that works inside the browser only and another one that works system-wide. If you use a dedicated VPN app, it is required to have a valid connection all the time. Otherwise, you cannot mask your location. That is the reason why you are suggested to disable the system-wide VPN app temporarily and check if it works or not.
5] Allow Webex through Firewall
As Webex uses the internet, your Firewall or Windows Defender Firewall must allow it for incoming and outgoing traffic. Otherwise, it cannot use the internet connection, and as a result, it may fail to launch or start. You can go through this guide to allow Webex through Windows Defender Firewall in Windows 11.
6] Uninstall and reinstall Webex
It is probably the last thing you want to do. However, if nothing else works, this is the solution you need to go for. However, it is recommended to use a third-party software removal tool to uninstall this app since it deletes all the leftovers.
Note: If you can open it at least once, it is recommended to check for any available updates and install it immediately. For that, you can head to the Help > Check for updates option.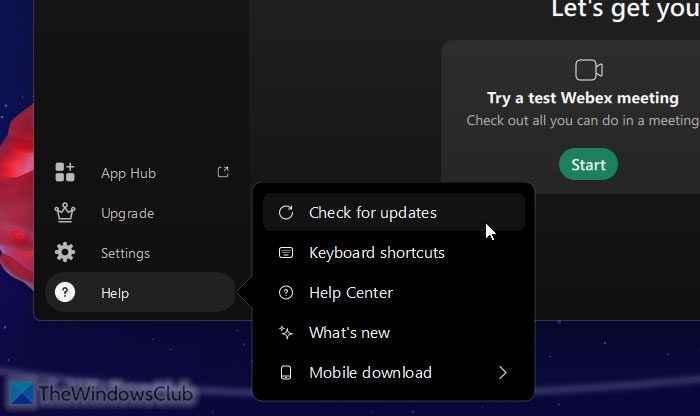 I hope these solutions worked for you.
Read: Webex camera not working on Windows computer
Does Webex work with Windows 11?
Yes, Webex works with Windows 11. If you can install Windows 11, it implies that your system is already compatible with the desktop version of the Webex app. However, you can still check the system requirements based on the configuration you have. For that, head to the official website, help.webex.com, to check the Webex system configuration.
Why is my Cisco Webex not working?
There could be several reasons Webex is not working on your Windows 11 PC. The most common reasons are lack of valid internet connection, problems with your installed VPN, blockage in the Firewall, etc. However, it could also happen due to the server lockdown as well.
Read: Fix Cisco Webex Can't connect to audio error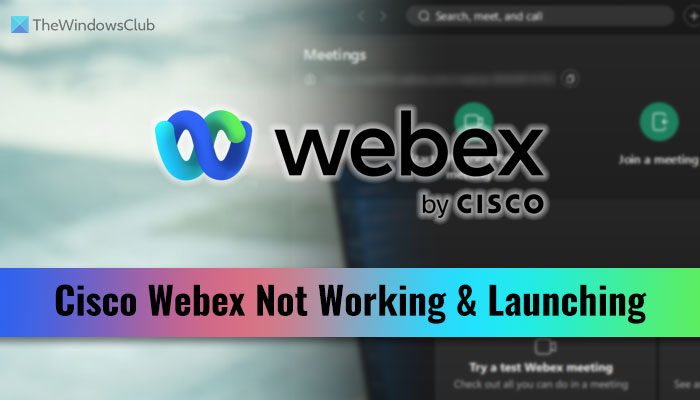 Source link

www.thewindowsclub.com