In this post, we will focus on what you can do if you have a fast internet connection but experience slow video calls on your PC. Everything else seems to load perfectly, but when you switch to video calls such as Teams, Skype, Zoom, Google Meet, etc., the calls start to buffer or become choppy. Luckily, this article has the best solutions to fix the issue successfully.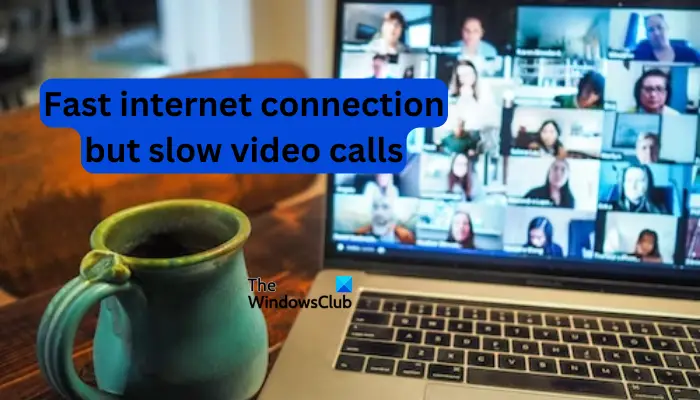 Video calls or video conferencing apps require more data than other programs for the respective apps to transmit videos for the users to communicate seamlessly. This is because the apps tend to hog bandwidth as compared to other simple device software.
Why is my internet slow during video calls?
The main reason is network connection issues. Everything narrows down to internet speeds, network settings, bandwidth, or anything related to your connection. During a video conference or call, both parties should have good connections for smooth communication. Your upload speed could be slower than your download speed! Another cause of slow video calls is low latency and very high graphic quality; it reduces the amount of data that can be transmitted on real-time streaming.
Fix fast internet connection but slow video calls on PC
If you have a fast internet connection but experience slow video calls on your Windows PC, and sometimes the call buffers or videos are choppy, you can solve the issue by performing the following solutions:
Start with preliminary steps
Connect to the right bandwidth
Check your internet speeds
Update your hardware
Check the router location
Tweak graphic card settings
Reset your network
Let us now look at these solutions one by one.
1] Start with preliminary steps
Sometimes, performing basic steps can fix slow video calls on your Windows PC. Before you go to more advanced solutions, try the following preliminary steps:
Ensure that your video call app is up-to-date, and if you suspend it because of an issue, you can try to use its web version.
Change from a wireless connection to a wired connection, or vice versa, and see if you are still experiencing the issue.
Go to the Task Manager and check for apps and processes running in the background. Check if there is one you can end, especially the one consuming too much memory and power.
Contact your ISP and discuss the issue. They could be throttling your internet, or their servers could be the issue.
You can check and ask if other call participants are experiencing the same. It could be a bug or glitch issue on the server side that is affecting everyone.
Fix: Slow Internet speed on Windows computer
2] Connect to the right bandwidth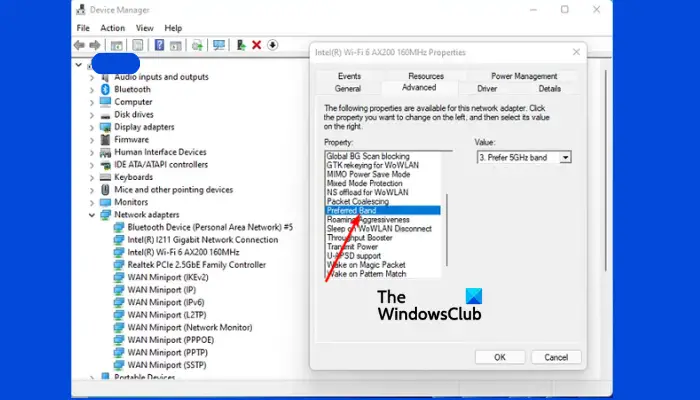 Your bandwidth might be the cause of slow video calls on your PC. The right band selection depends on the status of your network. For example, you can choose either 2.4 GHz or 5 GHz, depending on how congested your connection is.
To do so, open Device Manager on your PC and double-click on Network adapters to expand it. Locate your network adapter and right-click it. Next, select Properties, then Advanced, and click on the Preferred Band or Band Preference. On the left side, click the drop-down under Value and select your preferred band. Click OK and restart your PC.
Fix: Slow Ethernet speed on Windows computer
3] Check your internet speeds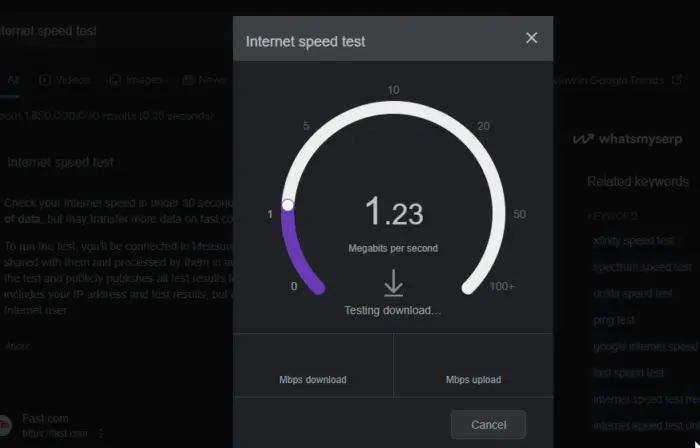 Checking your internet connection speed is a great way to determine if slow download and upload speeds affect your video calls. If you don't have an internet testing app on your computer, you can type Internet speed test in your browser and select one of the web testing apps. If the speeds are slower than what you subscribed to, contact your ISP and solve the issue.
4] Update your hardware
If the hardware and devices that your internet connection depends on are outdated, you might have slow video calls on your PC. To fix this, ensure that all related devices are updated. For example, go to Windows Device Manager and update your network adapters, graphic cards, etc. Also, update router firmware and purchase a modern router that has the latest standards of Wi-Fi connection. You can perform this solution if nothing else seems to resolve the issue.
5] Check the router location
Sometimes, a router's location might affect how you connect online. So, if you are still experiencing a fast internet connection but slow video call on your PC, place the router or modem in a closer central location and ensure no barriers like walls, etc. Also, ensure you are not close to any other devices that interfere with wireless internet connections like cordless phones, microwaves, baby monitors, etc. You can use Wi-Fi extenders if the router cannot be moved closer or the ranger is a bit wider.
6] Tweak graphic card settings
The graphic card is responsible for all graphics on your PC, including videos. You can change the performance settings for graphics and see if you can resolve the issue. Follow the steps below:
Open your PC Settings, go to System, and click Display.
Click Graphics settings, which is an option below Advanced display settings.
Select the app you use to video call, select High Performance, and then save the changes.
7] Reset your network
Resetting your network settings can fix slow video calls on your PC when you have a fast internet connection. The settings are set back to their defaults. Follow the steps below:
Open your Settings and go to Network & Internet.
Click Advanced network settings and then select Network reset.
Finally, select Reset now and see if you can have faster video calls.
We hope one of the solutions works for you.
Read: How to Increase your Internet Speed in Windows 11
How can I improve my internet for video calls?
You can improve your internet for video calls by ensuring no other app consumes too much of your internet and computer resources. You can also disable HD video quality for your computer and ensure that you turn off the video when you are not speaking on a video conference.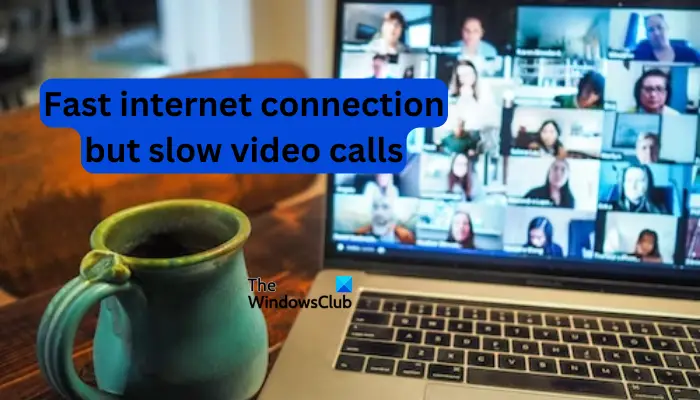 Source link

www.thewindowsclub.com