If the Cannot create service, StartService failed, Error 20006 on Easy Anti-Cheat when opening Epic Games Launcher is troubling you, then this post may help. Easy Anti-Cheat is a third-party anti-cheat system used by many game developers, including Epic Games. It ensures a fair playing field for players in games where cheating can provide an unfair advantage. But recently, some users have complained that the Easy Anti-Cheat error 20006 keeps troubling them. Fortunately, you can follow some simple suggestions to fix it.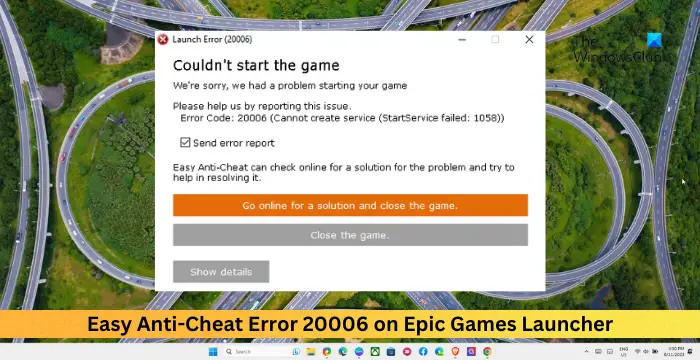 What is error code 20006 on Epic Games?
Error Code 20006 indicates that the system Cannot Create Service and has failed with StartService Failed code 1053. It mainly occurs when your PC blocks the Easy Anti-Cheat service from functioning correctly. However, some other reasons it may occur are:
Corrupted EAC and Game Files

Lack of Permissions

VPN/Proxy Interference
Firewall or Antivirus Blocking
Fix Easy Anti-Cheat Error 20006 on Epic Games Launcher
Follow these suggestions to fix the Easy Anti-Cheat Error 20006:
Run the Game as an Administrator
Verify the Game Files
Delete the EasyAntiCheat_EOS Folder
Make Modification in the Registry Editor
Disable Third-Party Software
Disable VPN and Proxy
Repair Easy Anti-Cheat
Now, let's see these in detail.
1] Run the Game as an Administrator
Start by running the game you're facing the error with as an administrator. This is because Easy Anti-Cheat can face errors due to a lack of permissions. To do so, right-click on the game's exe file and select Run as Administrator.
2] Verify the Game Files
Sometimes, game files can get corrupted due to a bug or a recent update. This could also be the reason why this issue is troubling you. Verify the game files on the Epic Games launcher and check if the issue is fixed. Here is how it's done:
Open the Epic Games Launcher and click on Library.
Click on the three dots next to the game and select Verify.
Once completed, try to launch the game and see if the error still appears.
3] Delete the EasyAntiCheat_EOS Folder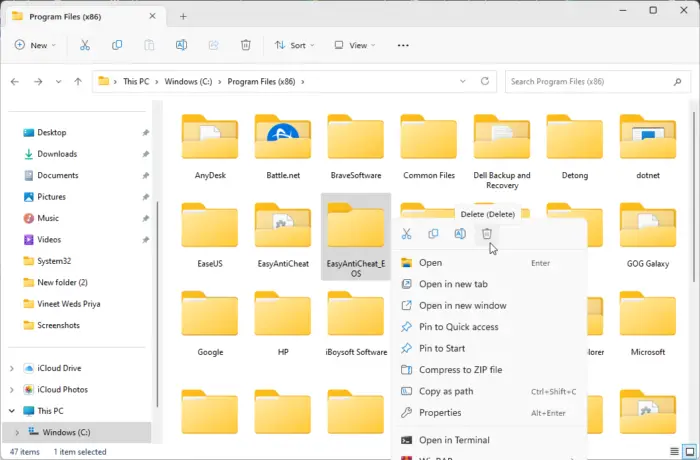 The EasyAntiCheat_EOS folder contains various files related to the EAC system and its operation within a specific game. These files can sometimes get corrupted and cause the Easy Anti-Cheat error 20006 on Epic Games. Delete the folder and see if the error's fixed. Here's how:
Press Windows + E to open File Explorer.
Here, navigate to the following path:

C:\Program Files(x86)

Scroll down to find the EasyAntiCheat_EOS folder, right-click on it and select Delete.
4] Make Modification in the Registry Editor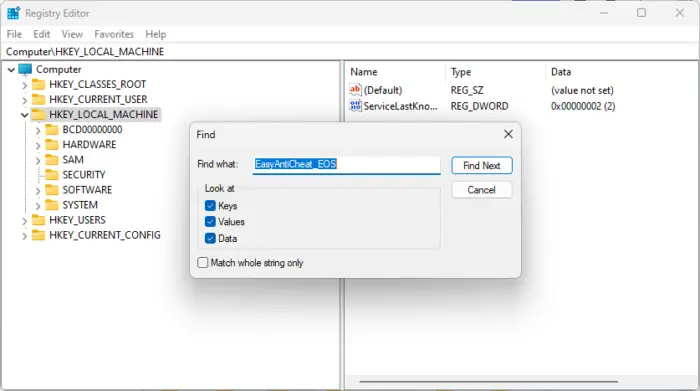 If deleting the EasyAntiCheat_EOS folder didn't help, try deleting its key in the Registry Editor. Here's how:
Press Windows + R to open Run, type regedit and hit Enter.
Right-click on HKEY_LOCAL_MACHINE, select Find, enter EasyAntiCheat_EOS in the field and click Find next.
Lastly, right-click on the EasyAntiCheat_EOS folder and click Delete.
5] Disable Third-Party Antivirus
Antivirus software installed on your Windows device can interfere with Easy Anti-Cheat. Temporarily disable these and see if it fixes the error. If you don't have any third-party antivirus software installed on your system, disable the Windows Defender Firewall.
6] Disable VPN and Proxy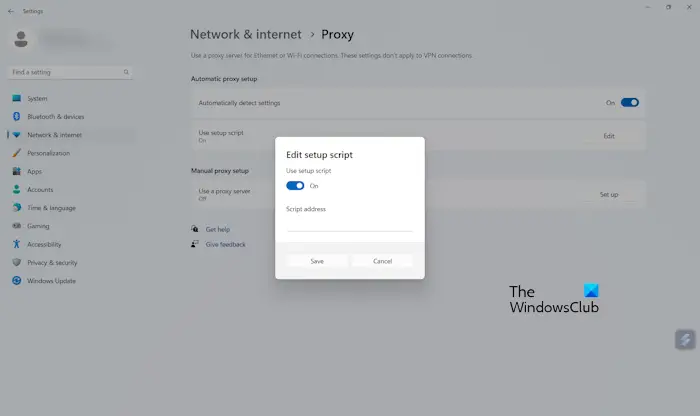 Server errors can occur if connected to a VPN/Proxy server, and the service you're trying to access isn't available in your region. These hide your IP address by rerouting your Internet traffic via a remote server. Nevertheless, Here is how you can disable it:
Press the Windows key + I to open Settings.
Navigate to Network & Internet > Proxy.
Here, toggle off the Automatically detect settings option.
Click on the Set up option present next to Use a proxy server and toggle off the Use a proxy server option.
7] Repair Easy Anti-Cheat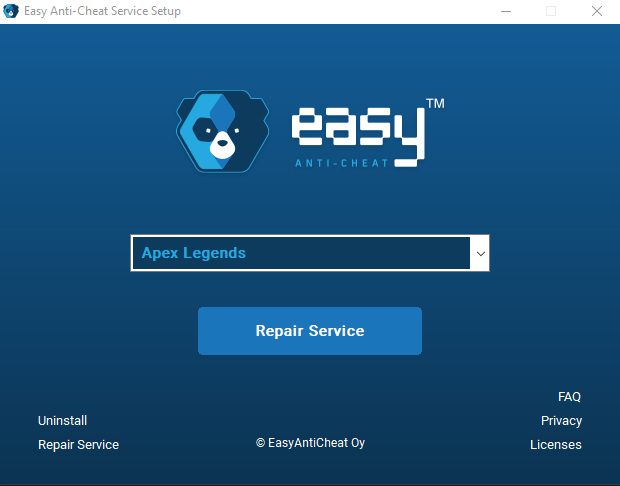 Lastly, if none of these suggestions helped you, consider repairing Easy Anti-Cheat. It's possible it got corrupted somehow and is causing the error. Here's how:
Open the game's installation folder and open the EasyAntiCheat folder.
Here, locate EasyAntiCheat_Setup.exe, run it as an admin and click Repair.
Read: Easy Anti-Cheat Launch Error, Failed to initialize the game launcher
We hope these suggestions help you.
How do you fix easy anti-cheat Epic Games?
To fix the easy anti-cheat error on Epic Games, scan and repair any corrupted or missing game files. However, if that doesn't help, consider restarting the related service and deleting the EasyAntiCheat_EOS Folder.
How do I fix Fortnite error code 20006?
The Fortnite error code 20006 is an error related to the Easy Anti-Cheat service. It can occur due to a lack of permissions and corrupted EAC files. To fix it, disable the antivirus software and delete the EasyAntiCheat_EOS key in the Registry editor.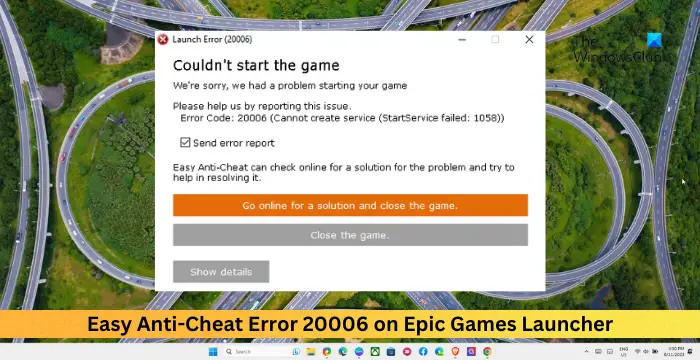 Source link

www.thewindowsclub.com