Some Windows users have reported that they could not update their computer as whenever they tried doing the same, they encountered Windows Update Error 0x8024a22d In this post, we will talk about this error and see what you can do to resolve it.
We couldn't install this update, but could try again (0x8024a22d).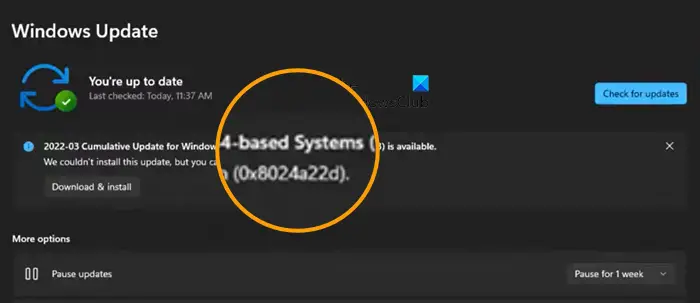 Fix Windows Update Error 0x8024a22d
If you see Windows Update Error 0x8024a22d on your Windows 11/10 computer, follow the solutions mentioned below to resolve the issue.
Check if Windows Update services are running
Run Windows Update Troubleshooter
Clear the Software Distribution Folder
Run Windows Update in Clean Boot state
Run SFC and DISM.
Let us talk about them in detail.
1] Check if Windows Update services are running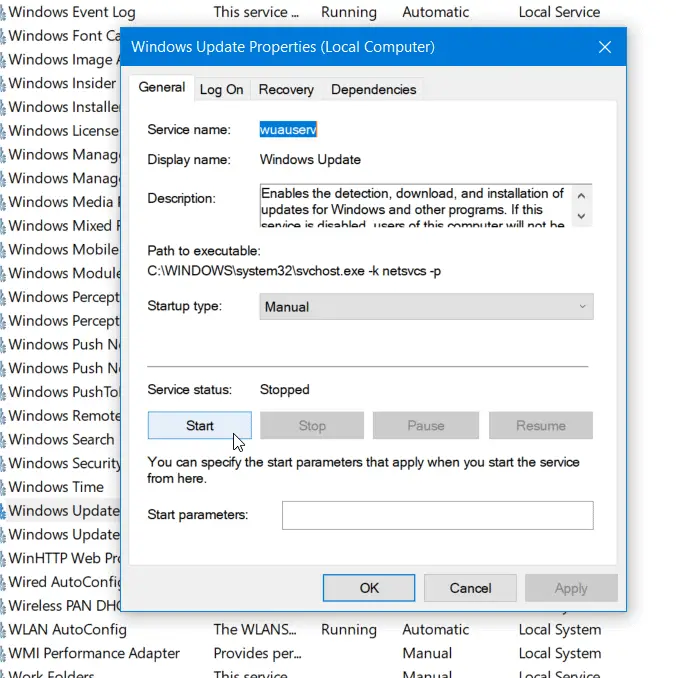 Open Windows Services Manager and check the Windows Update related Services like Windows Update, Windows Update Medic, Update Orchestrator Services, etc are not disabled.
The default configuration on a standalone Windows 11/10 PC is as follows:
Cryptographic Services – Automatic
Background Intelligent Transfer Service – Manual
DCOM Server Process Launcher – Automatic
RPC Endpoint Mapper –  Automatic
Windows Update Service – Manual (Triggered)
Windows Update Medic Services – Manual
Windows Installer – Manual.
This will ensure that the required Services are available.
Apart from the direct service, you should find the dependencies of Windows Update service and ensure if they are running or not.
2] Run Windows Update Troubleshooter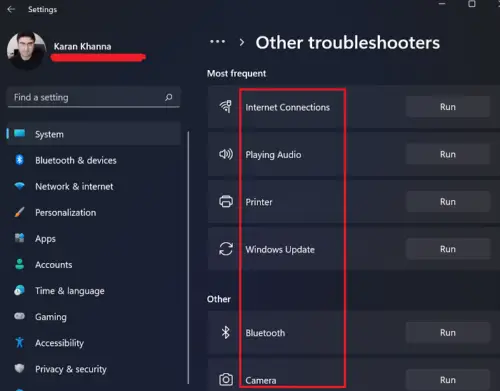 Windows Update Troubleshooter is a built-in wizard that allows users to scan why their system cannot install updates and do the necessary troubleshooting.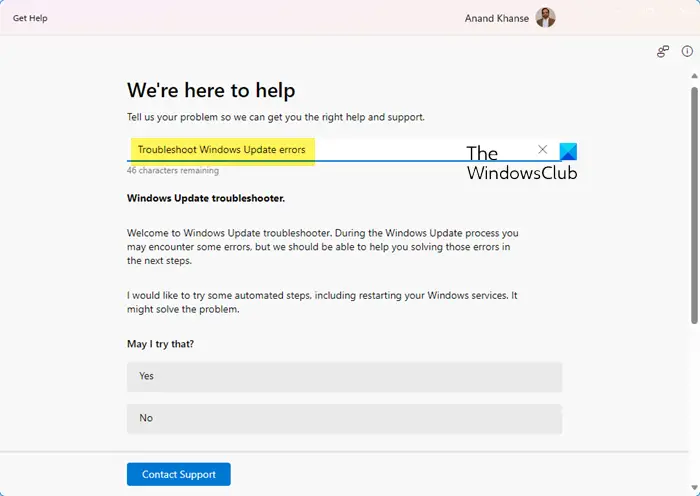 To run the troubleshooter, you can do it via Settings or open the Get Help app, search for "Troubleshoot Windows Update errors" and run the troubleshooting wizard.
Read: Repair & Fix Windows Updates with Fix WU Utility
3] Clear the Software Distribution Folder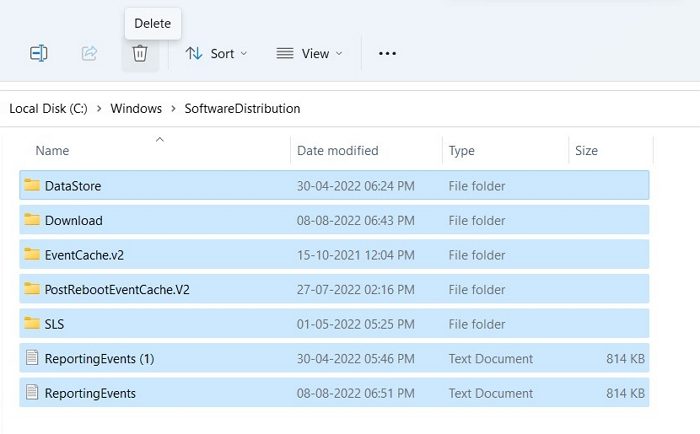 Your computer's Software Distribution folder holds temporary files for Windows Update. If the folder becomes corrupted, you will receive a Windows update error, such as 0x8024a22d. To solve this issue, we have to clear the folder contents. As it only contains temporary files that will eventually be deleted, there is no need to worry.
However, we can not just clear the folder if the WU services run. Hence, open the Command Prompt as an administrator and run the below commands to stop Windows Update and BITS services.
net stop 

wuauserv
net stop bits
Follow the steps mentioned below to clean the Software Distribution folder.
Launch File Explorer by Ctrl + E.
Go to C:\Windows\SoftwareDistribution.
Now, select all the files listed there, right-click, and then select Delete.
After clearing the folder, you need to reboot your computer and then run the commands in the Command Prompt mentioned below to start the services we asked you to stop earlier.
net start 

wuauserv
net start bits
Finally, check if the issue is resolved.
4] Run Windows Update in Clean Boot state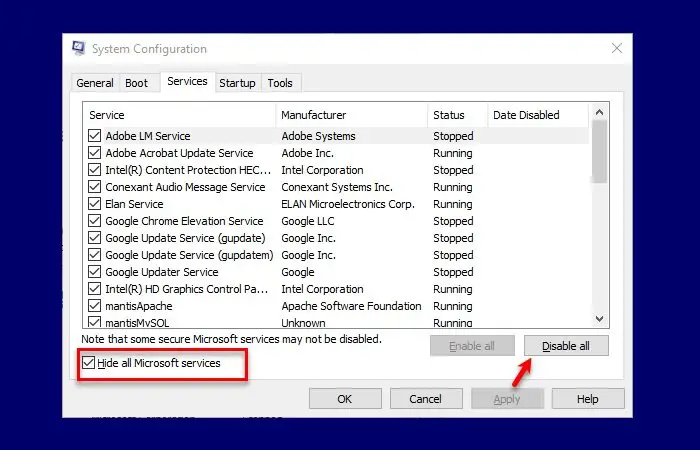 We will encounter the Windows Update error if there is a conflicting program or third-party service. So run Windows Update in Clean Boot State and see if it helps. This state basically starts the system with a minimal set of drivers and no third-party apps.
Read: Can you install Windows Updates in Safe Mode?
5] Run SFC and DISM
To fix corrupted system files, we are going to use  SFC and DISM commands.
Open Command Prompt as an admin and execute the following commands.
sfc /scannow
If that doesn't work, then try the next command.
DISM /Online /Cleanup-Image /RestoreHealth
Let us know if anything here helped you
Read: Fix Windows Update Error 0x8024a223
How do I fix Windows Update installation error?
Windows Update installation error can be resolved by running Windows Update Troubleshooter, manually Resetting Windows Update Components to default,
using FixWU, flushing the SoftwareDistribution Folder, resetting the Catroot folder, and checking Windows Update Services status.
Read: How to delete Downloaded, Failed & Pending Windows Updates?
How to get 22H3 Windows 11 update?
There are various ways to install the Windows 11 22H3 update. You can update your system from the Windows Settings or check other methods to update Windows 11 to 22H3. However, if the Windows 11 22H3 Update is not showing, check our guide to resolve it.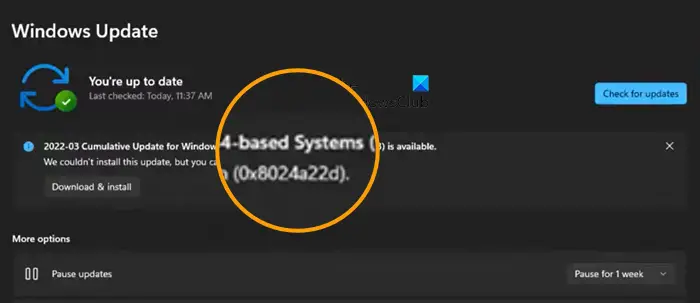 Source link

www.thewindowsclub.com