Microsoft has finally released the long-awaited revamped Outlook app for Windows. The app has been under testing for over a year, and it is now generally available to all consumers. The company has released this free version of the new Outlook desktop client for Windows as well as Mac users.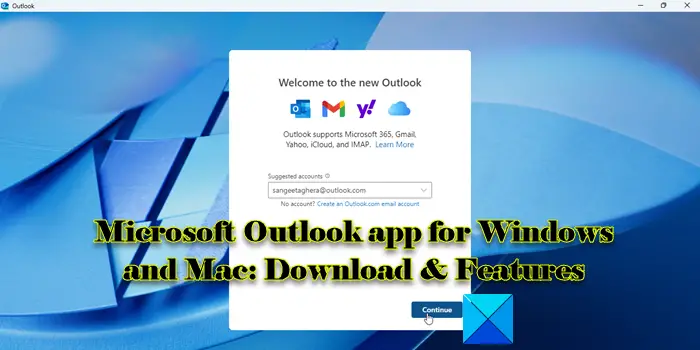 Microsoft's new Outlook app for Windows introduces several new capabilities. In this post, we will cover the main features of the app. We will also cover the key features of the new Outlook app for Mac and tell you where to download these apps for Windows and macOS.
Outlook app for Windows and Mac
Download the new Outlook app for Windows
Outlook app for Windows is now available here in the Microsoft Store. It will be pre-installed on Windows 11 feature update, 23H2 and later. New devices pre-installed with the latest version of Windows 11 will have the new Outlook for Windows as the default mailbox application, and older systems that upgrade to this OS version will automatically receive the app.
The free, ad-supported app version is available for one personal account with 15 GB of mailbox storage and 5 GB of cloud storage. It will replace the built-in Mail and Calendar apps in Windows 11 in the coming year.
Features of the new Outlook app for Windows
Here are the key features of the new Outlook for Windows:
A revamped User Interface: The new Outlook client comes with a simplified and modern interface with less crowded primary tabs. All email-related options (delete, snooze, flag, etc.) are well organized within a top ribbon menu. Options for mailbox, calendar, contacts, and other Microsoft 365 apps are available on a side ribbon for quick access. It also offers enhanced search capabilities to find the desired email, document, or contact. Outlook's distinctive style is rather refreshing and will undoubtedly assist users in staying productive.

Unified experience with email, calendars, contacts, and to-dos: The app offers support for multiple personal accounts including Outlook.com, Gmail, Yahoo! Mail, iCloud, or a provider that uses IMAP. You can add multiple accounts to see all your calendars in one view or toggle between accounts to see your emails and contacts. You can also mark folders, categories, or contacts from any account as 'Favorites' for quick access at the top of the list.
Built-in AI support for writing emails: The new Outlook for Windows offers Intelligent spelling and grammar checks to help you write concise, error-free emails. If you've subscribed to Microsoft 365 Personal or Family Edition, you will also get access to advanced AI writing tools through Microsoft Editor, which offers suggestions to improve your writing for clarity, conciseness, and inclusive language.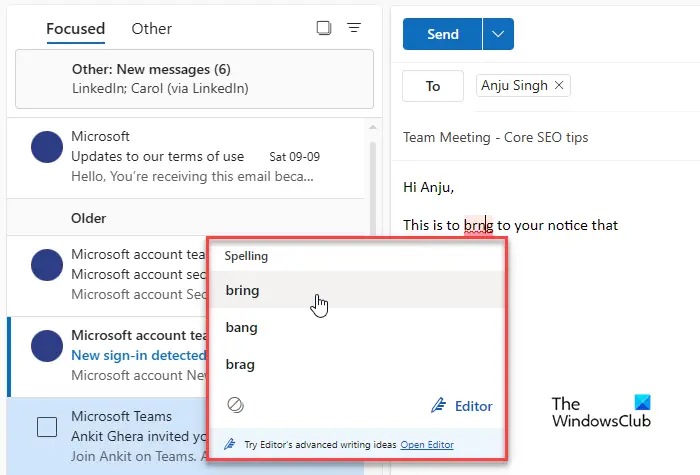 Enhanced personalization options and settings: The new Outlook comes with incredible account personalization options to control the look and feel of the app. It offers over 50 themes and fonts to choose from.
Connect seamlessly with free Microsoft 365 web apps: You can launch Microsoft Word, Excel, PowerPoint, and other Microsoft 365 apps directly from within the Outlook app for quick edits and comments. You can also access and attach items from OneDrive directly from your mailbox.
Enhanced email organization tools: The new Outlook for Windows brings you the ability to Schedule, Snooze, and Pin emails. A delayed transmission of 10 seconds helps you prevent and undo the accidental sending of an email. You can set reminders to follow up on important conversations and use the My Day view to see upcoming calendar events and tasks anywhere in Outlook.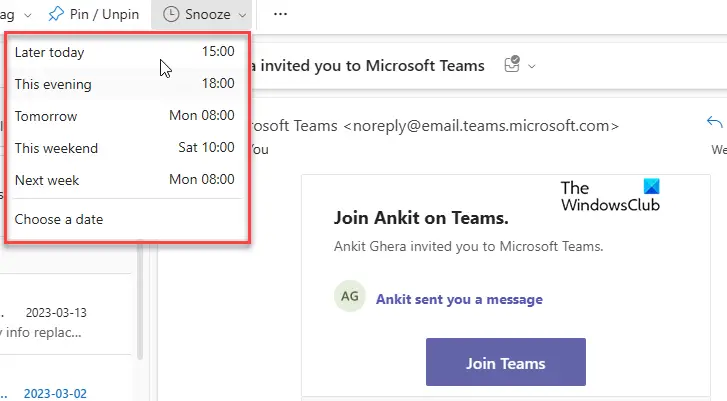 Download the new Outlook app for Mac
Microsoft Outlook app for Mac is available in the Apple App Store and can be downloaded by visiting the app's page here.
Features of the new Outlook app for Mac
Here are the key features of the new Outlook for Mac:
Free to use with personal Outlook.com, Gmail, iCloud, Yahoo, and IMAP accounts.
Unified experience with email, calendars, and contacts.
Modern and simplified design that can be customized to fit your style.
Improved search features to speed up your search for messages, documents, or people.
Core Outlook security features.
Swipe gestures, email pinning, hover actions, and other innovative features.
Let us know how you like it.
Read: How to print an email from Outlook and Mail app in Windows.
How do I download old Outlook app?
Visit Microsoft's website and sign in using the same Microsoft account you used to purchase the previous version of Office. Switch to the 'Services & subscriptions' tab. Scroll down to locate the 'Products you've purchased' section. This section lists the Office versions previously installed on your machine. Click on the Install button next to the desired Office version to start the download.
Read: How to add multiple accounts in Outlook app for Android and iPhone.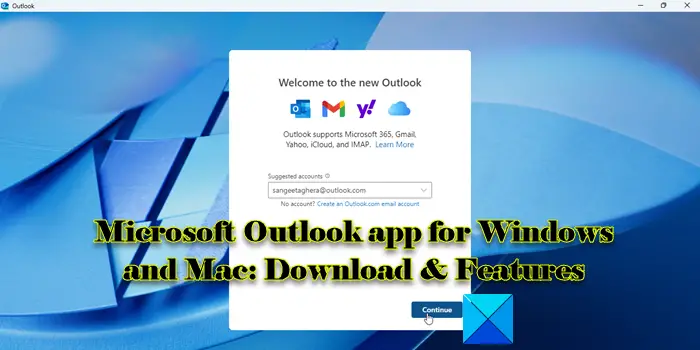 Source link

www.thewindowsclub.com