McAfee is one of the most popular antivirus software used by Windows users. Like other security programs, it can spam users with nagging popups in the notification area. In this article, we will look at how to get rid of McAfee pop-ups on PC, whether they are legit or spammy notifications. Some of these popups are genuine and might need your attention to fix security threats on your computer. However, some seem to be nagging, like those about subscription renewal, adverts, promotions, etc.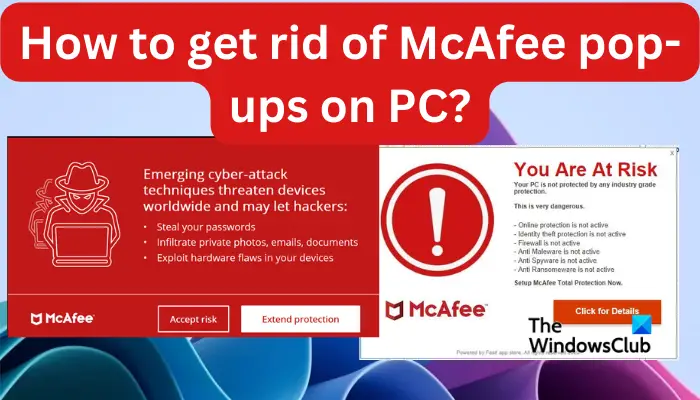 Generally, you can disable these settings, either all or selectively, on the McAfee app or the Windows Settings. This will stop unwanted notifications and you can still continue to enjoy McAfee services which include protecting your PC from malware, viruses, malicious files and websites, and spyware.
How to get rid of McAfee pop-ups on PC?
Some notifications can be annoying, and you may need to stop them or reduce them. To get rid of McAfee pop-ups on PC, try the following methods;
Change notification settings on the PC
Disable alerts on the McAfee app
Remove the WebAdvisor extension
Disable McAfee services
Uninstall McAfee app
TIP: It's good to first identify fake McAfee scam messages and emails because that would mean something else. Resolve them if you think you are a victim of these malicious attacks.
Now let us cover these methods one by one.
1] Change notification settings on the PC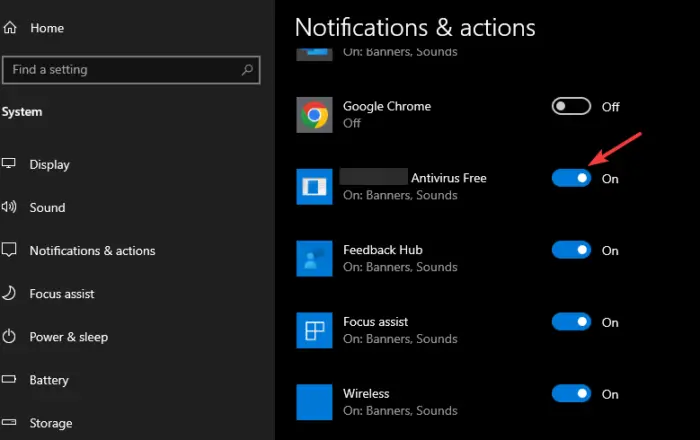 The quickest way to get rid of the McAfee popups is by changing the notification settings on Windows. To do this, open your Settings app by pressing the Windows button + I. Select System, and on the left side, click on the Notifications & actions option. Scroll down and locate Get notifications from these senders. Here, look for the McAfee app and toggle off the button next to it to disable any notifications from the app. This should work for any user and if it doesn't, go to the next method.
NOTE: This method will disable all McAfee alerts and notifications and may leave you out of important PC security notifications. So, before you decide whether to turn on or off security notifications, know what to expect.
2] Disable alerts on the McAfee app
It's good to note that some alerts are crucial to ensure your system is safe. However, some are not so important and you can turn them off. To disable alerts on McAfee, follow the steps below.
First, open McAfee and go to the Navigation which is on the right side.
Under the Settings, select General Settings and Alerts.
You will see several options here. Select Protection Alerts and Informational Alerts and toggle off the buttons next to any alerts that you wish not to see pop up on your Windows PC.
By selecting the Protection alerts, you disable the firewall alerts on McAfee. You don't have to go through the Firewall settings like in the older version of the McAfee app.
NOTE: This method does not stop the subscription alerts, and you might need to use the first method to remove all alerts message from the McAfee app.
3] Remove the WebAdvisor extension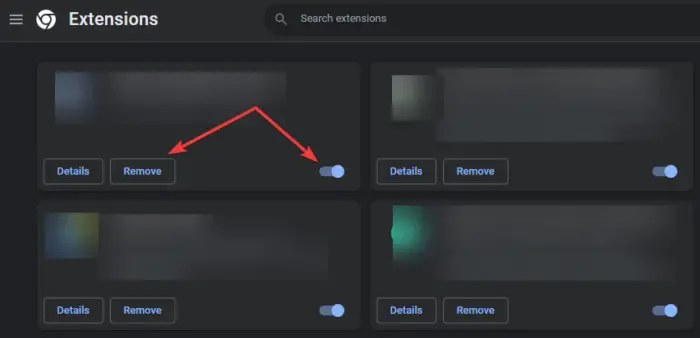 WebAdvisor by McAfee is a browser extension that monitors your online browsing in real time and warns you against virus-infected downloads and weak passwords. However, the actual scanning and malware removal is done by the McAfee security app. This means you are protected even without the browser extension. The extension works in all major browsers like Chrome, Edge, Firefox, etc. We recommend that you remove or disable the extension from your browser to stop some of the McAfee nagging pop-ups.
The process is different from one browser to another. For example, in Google Chrome, open the browser and click on the three dots menu on the top-right. Select Settings and scroll down to locate Extensions. Here, look for WebAdvisor and click Remove or toggle the button off to disable it.
4] Disable McAfee services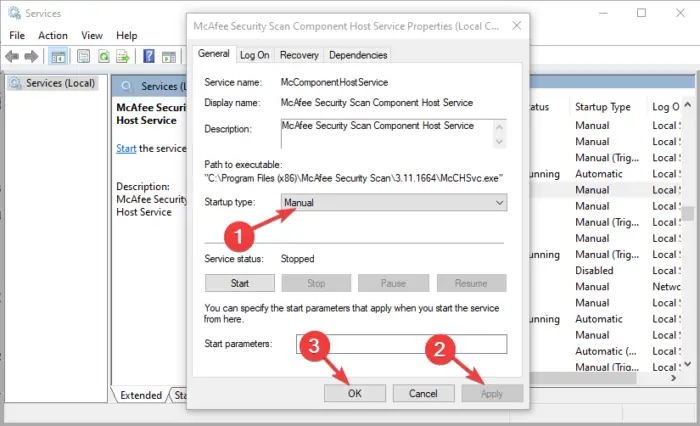 Some users have reported getting McAfee popups when they don't have the app or after uninstalling it. The truth is, even after uninstalling an app, there might be leftover services and you need to disable them completely.
Open the Run dialog box by pressing Win + R and type services.msc. Locate any McAfee service, right-click on it, and go to Properties. Next to Startup type, select Disabled and then Apply > OK.
5] Uninstall McAfee app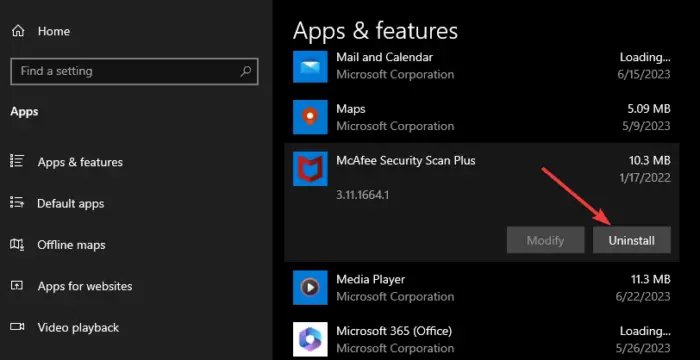 If everything doesn't work or you don't need McAfee service anymore, you can go ahead and uninstall the app. Open the Windows Settings app and go to Apps > Apps & features. Scroll down and locate the McAfee app and click it. Select Uninstall and follow on-screen directions to complete the process.
A better option would be to download and use the McAfee Consumer Products Removal Tool to completely uninstall McAfee.
We hope something here works for you.
Fix: McUICnt.exe Entry point not found error
Why does McAfee keep popping up on my computer?
McAfee keeps popping up on your PC because its notifications and alerts are turned on. However, there could be fake scam popups that may appear from nowhere, even for users who haven't installed the app on their computers. This kind of message signifies the presence of fraud or malicious attacks. You should contact McAfee support and don't click on them.
Fix: McAfee installation Error Code 0 on Windows PC
Is McAfee a virus?
McAfee is not a virus; it is premium antivirus software that detects malicious attacks and protects your computer from viruses, malware, and spyware. Also, it ensures you are safe online with strong passwords and scan any files you download or share with you. It is one of the best security software in the market.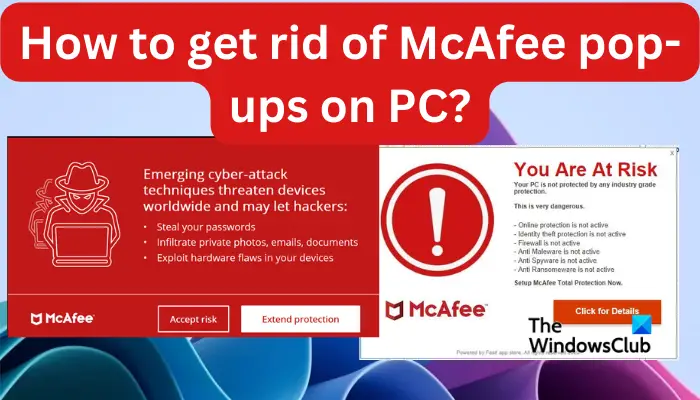 Source link

www.thewindowsclub.com