Finding out if your Samsung phone is waterproof will save you more than one upset. Check out.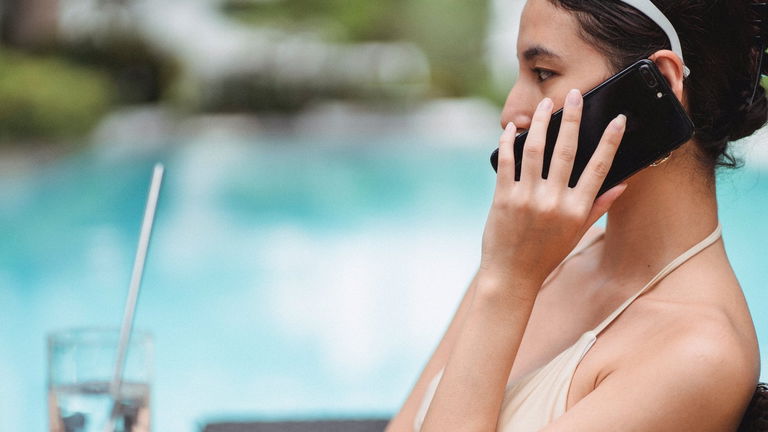 You are not sure if your mobile Samsung is waterproof? First of all, you should know that a waterproof mobile is not the same as a submersible mobile.
If one rainy day we fall some drops On top of the screen of a mobile phone that is waterproof, we don't have to worry, but things change if we drop it pool and stays there for a while.
In the following guide we reveal the list of Samsung phones that are waterproof and everything you need to know about that supposed resistance.
Find out if your Samsung mobile is waterproof
Although there are mobile phones -from different manufacturers- that are advertised as waterproof, the reality is that they are not completely waterproof. Usually, it is never safe to expose a mobile phone to water. Not even if it has IP68, which is the highest classification today.
The reason is that no mobile is completely safe if it gets into the water. Even if you dip it or drop it by mistake, you will find that with the Chlorine from the pool or salt from the sea water can be a threat for your mobile device. Also if liquids such as coffee or cava spill on it. These liquids could damage the rubbers and affect the aesthetics and functionality of the device.
If you want know if your Samsung mobile is waterproofWhat you can do is look for it in the following lists. Although, if it appears, it is important that you use it with caution in aquatic environments.
List of waterproof Samsung phones
The reality is that the models released by Samsung in recent years have a certain level of water resistance. While it is true that some offer more resistance than others, it is something that you can check by its IP rating. To this day, the best possible certification is IP68. It is the highest level of protection to date.
Samsung mobiles more resistant to water are the following:
IP67 certification
Samsung Galaxy A52
Samsung Galaxy A52s
Samsung Galaxy A53
Samsung Galaxy A72
Samsung Galaxy A73
IP68 certification
samsung galaxy note 20
Samsung Galaxy Note 20 Ultra
Samsung Galaxy S20 FE
Samsung Galaxy S20 5G Ultraviolet
samsung galaxy s20
Samsung Galaxy S20Plus
Samsung Galaxy S20 Ultra
Samsung Galaxy S21 FE
Samsung Galaxy S21
Samsung Galaxy S21Plus
Samsung Galaxy S21 Ultra
samsung galaxy s22
Samsung Galaxy S22Plus
Samsung Galaxy S22 Ultra
Samsung Galaxy Xcover 5
Samsung Galaxy Xcover 6 Pro
Samsung Galaxy Xcover Pro
Samsung Galaxy Z Flip 3
Samsung Galaxy Z Flip 4
Samsung Galaxy Z Foldable 3
Samsung Galaxy Z Foldable 4
Difference between IP67 and IP68
First of all, IP 6 refers to dustproof protection, which does not allow dust to enter the phone and is protected against water jets from any direction. In the case of 7, it protects against the effects of immersion in water between 15 cm and 1 meter up to a maximum of 30 minutes. While 8 means that it protects up to 1.5 meters for a maximum of 30 minutes. That is why it is important to be careful with the falls of the mobile in the water.
Water damage and warranty
The reality is that a good part of the manufacturers do not cover water damage. They don't include it in the warranty even though the phone has a certain IP rating. That is why it is important to be careful, to avoid a good scare.
Let's say that, depending on its level of resistance, we could afford to wet it or not. But under no circumstances should you dip it on purpose just to see if it will hold up. Let's say that, it is designed so that if an accident occurs, it can survive. But better to prevent it from happening.
What to do if water enters your Samsung mobile
What you can do is use any of these apps to expel water from your mobile.
The truth is that the latest Samsung Galaxy Watch Active and Apple Watch come with this function. On the Apple Watch, just click the water drop icon in the menu, then turn the wheel to start the water coming out. It is quite curious to see how it shoots out. Your Samsung mobile does not have this option, but you can try a very popular home remedy.
Yes you can put the mobile in rice. This homemade method is great because it absorbs moisture, but there is a alternative to the rice method used by experts.
In any case, if your device does not have a function to expel water from the speakers nothing happens. With any of these apps you can do something similar.
If your Samsung mobile is not waterproof and you are interested, perhaps because you are an athlete or you love spending the day at the pool or on the beach, you can take a look at the most resistant mobiles in the world and that also resist water.


Source link

andro4all.com