If you want to make the most money with DoorDash, read this post. DoorDash allows you to earn money delivering food at your own pace. While you might already be earning well with DoorDash, you can optimize your hourly wages if you work smarter, not just harder.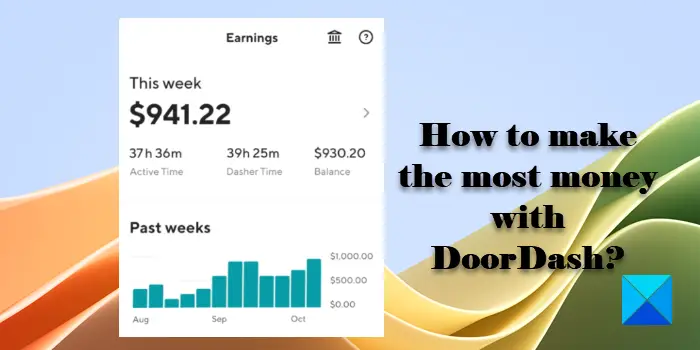 With a strategic mindset, you can actually control your earning and make money with DoorDash. In this post, we will share some tips to help you become a high-paid DoorDash driver.
How to make the most money with DoorDash?
To maximize your DoorDash earnings and make the most money with DoorDash, follow these tips:
1] Find the best time to dash
Gig apps like DoorDash work on the principle of supply and demand. Identifying the best time to dash can make a significant impact on your income. When customers are placing more orders, DoorDash may pay you extra money (on top of your base pay) to deliver an order. But what if every other dasher on DoorDash is looking for orders during peak hours? You have to test which time slots work best for you. If you're a morning person, you can dash between 6 AM to 9 AM when more people order breakfast. Or you can dash during late night hours when people tend to be generous to offer more tips.
2] Pick up batched orders
If you're an experienced dasher, opt for batched orders that allow picking up multiple orders along the same route. Batched orders definitely get you more income and may also qualify for Peak Pay, but you have to be very careful with the timeline as some customers might not like the fact that you've been carrying their milkshake or ice cream in the car for like half-an-hour and they might leave bad reviews for you.
3] Provide excellent customer service
It is important to be consistent with your customer service to be a top-rated dasher. Door Darsh customers rate you for each delivery. They often tip you when you follow their instructions. Don't knock on the door if the customer asks you not to knock. If he wants contactless delivery, drop off the food at the designated place. If you consistently provide outstanding service to your customers, your chances of getting more orders (and hence making more cash) increase.
4] Seek out hot spots
Another useful tip is to wait near the area where there are more DoorDash restaurants. A heatmap in the Drivers app highlights the areas with lots of restaurants and orders. While your proximity to a particular restaurant affects your chances of getting the order, another dasher can get picked if he's in a 2 to 3 miles radius. So wait somewhere where you have multiple restaurants nearby.
Pro Tip: Schedule your shifts and zone in advance to get more priority bookings.
5] Take advantage of tax deduction
You work as an independent contractor for DoorDash, which means you're not an employee and have to pay your taxes. However, by taking advantage of several tax deductions, you can significantly reduce your tax bills. If you make any expense for DoorDash, write it off on your taxes. You can deduct the cost of gas, tolls, phone-related calls, mobile phone holder, delivery bags, and even the depreciation value of your car!
These were some useful tips to help you get the best out of your DoorDash journey. I hope you find this useful.
Also Read: How to stop Google from tracking Location History.
Can you make $100 a day on DoorDash?
Yes. You can make $100 on DoorDash in typically 5-6 hours if you live near a heavily populated area. If you do a quick Google search, you will see people making some crazy claims of earning up to $200 per hour! If you're willing to devote at least 5 hours while trying to be strategic with each order you accept, you could definitely make $100 a day on DoorDash.
Is DoorDash worth it to make money?
It depends. While some dashers who're able to optimize their DoorDash income will definitely say it's worth it, others may say it's not going to pay you big. Nevertheless, DoorDash allows you to make money at your own pace while choosing your own schedule for delivery.
Read Next: Best Carbon Footprint Calculator tools to calculate Carbon Footprint.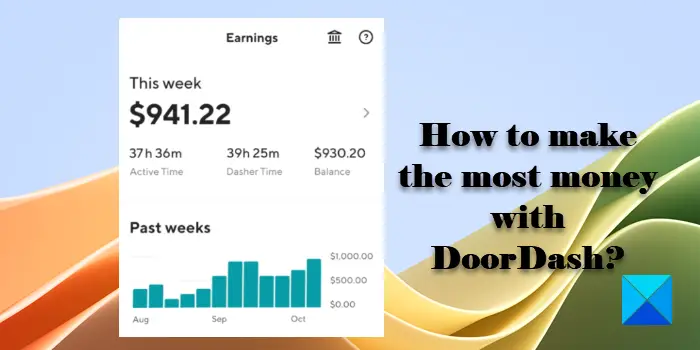 Source link

www.thewindowsclub.com