As a part of using our Windows PC for work and personal uses, we come across files of different formats. Each format distinguishes the file from another in the way it works. XFDL is one such format we see on Windows 11/10. This guide shows you different ways to open XFDL files in Windows 11/10.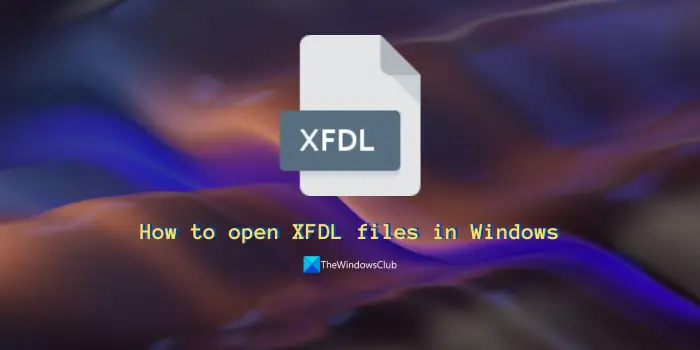 What is an XFDL file?
An XFDL file is a digital form written in Extensible Forms Description Language based on the Extensible Markup Language (XML) format. Common uses of these files include storing standardized and interchangeable business forms, including digital signatures, business transaction details, business form information, etc. XFDL format is commonly used by government agencies and businesses in e-commerce transactions and legally binding contracts. 
How to open XFDL files in Windows 11/10
As we know, XFDL files are complex files containing much information. XFDL files can be opened in the following ways.
Notepad
IBM Forms Viewer
Convert XFDL to PDF and open it
Let's see how you can open an XFDL file. 
1] Notepad
Opening an XFDL file in Notepad is a no-brainer. Right-click on the XFDL file, hover to "Open with" in the context menu, and select Notepad. It will open the XFDL file in the Notepad. The readability and arrangement of the information might not be as good as they are on standalone programs to open XFDL files. The complexity of the XFDL files decides how it is opened and shown in Notepad. If the information is not readable or you have a problem opening the XFDL file in Notepad, follow the method below.
2] IBM Forms Viewer
IBM Forms Viewer is a great tool to open XFDL files. You need to download it and install it on your Windows 11/10 PC. 
To download and use IBM Forms Viewer, you need to have an IBMid. Using the IBMid, you can get access to Passport Advantage on IBM. The Passport Advantage is where you store all your IBM program subscriptions and licenses. You can buy and download IBM programs using the Passport Advantage. 
To get IBM Forms Viewer, go to the IBM products page and search for IBM Forms Viewer.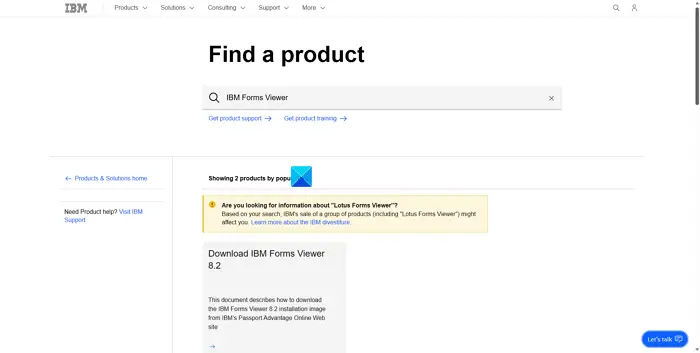 Click on it, follow the on-screen instructions, and sign in with your IBMid, which will be your Passport Advantage credentials. You may need to buy IBM Forms Viewer if there is no trial version available. You need to run the program on your Windows PC to be able to open XFDL files. 
If you need to edit the XFDL files, you need to download and install IBM Forms Designer from the IBM website using your IBMid. 
3] Convert XFDL to PDF and open it
This method is helpful when you only need to read the content of the XFDL file. You have to use third-party file converter services to convert the XFDL file to PDF and download it. You can use services and PDF Editors like pdfFiller, Wondershare PDFelement, etc. 
Also read: Set Notepad++ as default editor for .xml files in Windows
What program opens XFDL files?
Notepad or IBM Forms Viewer can open XFDL files. The content of the XFDL file might not look as convenient or good as it is in IBM Forms Viewer. Or you can just convert the XFDL file to a PDF and open it to read the content.  
How do I convert XFDL to PDF?
Converting an XFDL file to PDF is a no-brainer. There are many programs like pdfFiller, Wondershare PDFElement, etc. to convert files of different formats to PDF. You can just use one such service or program to convert an XFDL file to PDF. 
Related read: Best free XML Editor Software for Windows computers.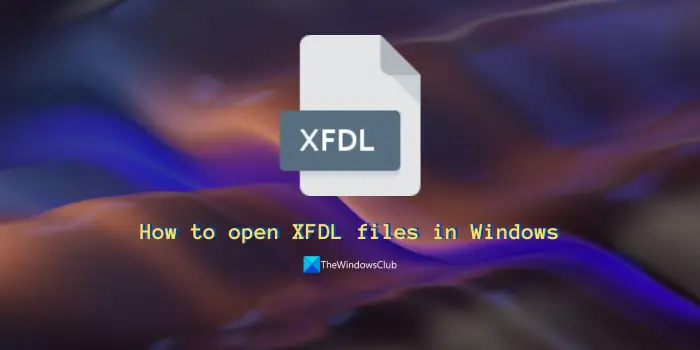 Source link

www.thewindowsclub.com